How Sally Ensured Dahlila Would Never Bowl Alone
This mother and daughter duo are the queenpins of the cleft community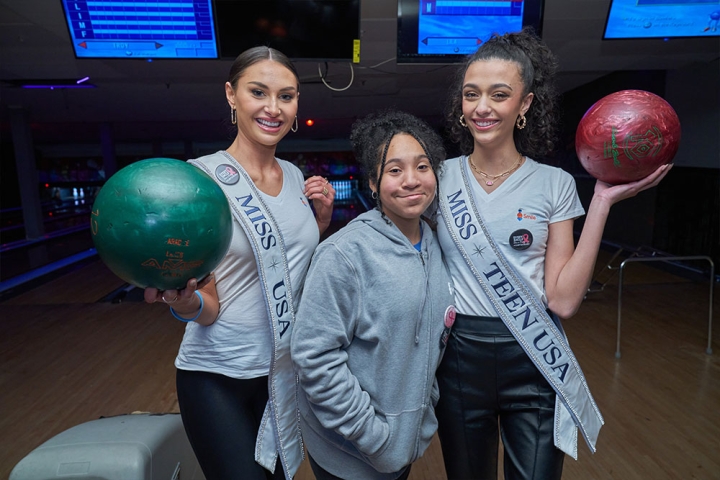 When her 20-week ultrasound revealed her baby would have a cleft, Sally felt completely alone. The Bronx woman knew no one with a cleft, knew nothing about the condition. But she also knew there had to be others like her. She searched for help and found the cleft team at Mt. Sinai Hospital in New York. As her daughter, Dahlila, took her first breaths, the team "told me that we would be together pretty much until she gets married, and I put all my trust into them because I wasn't familiar with any of this."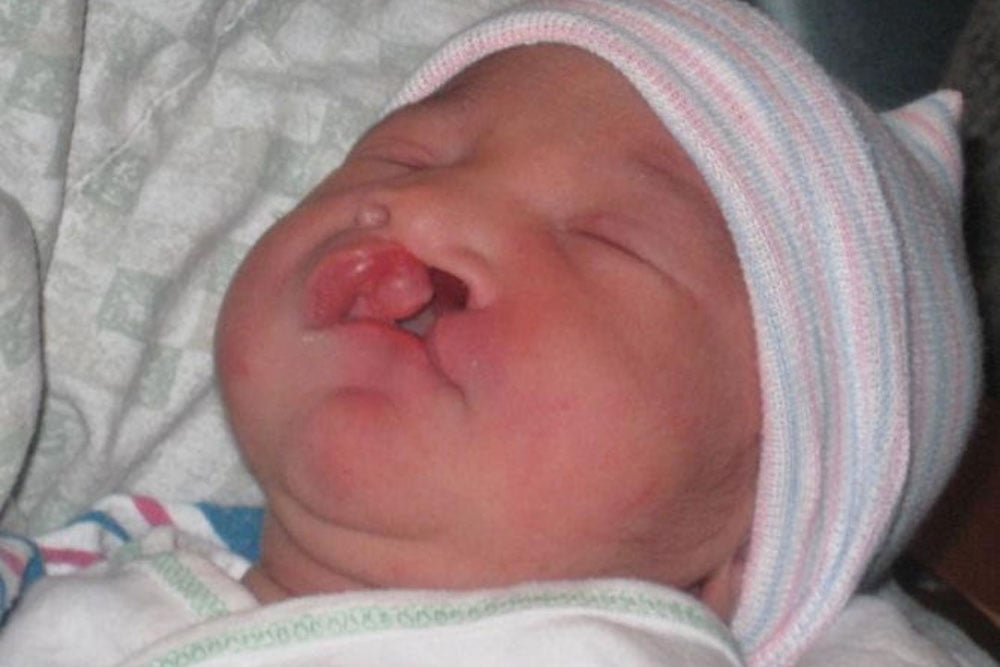 Dahlila's treatment plan began that day and has continued each day since. She had her first surgery at five months and her second at one year. She had weekly dental care at Mt. Sinai's cleft center in Queens for several years and once had ear tubes to ensure her cleft wouldn't harm her hearing, as often happens.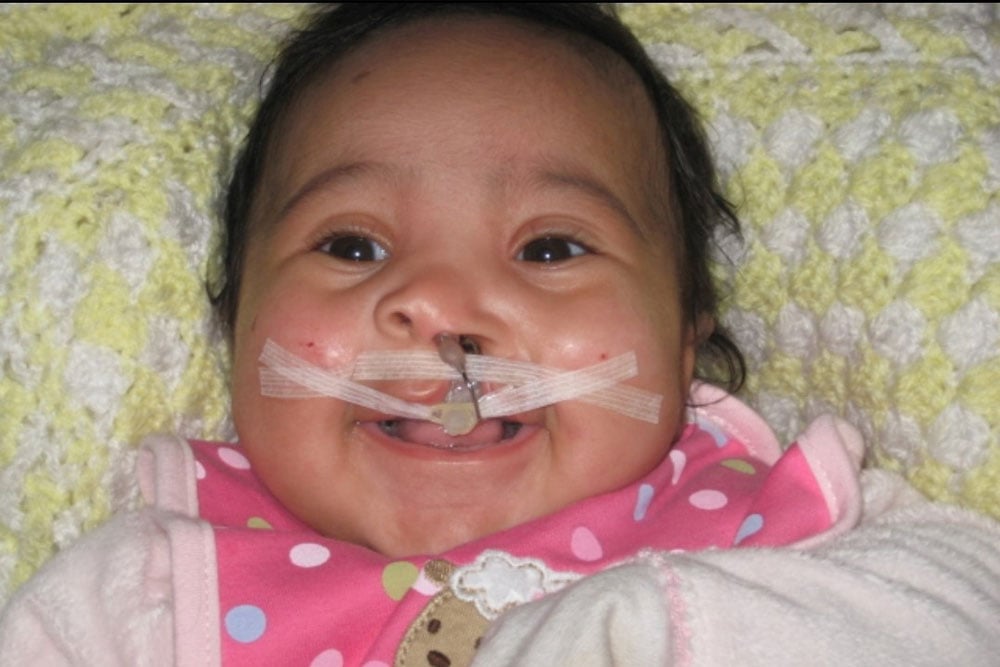 Sally was grateful her child was getting the care she needed, but shuddered to think of the potential social cost Dahlila might have to pay for a childhood of braces, stitches, and looking different. So she developed a plan of her own: If possible, Dahlila would have her surgeries in the summer so she could recuperate before school. She would be involved in as many extracurricular activities as possible so that, even if classmates gave her a hard time, she would have friends and a network of support already by her side. And most importantly, she was always going to be real with her.
"I don't lie to her when it comes to the surgeries. I always tell her, this is this is what's going to happen and it's going to hurt and I'll be there with you and we're going to get through this."
Both plans worked. Dahlila is now 13 and says, "My cleft hasn't really affected me socially because I'm a very social kid. I love talking to people about my cleft and everything I've been through. I'm proud of the way I was born and I love my crooked nose. I think it's perfect for me and I don't want to get it 'fixed.'"
One other thing Sally did to raise a teenage daughter who is proud to have a "crooked" nose? She had her do her homework. A few years ago, Sally charged Dahlila with finding a cleft organization to donate her Christmas presents to. "I chose Smile Train because of its cleft community activities here in the US," Dahlila remembers.
Sally followed up by doing her own homework on Smile Train, and was so impressed that she signed up for the Young Leadership Circle, a group of graduate students and young professionals committed to furthering the organization's cause.
A Strike to the Heart of Their Community
The first thing Young Leadership Circle Board members are taught is how to turn what they love into smiles for children in need. For Sally and Dahlila, that is their Sunday bowling league matches.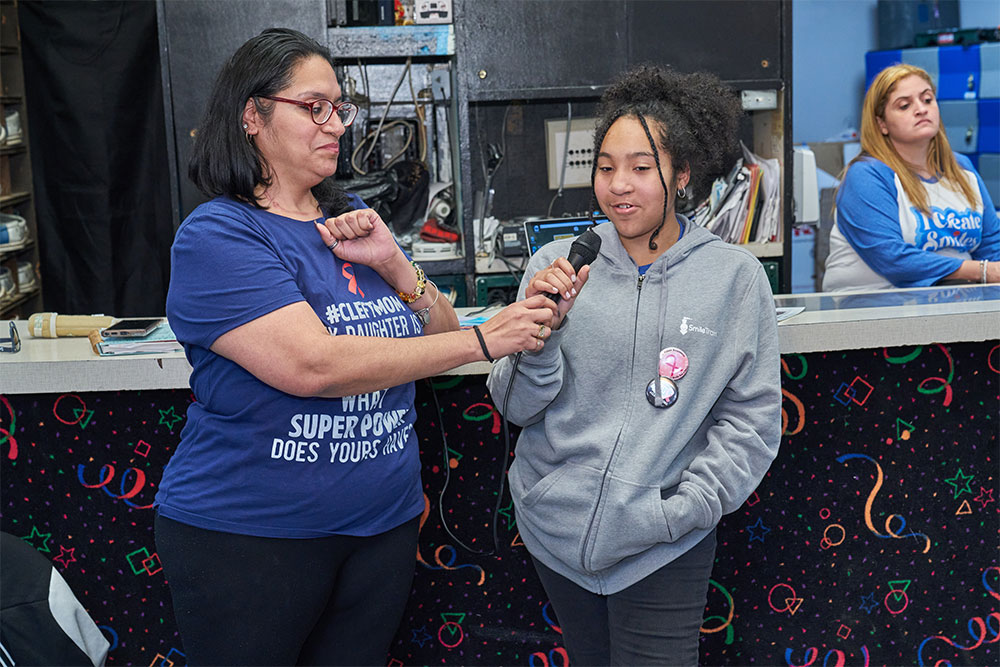 So they organized Bowling for a Cause, a two-part event: a tournament one day and a friends-and-family bowling party another. Determined to use the opportunity to give her community the education about clefts she never had, Sally and Dahlila opened both events with a 30-minute presentation about clefts, Smile Train, their journey, and the importance of accepting everyone as they are.
It was a huge success: Together, the events raised $6,500.
With two strikes in two frames, they weren't about to slow down. Over the next year, Sally joined Smile Train's Cleft Community Advisory Council (CCAC), a board of cleft-affected Americans who inform the organization's marketing materials and advocate for the cleft community, and took Dahlila to Chicago to attend the first-ever in-person Cleft Con.
There, for the first time, the mother and daughter found themselves in a room where they didn't need to explain anything because everyone understood.
"That was the best thing we could have done. Everyone in both places welcomed us with open arms, and it's been a great relationship with the whole community ever since," Sally said.
The second Bowling for a Cause drew almost twice as many people as the first. By the end of another two nights of strikes and smiles, they had raised even more than the year before.
Drama Queens Can't Touch the Queenpin
Dahlila is in eighth grade now. Most of the time, other students treat her like anyone else, but earlier this year, some girls she once considered friends started harassing and even throwing things at her.
For Dahlila, the incident just taught her who her real friends are. "All they can do is talk about my scars or my nose, but I already know about all of that and I am proud of it."
But Sally couldn't let it go so easily. "The school knows me on a first-name basis," she said. "I always tell them they don't know what she's been through, how many surgeries she's had. I try to teach everyone about clefts and all that treatment entails as much as possible."
Bowling with Clefts 2023 came together in the shadow of this episode. The family knew they needed to make this year's event the biggest yet to spread their anti-bullying message to everyone who could hear it.
They never dreamed how successful they would be.
Real Friends Show Up
A few weeks ago, Sally received a surprise call from Troy Reinhart, Smile Train's SVP of Community and Ambassador Development: Miss USA, Morgan Romano, and Miss Teen USA, Faron Medhi, want to bowl with you this year to help share your story.
Dahlila was skeptical. "I didn't think they were going to show up until they actually did."
The women teared up at Sally and Dahlila's presentation. The crash course on clefts was particularly powerful for Faron, who had never interacted with a person with a cleft before.

The admiration was mutual. "It was a great experience, and it was a great meeting them. I think they're such great people, great influences. They're very down to earth," Dahlila said.
And, as it turned out, Dahlila and the delegates had something important in common — a passion for dancing. Even in their funny shoes, the women lit up the hardwood — and captured it all on TikTok.
Media outlets across the country ate it up, putting Dahlila's smiling face and anti-bullying message front-and-center before a national audience.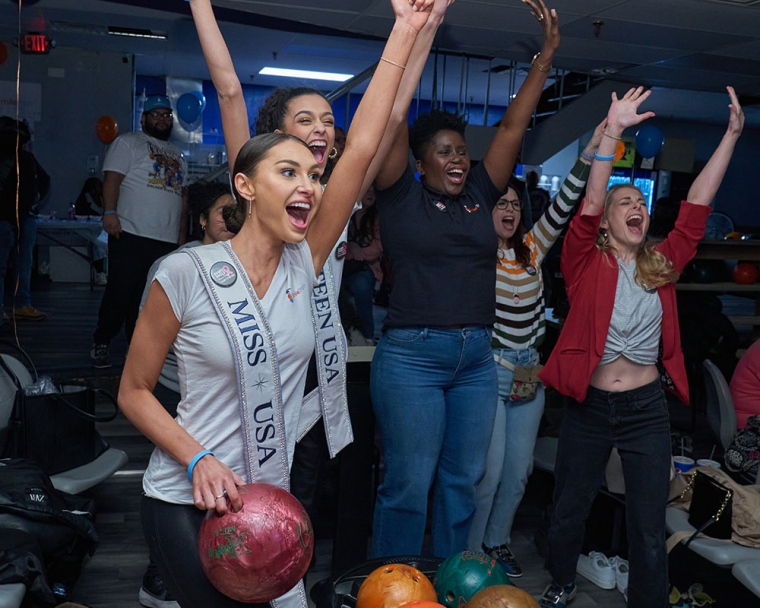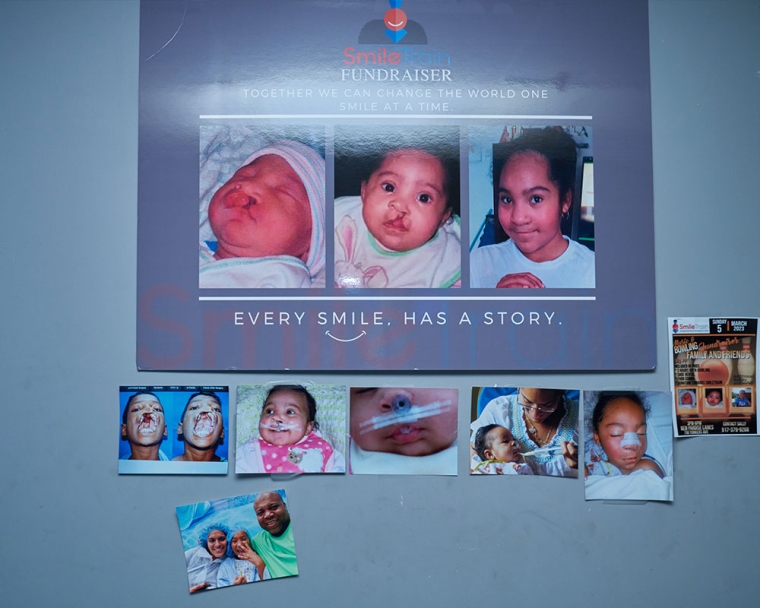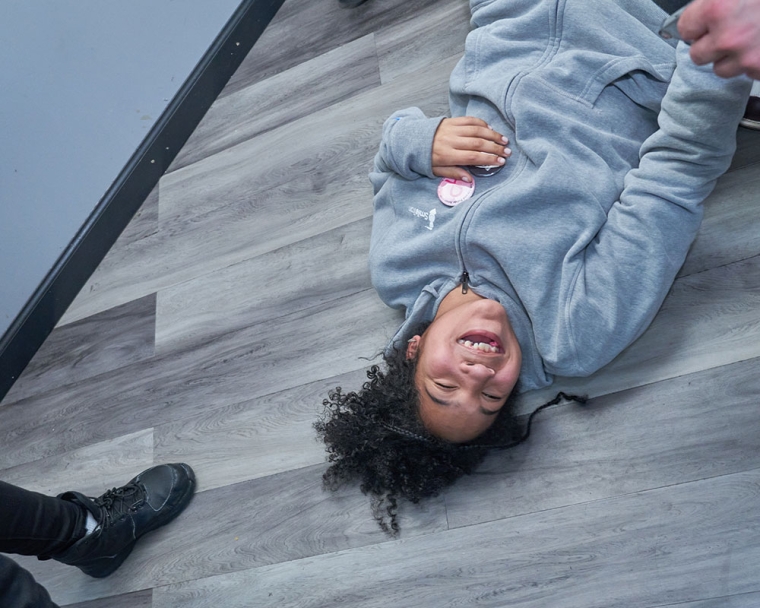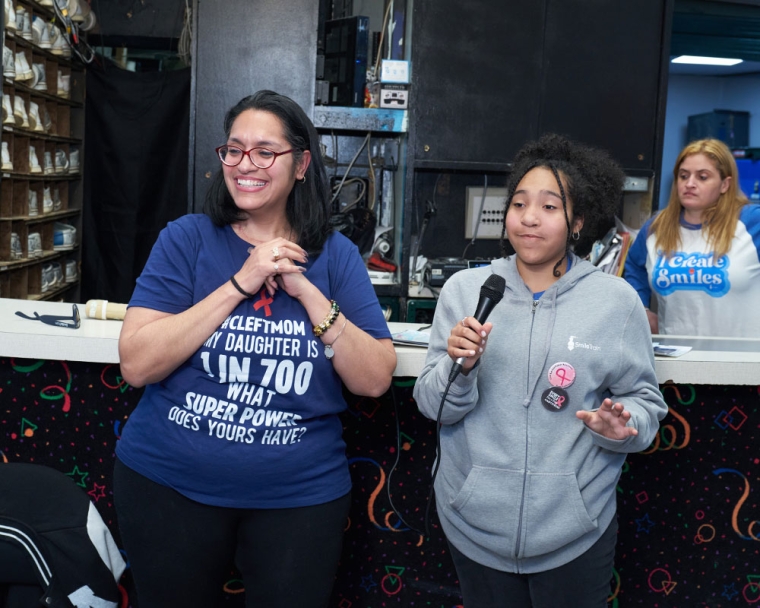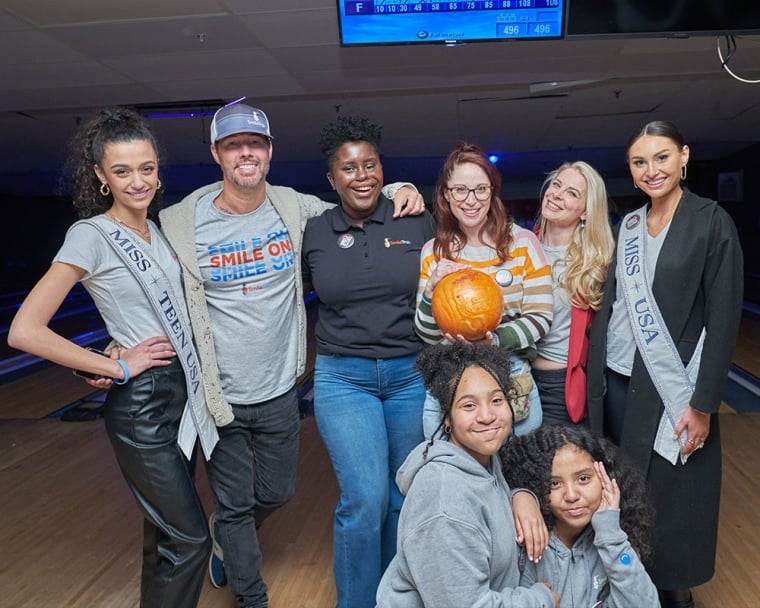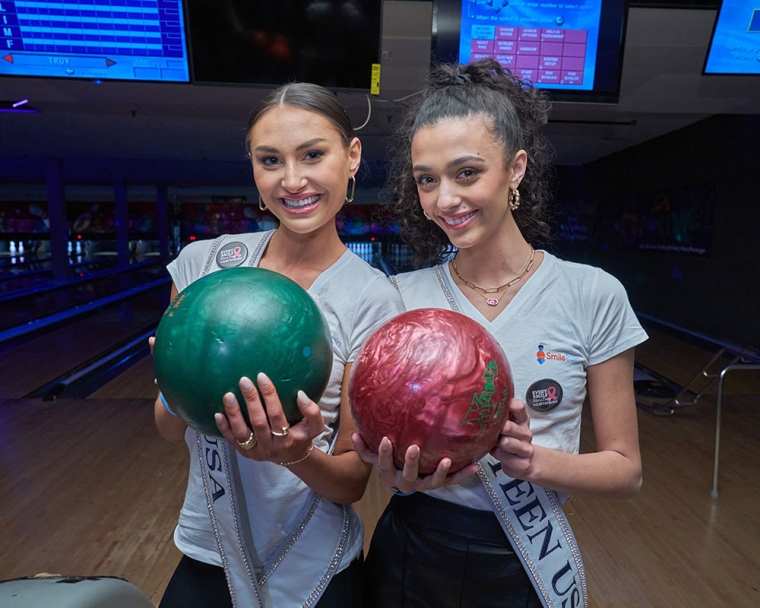 "Everyone loved it. Everyone's still speaking about it," said Sally.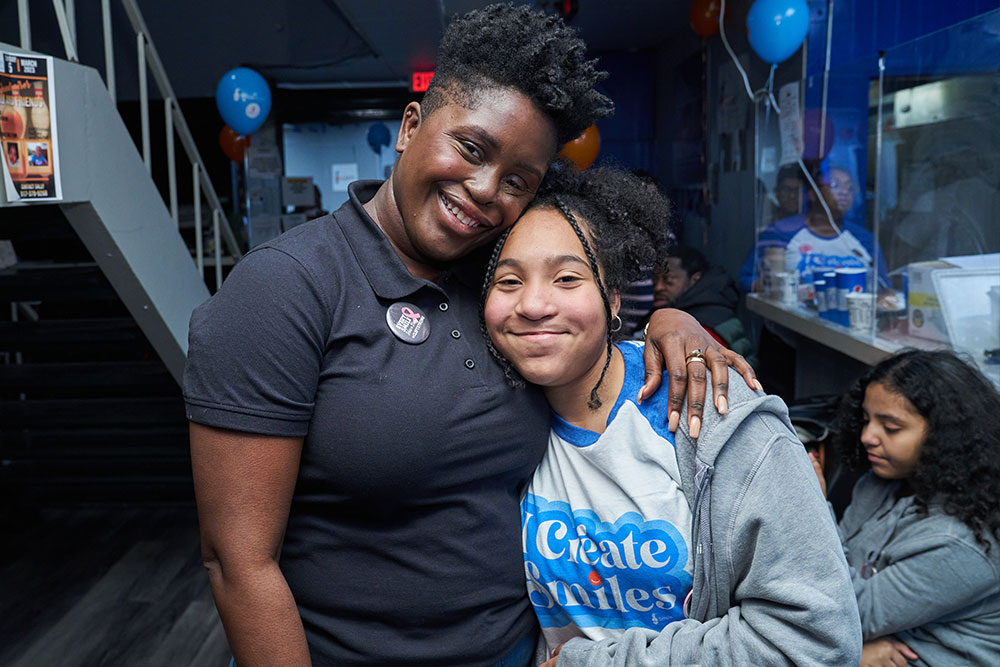 "This mother and daughter's resilience is so strong, you can feel it. It's a beautiful relationship that formed the undertone of the entire event," said Iva Ballou, Smile Train's Manager of Cleft Community Development, who was in attendance.
No Longer Alone
Sally has come a long way since that day she was 20 weeks pregnant and feeling completely alone. Her daughter has another surgery coming up, and Sally now has a nationwide network of other moms she can talk to about next steps, how seeing the doctors take your baby away into the operating room never gets easier, and anything else that's on her mind.
And Dahlila has friends, community, and role models always by her side. Through Smile Train, she personally knows other people with clefts who host podcasts, act, advocate for the global cleft community, and do everything else imaginable — because there is nothing a person with a cleft can't do.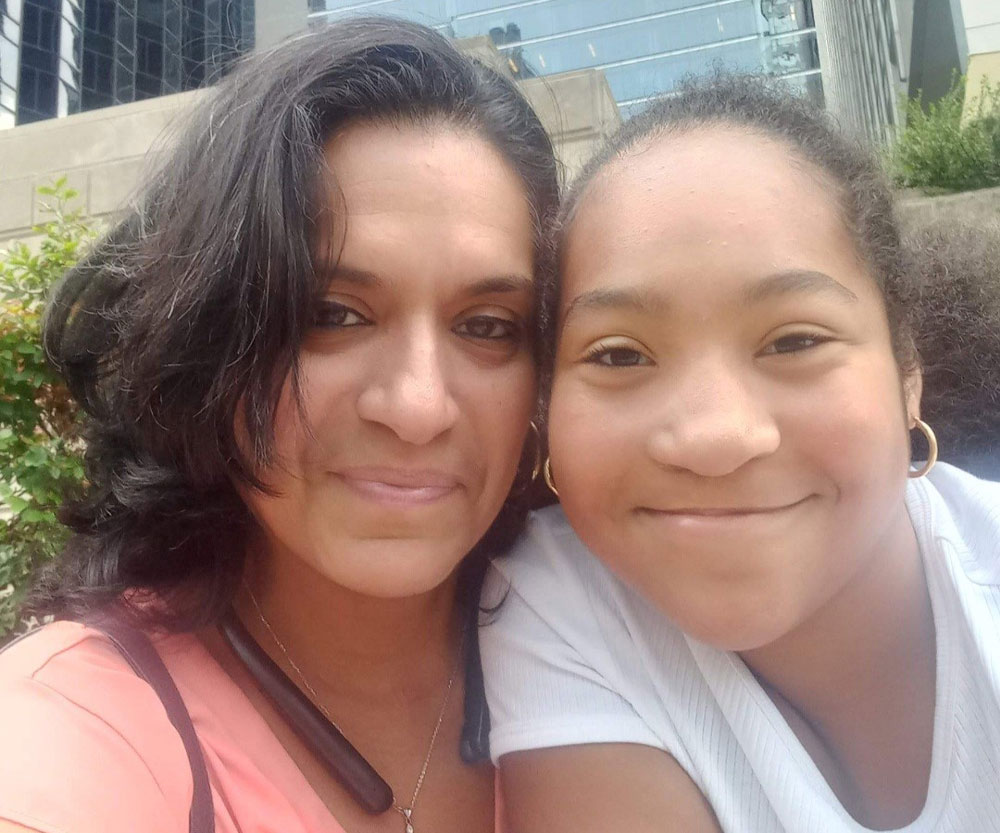 "This is her family, too, and that's my whole world, knowing that she's not alone," Sally said.
Added Dahlila: "People with clefts are perfect just the way we are. Your surgeries might hurt for a few days, but you'll get through it. It's a temporary pain for a lifetime of opportunity."
You, too, can turn your passion into a life of health, dignity, and smiles for families in need around the world through Smile Train's Community Programs.