How Smile Train Kept Making Smiles Through COVID-19
While other cleft organizations' operations were indefinitely suspended or severely cut back, Smile Train was able to keep moving.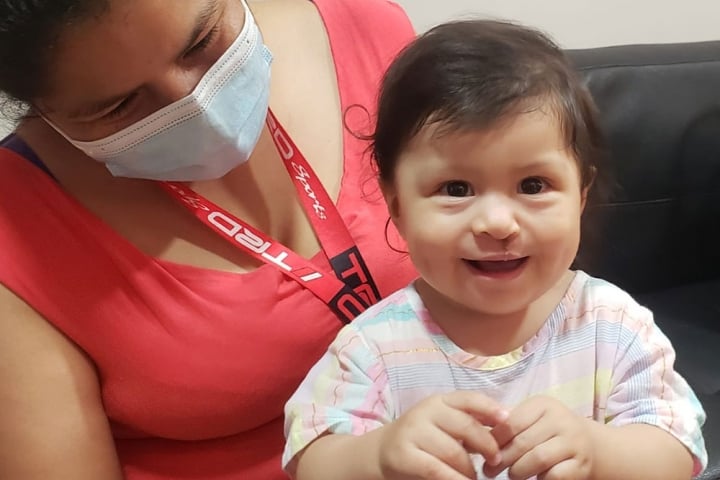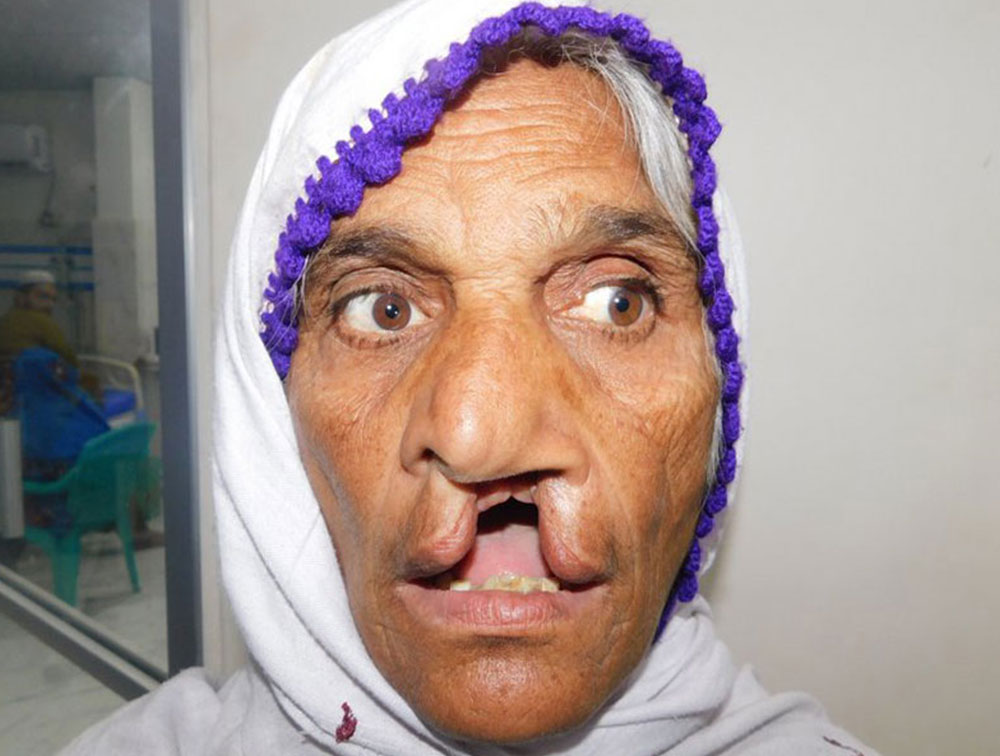 Just when it seemed Pyari's luck might finally be turning around, COVID-19 hit. In truth, she felt she ought to have seen it coming. Born in 1949 in rural Pakistan with a cleft, she had considered her life a never-ending series of heartbreaks. When she was born, her father and other relatives refused to hold her because of her cleft, though her mother embraced her and named her Pyari, or "Lovely" in the local language. When he eventually forced her mother to choose between him and their daughter, she made the brave choice to go back to her own mother and family. But even there, nearly everyone in the house blamed every bad thing in their lives on Pyari. Things were even worse at school, where she looked eagerly to the other kids for a friend but was met only with insults and shunning.
So, she retreated inside and stayed there as the world moved on without her. Like so many other children with a cleft, Pyari was forced to drop out of school for her own physical and mental well-being. She never learned a trade or got married, but she was safe in her family's home for many decades, until a family crisis suddenly left her on her own for the first time. She tried to find work as household help, but no one would let her into their home. Devastated but not down, Pyari gathered some scraps and turned them into handicrafts to sell in the local market. It was there one day that a family noticed her and ran to her. They told her they had a child with a cleft and an organization called Smile Train sponsored all the care he needed for free at a local center.
Pyari dropped her merchandise. Even after a lifetime of disappointment, she could not believe help had been available for so many years and no one had told her. She indulged herself in a faint thrill of hope before some research made that old, familiar heartbreak settle in again — the nearest surgical center was nearly 250 miles away, a distance she could never afford to travel. But figuring she had nothing to lose, she contacted the cleft center anyway; when they told her Smile Train would also cover the cost of her transportation, she was certain she had misunderstood.
She hadn't, but it soon seemed it wouldn't matter. Pyari discovered Smile Train just as the global coronavirus pandemic began to shut down medical care around the world. It seemed to her like the universe correcting itself, the perfect response to her daring to hope. Indeed, the crisis did force most global health and cleft organizations to abruptly suspend operations, leaving untold thousands waiting for the lifesaving care they desperately needed. Except this time, Pyari was among the fortunate ones. Because Smile Train sponsors cleft treatment from local providers — and trains them in best-in-class techniques and technologies — Pyari's access to care was dependent only on local conditions. And since the virus hadn't yet made it to her state in Pakistan, our local partner Smile Home Trust not only determined that it was still safe to operate, they used the opportunity to distribute sanitary supplies and educate patients on how to proactively keep themselves and their communities safe from COVID-19.
When her day arrived at last, Pyari trembled as she sat with Smile Home Trust's chief surgeon, Dr. Ifran Ishaq. As he tried to comfort her, she told him her life story. She needed him to understand what this moment meant to her.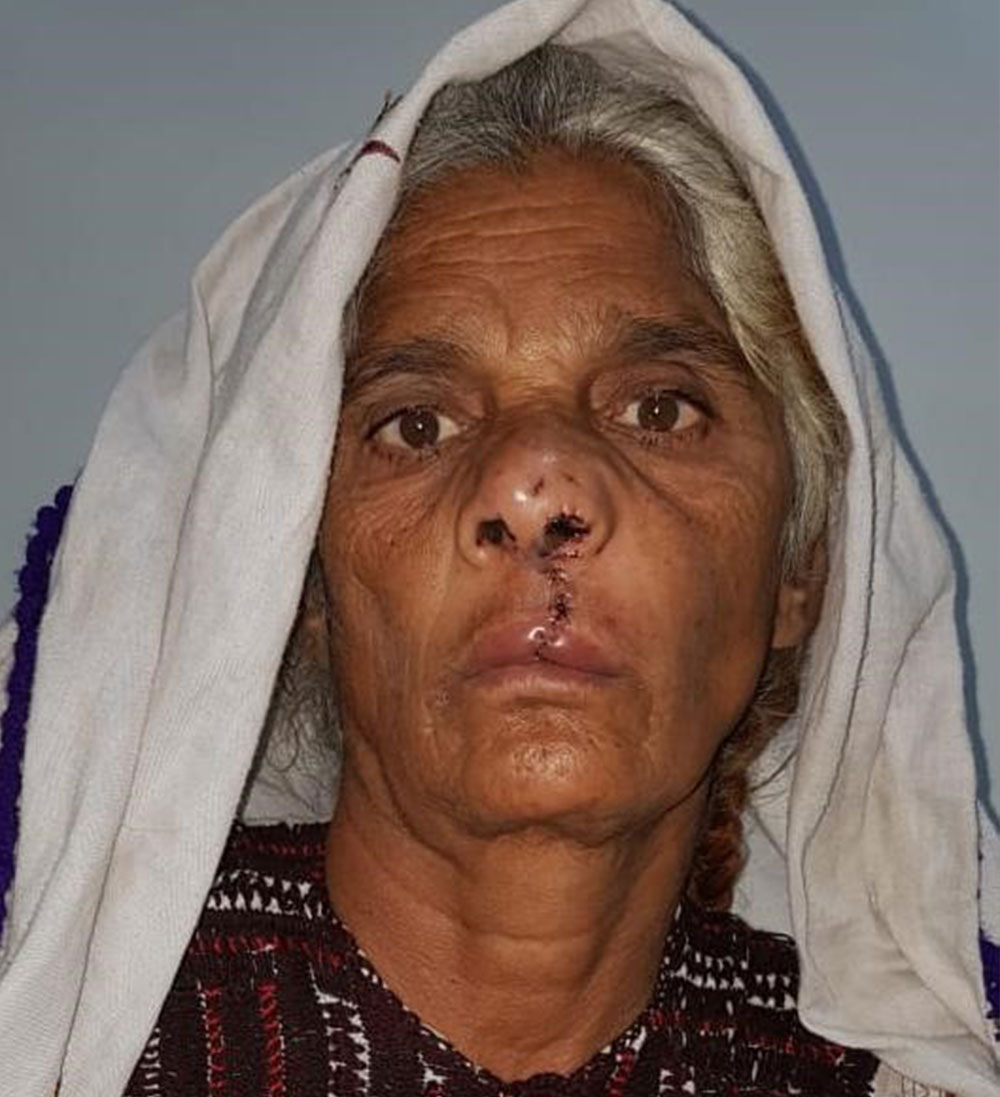 Her Smile Train-sponsored cleft surgery went smoothly, and when Pyari saw her new smile in the mirror for the first time, she wept and heaped blessings upon Dr. Ishaq and his team, then kissed his hands. "Now I can finally live out my life in peace!" she cried. Pyari may have considered herself exceptionally fortunate to have received free cleft care and personal protective equipment (PPE) in the early stages of the pandemic, but in truth, the more the disease spread around the world, the more valuable Smile Train's two decades of investments in local healthcare providers proved itself.
A New Model for a New Millennium
Smile Train was founded in 1999 in the belief that supporting and training local medical professionals in cleft treatment not only provides patients with superior care compared to mission-based organizations, but is also a far more sustainable way of building better, stronger, more resilient healthcare systems the world over. We called it the "teach a man to fish" model.
At its core, "teach a man to fish" means building relationships with local healthcare providers and earning their trust. It means that instead of making families in desperate need of care wait for Western missions to fly in then pray their child fits into the mission's hectic two-week schedule, the patients we support receive care at the time that's right for them from professionals who know them by name. When families know their medical team speaks their language and will still be there for them next week, next month, and next year, it gives them a peace-of-mind that is indispensable for healing. Our partners also become role models and trusted friends to their patients, who have so often known little besides rejection and hurt.
The impact of "teach a man to fish" on these medical partners is no less profound. The presence of mission groups often undermines trust in local health providers. A recent study from Guatemala on mission groups' long-term effects on local healthcare systems found that many patients preferred to wait for missions to land in their area rather than seek immediate care from local doctors. This widespread, misguided belief that foreign doctors are able to provide better care feeds a vicious cycle of undermining local medical infrastructure that, according to the study, "increased dependence on foreign medical aid and frustration among local doctors in the host country, and… provided a rationale for government officials to stop investing in improvements for the host country's health care system."
By investing in local healthcare workers and centers and providing them with the latest techniques, technologies, and equipment, Smile Train helps create a sustainable culture of medical excellence in underserved countries around the world, with benefits that go far beyond cleft care.
"When it comes to surgery, band-aids simply don't work," explains Susannah Schaefer, CEO of Smile Train. "Resources are better invested in building local, long-term surgical capacity, and there are many dedicated, passionate healthcare providers already working on the ground."
The results speak for themselves. In the more than 20 years since our founding, our model has helped to build a network of more than 2,100 medical professionals in 70+ countries delivering safe, reliable care to 1.5 million patients and counting — more than every other cleft organization combined.
But like any bold idea, the true test of its mettle could only come in hard times.
Local Care, Global Impact
The outbreak of COVID-19 in early 2020 proved to be just that test. And even as it pushed our model like never before, this crisis also strengthened it as a steadfast means of providing care to our patients and assistance to our partners when they needed it most.
While other cleft organizations' operations were indefinitely suspended or severely cut back, Smile Train was able to keep moving thanks to our sustainable model, a worldwide network of experts, and the unwavering dedication of our donors: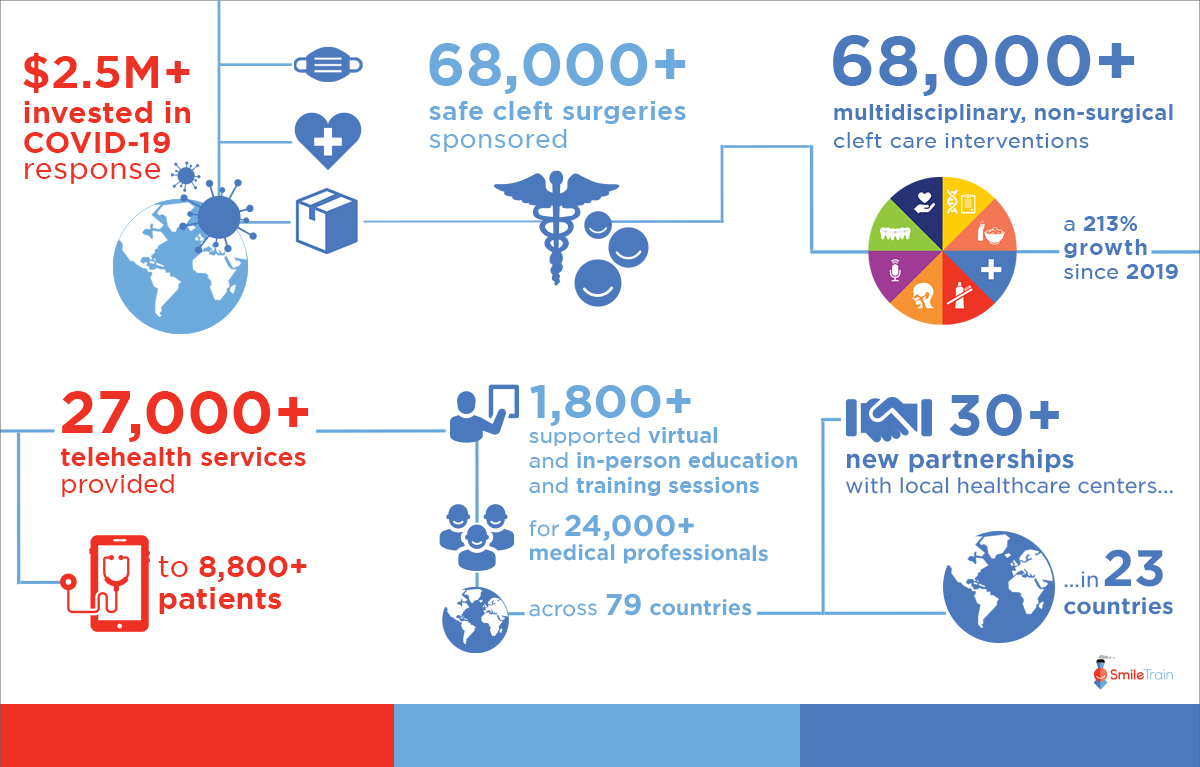 A Mother's Love; a Team's Commitment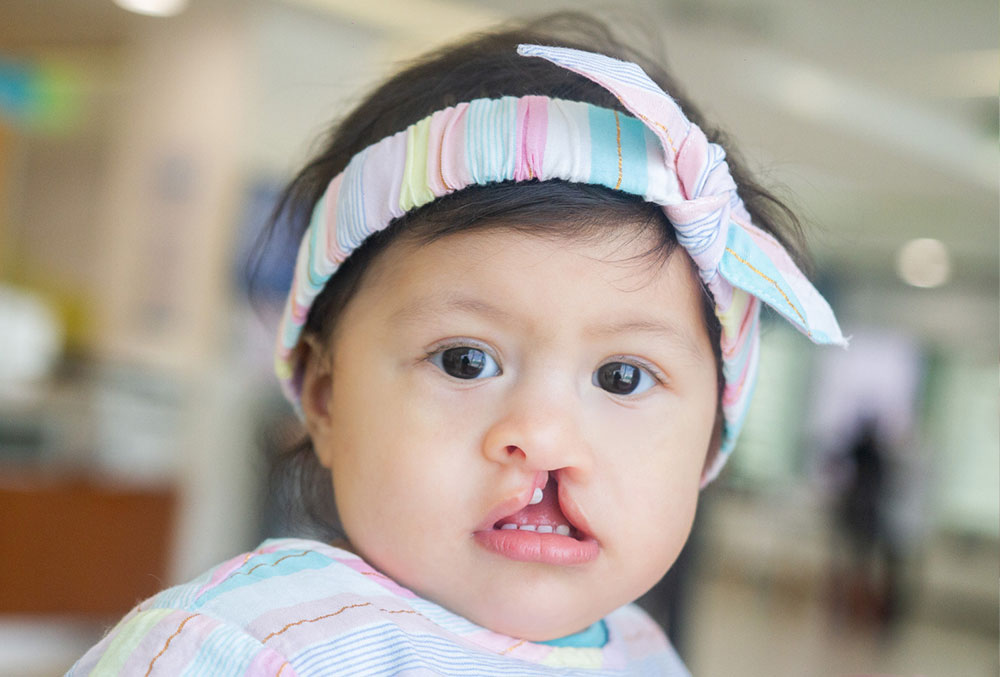 These are big numbers. That's why, at Smile Train, we always keep in mind that every statistic is really a mosaic composed of the faces of thousands and thousands of real people in need — and usually their mothers, too. Around the time Pyari received her cleft surgery, a new mother in Lima, Peru named Aurea was afraid, alone, and desperately trying to feed Gianna, her starving, screaming newborn with a cleft. She had no idea how to care for her baby, but she did know one thing with absolute certainty: She loved the fragile little life in her arms more than anything else in the world and would do whatever it took to help her survive. She also knew she needed to act fast — Gianna's cleft made her choke on breast milk and it seemed every time she tried to nurse, more milk came out her nose than went down her throat. Unable to leave the house due to quarantine and at a loss for anything else to do, she searched for information online and discovered Mision Caritas Felices (MCF), a cleft center right in the city.
She sent them a message on WhatsApp and got a call back that same day from a cheery woman named Señorita Kathy who told her that everything was going to be alright now.
Aurea didn't know it when she called, but life at MCF was also changing fast. With transportation shut down across the city and non-emergency in-person medical services suspended, everything about how the center provided care for children with clefts was going to have to change almost overnight. Stopping work for even one day was not an option; if anything, the pandemic only made their patients' physical and psychological needs more urgent, even as more babies with clefts were still being born to mothers like Aurea each day. Thankfully, they weren't making the transition alone — as a longtime Smile Train partner, they knew where to turn.
Smile Train's vast network of local staff and regional experts meant each of our partners had somewhere to turn for remote technologies and best practices for using them, PPE, advice on local safety protocols and laws, and so much more.
From their first phone call in mid-March, Señorita Kathy was able to tell Aurea that MCF would provide her the specialized equipment she needed to feed her baby and the remote feeding consultations she needed to learn how to best use it. She also signed Gianna up for remote pre-surgical consultations and invited Aurea to join a virtual group for parents of children with clefts to help her find community and work out her feelings. All for free, thanks to Smile Train.
This support was nothing less than a second chance at life for both mother and daughter, and they never missed a session. Aurea describes the journey:
First, we went through the process of breastfeeding…. The nutritionists helped me a lot. They taught me how to feed her, the correct way to carry her, and how to put her to sleep so that she would not suffocate or choke.




Then, I received help from Anita, a psychologist who helped me deal with my guilt. She really helped me understand that that one in every 700 babies is born with a cleft, that Gianna's cleft wasn't my fault.




I then went to Dr. Gonzáles, the orthopedist who taught me how to use a special tape to bring Gianna's little lips together a bit to help her prepare for surgery. I must say that it had a very favorable effect on our baby, because as we were constantly applying the tape, the baby's lip did not look so open anymore.




I also attended talks and workshops with Ms. Caceres, a speech therapist. That helped me a lot, although it is still in process as Gianna develops. But I really appreciate her help.
Empowered, Aurea went on to become a leader in WhatsApp groups for other new parents of children with clefts, applying what she learned at MCF to reassure her new friends that they are not to blame for their children's clefts and help them navigate their journeys through telehealth.
How to Safely Operate During a Pandemic
Of course, there's still one crucial aspect of cleft care that cannot be done remotely: surgery. Beyond the immediate dangers of the virus itself, COVID-19 has strained global supply chains and PPE availability, adding to the risk surgical teams take each time they perform surgery, especially in low- and middle- income countries.
In this, too, Smile Train was there, providing MCF and our other partners around the world the support they needed to resume providing this central component of cleft care at the soonest — and safest — possible time. Thanks to the quick response of our donors, we were able to distribute millions of dollars' worth of PPE to protect partner hospital staff, patients, and their families.
But all the PPE in the world can't guard against every possible vector of disease, which is why Smile Train and the World Federation of Societies of Anaesthesiologists supported the development and dissemination of the world's first COVID-19 Surgical Patient Checklist. This lifesaving tool, created in the spirit of the WHO Surgical Safety Checklist, was developed by surgeons and anesthesiologists at Lifebox with input from surgical teams across Africa. In just a few months, it has already provided key infection prevention strategies to professionals across many different surgical settings and has been translated into multiple languages.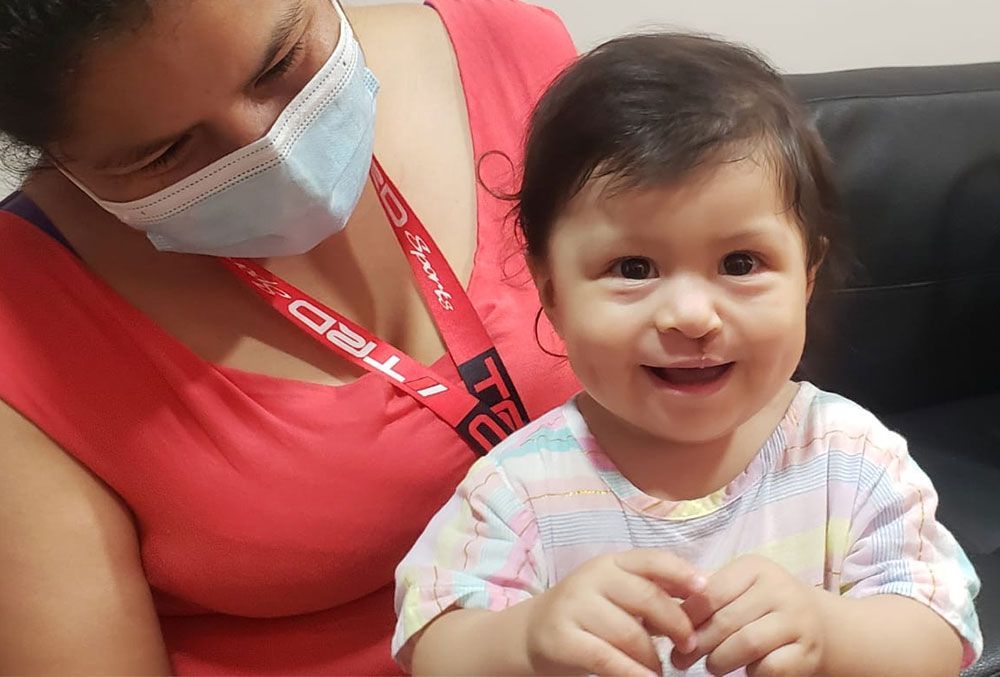 After hours of preparation and working with Smile Train on a careful review of protocols, the staff at MCF decided they were ready to hold a cleft surgery clinic in early December, even while much of Latin America was still shut down. And thanks to Aurea's hard work and preparations, Gianna was immediately cleared to be one of their first patients.
"Since I got involved with MCF, I've no longer felt alone or depressed. I feel good," Aurea said. "I will always be extremely grateful to Smile Train for the support they gave my family and my baby, and I thank you for the support you will provide to other children in the future…. It is the best thing that could have happened to us."
Between March 2020 and March 2021, things that once seemed the stuff of fiction have become daily reality, and no one knows what tomorrow will bring. But wherever happens between this March and the next, this much we know for certain: From 70-year-old women in Pakistan to newborn babies in Peru, to everyone in between, Smile Train and our partners will be there for people with clefts in need, no matter what.
"From the time this disease first affected our partners in January 2020 until today, our focus has always been the same: ensuring the health and safety of our patients, their families, and our medical partners while still providing world-class cleft care in every shape and form we can." said Schaefer. "Though this year has tested us and our model like never before, I believe the numbers speak for themselves — the best way to help people with clefts and their families through the unforeseen is the same way we've always helped them through their cleft journeys — one day, one treatment, and one smile at a time."