Mathias Kiwanuka, Kenyan Drake, and Jennifer Jacobs Team Up to Support Cleft-Affected Kids
The trio traveled to Colombia to launch "Sports Camp" on behalf of Smile Train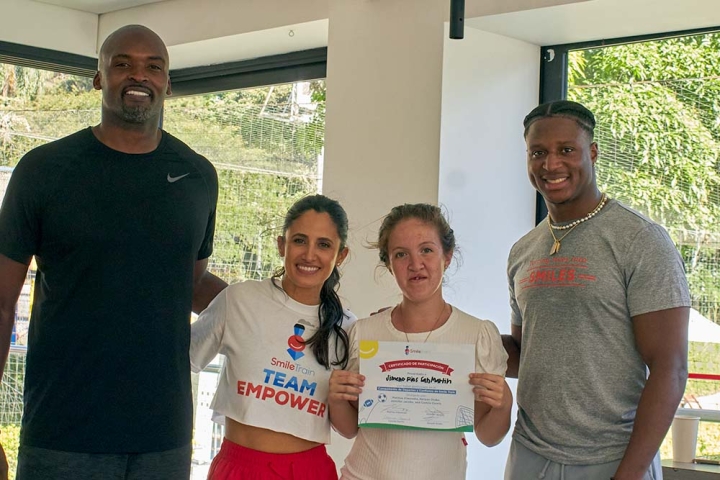 New York, New York (June 28, 2023) – Former New York Giants football player and current Smile Train Board member, Mathias Kiwanuka is on a mission to empower children born with a facial difference.
"We're piloting a confidence and character-building sports camp for kids born with clefts. Children with the condition are often bullied and picked on because of the way they look," said Kiwanuka. "We hope to heighten their self-esteem, physical and social skills through fun athletic activities."
This month, football running back, Kenyan Drake and international fitness trainer, Jennifer Jacobs joined Kiwanuka in Medellin, Colombia to kick-off the pilot program.
"I had a gap in my teeth when I was younger, and it made me less confident when I smiled or spoke. So, seeing how clefts affect kids, how it can make them shy and have less self-esteem, made me want to be a part of this effort," said Drake.
Cleft lip and cleft palate are birth conditions that occur when a baby's lip or mouth doesn't form properly during pregnancy. Clefts can cause difficulty with eating, breathing, hearing, and speaking.
More than a dozen cleft-affected patients participated in the day-long camp – which took place on Monday, June 19th. After an interactive ice breaker session with participants and their parents - Kiwanuka, Drake and Jacobs, all Smile Train Global Ambassadors, lead the group through several football, soccer and cardio circuits. Each participant received a certificate at the end of camp.
###
About Smile Train
Smile Train empowers local medical professionals with training, funding, and resources to provide free cleft surgery and comprehensive cleft care to children globally. We advance a sustainable solution and scalable global health model for cleft treatment, drastically improving children's lives, including their ability to eat, breathe, speak, and ultimately thrive. Visit Smile Train at smiletrain.org.
Press Contact:
Nicole Bell
Vice President, Public Relations, Smile Train
+1 646.829.0996
nbell@smiletrain.org