2021 Cleft Con Session Recordings
Connect. Engage. Share Smiles.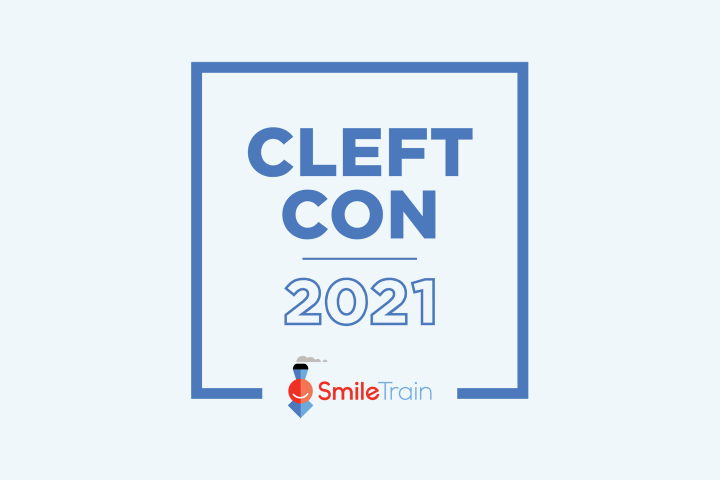 We are happy to share recorded sessions from our 2021 Virtual Cleft Con. We hope you find them as inspiring as we do! If you would like to request one of these speakers for an upcoming meeting or event, please email cleftcon@smiletrain.org.
Keynote Speaker: Naiomi Glasses
A proud seventh-generation textile artist and weaver, Naiomi is Diné and lives in the northeastern part of the Navajo Nation. In this session she spoke about her personal cleft journey, including the bullying she endured and how she used skateboarding as a tool to build confidence.
Cleft Con Sessions
All
Community Building
Cleft Treatment
Cleft Focused NGO
Cleft Activism: The Power of Social Media in Creating Cleft Community
Cecilia, David, Kimberly, and Andi are passionate cleft activists dedicated to sharing their stories and supporting others through their own cleft journeys. In this session, they speak about their personal experiences with their clefts, the motivations behind starting their online communities, and the lessons they've learned along the way.
Cleft Representation in Arts and Entertainment
Representation matters – it can shape how different groups are viewed by society and how we view ourselves. In this powerful session, three talented panelists showcase how they represent the cleft community through their careers, media appearances, and social platforms. They also reflect on what cleft representation in the arts means to them. Viewers will come away inspired to find (or become) their own meaningful representation for the cleft community and larger society.
Awareness Through Art: Katie Manning and the 100 Cleft Portraits Challenge
Katie Manning is an artist and creative coach based in the U.K. After her eldest daughter was born with a cleft, Katie decided to use her art to empower and connect members of the cleft community. Join Katie as she discusses her 100 Cleft Portrait Challenge, a project that aims to educate, spread awareness, raise funds, and create a collection of work that celebrates the beauty in every cleft.
Cleft Stories: Hear from Speakers Who Really "Get It"
While every cleft story is unique, people with clefts have certain experiences that others simply cannot understand. No matter where you are on your cleft journey, it can be incredibly meaningful to hear from someone who has been in your shoes and come out the other side. In this session, Beth Angella, Zeb Carabello, and Lindsay Grenert share their stories and reflect on their cleft experiences.
Empowering Cleft Affected Individuals
Dave Liu is a 30-year veteran of Wall Street and Silicon Valley who has raised $15 billion for hundreds of companies and has had multiple billion-dollar exits as an investor, as well as an author. He was also born with a bilateral cleft lip and palate and underwent almost a dozen surgeries. An active philanthropist, Dave has dedicated his life to helping the cleft community. In this session, he shares his story and his mission to create a large-scale mentorship pipeline for cleft affected individuals.
Cleft Perspectives: Teenagers Share their Stories
If you thought being a teenager was hard, just try being a teenager with a cleft. For high school students Hunter Fasse, McKayla Kendall, and Niamh Sosa, this is no hypothetical, it's the life they live every day. In this important, candid session, these teens open up to discuss their experiences and share why and how they chose to become involved with the cleft community.
Dating, Relationships, and Beauty with a Facial Difference
Join Iva Ballou, Founder of RealSophisticatedJoy and Ashley Barbour, founder of Cleft Love: Learning to Love My Smile as they discuss relationships, online dating, and reimagining conventional standards of beauty.
Reflections on a Life with Cleft
As Cleft Con participants know, life with a cleft is a journey – one that looks different during each stage of life. In this session, join three cleft-affected adults as they look back and reflect on their path to acceptance – both self and communal – and how their relationship to their cleft has evolved over time. Our panelists also discuss how the conversation around clefts has shifted over the past few decades and what that shift means to them.
Raising #CleftProud Children
From difficulties in school to encounters with bullying, many cleft affected children face social dilemmas from a young age. In this can't-miss session for parents, Dr. Leanne Magee, Pediatric Psychologist at The Children's Hospital of Philadelphia, provides tools for caregivers to help their child build resilience and respond to teasing and bullying.
The Journey of a Cleft Surgeon: Dr. Seun Adetayo
To a family with a cleft affected child, the surgeon on their care team is one of the most important people in their lives. This session features Dr. Seun Adetayo, a board-certified plastic surgeon who is passionate about bringing smiles back to children's faces and hope back to family's lives. Dr. Adetayo is the Chief of Pediatric Plastic Surgery at Children's Hospital & Medical Center and Professor of Surgery at the University of Nebraska Medical Center in Omaha, Nebraska. In this session, participants hear from Dr. Adetayo about her personal journey to becoming a cleft surgeon, how she approaches meetings with new families, and some of the barriers to cleft care that continue to exist in the US.
Advice from a Cleft Mom: Navigating Cleft Surgeries
Join Lisa Wyzlic, founder of A Cleft Mommy's Bond of Friendship, as she discusses all things cleft surgeries. This session will provide both logistical and emotional advice for parents who have cleft affected children preparing for their initial cleft lip and palate surgeries. Speaking as a cleft parent and not a medical professional, Lisa discusses topics such as how to prepare yourself and your family for your child's surgery and what to expect during post-op and recovery. From hospital packing lists and recipes for your child's liquid diet to advice around how to manage well-meaning friends and family, Lisa shares some of the many different steps that you can take to help ease some of the challenges associated with cleft surgeries.
Advocating for the Ensuring Lasting Smiles Act (ELSA)
Currently, whether an American child with a birth difference, including a cleft, receives the healthcare they need at the time their doctor recommends — or at all — depends entirely on which state they happen to live in. Thankfully, Congress is considering legislation that will solve this problem — but it needs your help to pass. Join Becky Abbott, Manager of Treatment and Research at the National Foundation for Ectodermal Dysplasias, and Sarah Hamilton, Senior Manager of Programs Communications at Smile Train, as they discuss this bill and how your support can help ensure that it passes.
"Does Our Insurance Cover That?"
Join Kristin Pfeifauf, a researcher, attorney, and medical student, as she helps you find the best answer to the question that's constantly on the American cleft community's mind. This session will feature an overview of the current state of coverage and how state mandates have evolved over the past decade. We also explore which cleft treatments are often not covered and why, what options are available to families who are denied coverage, and how the passage of ELSA could impact the current state of coverage for cleft affected individuals.
A Discussion with Smile Train's Cleft Community Advisory Council
Smile Train's Cleft Community Advisory Council (CCAC) is a group of cleft affected individuals who help advance the organization's communications strategies, and through an array of engagement activities, help strengthen the global cleft community. Join four CCAC members as they speak about their cleft journeys and share what inspired them to become leaders within the cleft community.
Counseling as a Key Piece of the Cleft Treatment Process
As many Cleft Con attendees know firsthand, surgical care is only one piece of the cleft treatment journey. Speech services, dental care, ENT care, and orthodontics are also key parts of comprehensive cleft care. Another important component, for both cleft affected individuals and their families, is counseling and support services. In this session, Dina Zuckerberg, Director of Family Programs at myFace, and Dr. Aileen Blitz, Clinical Psychologist & Clinical Adjunct Professor, will provide an overview of the psychosocial support programs provided by the myFace Center at NYU Langone Health. Grace Peters, Programs Associate for Comprehensive Cleft Care, and Psychologist Camila Osorio will discuss Smile Train's plans to expand psychosocial support as a key element of our global programs.
Resources for Your Cleft Journey
As many Cleft Con participants know all too well, navigating the cleft journey can be incredibly challenging. Fortunately, you don't have to do it alone. In this session, you'll discover valuable resources created by different groups and organizations dedicated to supporting the global cleft community.
Legal Disclaimer
The information provided in these recordings is meant to be helpful to you and is for informational purposes only.  The information contained here should not be relied upon for any specific purpose or used as a substitute for medical advice.  While we attempt to thoroughly address specific topics, it is not possible to address every unique situation.  Please consult a professional with any questions you might have.  Although we attempt to provide accurate and up-to-date information, we make no guarantee to that effect and are not responsible for the content of these resources.  All liability with respect to actions taken or not taken based on the contents of these recordings are hereby disclaimed.  The content is provided "as is" and no representations are made that the content is error-free.