Ride for Smile Train: Home Edition Passes Every Marker for Success
410 riders in 19 countries raise $66,000+ for life-changing cleft treatment.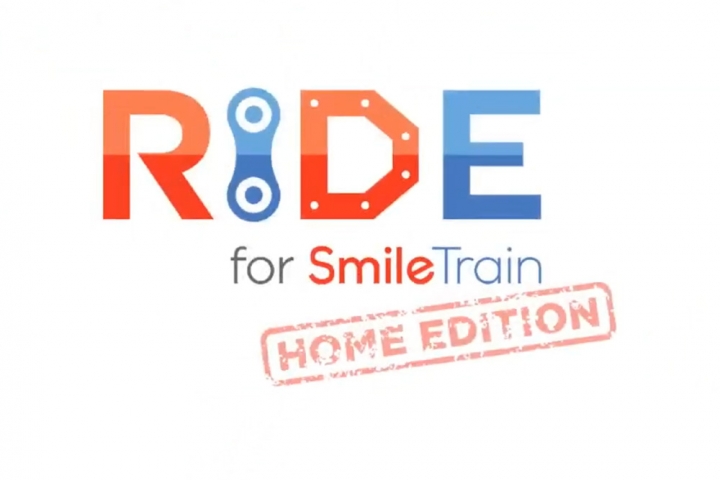 In 2019, Smile Train's athletic fundraising program, Team EMPOWER, decided the organization was ready to host their own cycling event. They called it the "RIDE for Smile Train" and got to work planning a two-day, multi-distance, event which would take place in scenic Scottsdale, Arizona, in the fall of 2020.
Then COVID-19 hit and holding an in-person event felt impossible. But with a baby born with a cleft every three minutes, and with the pandemic forcing 39,000 children and counting to wait for the lifesaving cleft surgery they need to eat, breathe, speak, and thrive, canceling was never an option. So, Team EMPOWER did what they do best — got active, and moved it from the desert into living rooms and community roads around the world to create the one-of-a-kind RIDE for Smile Train: Home Edition!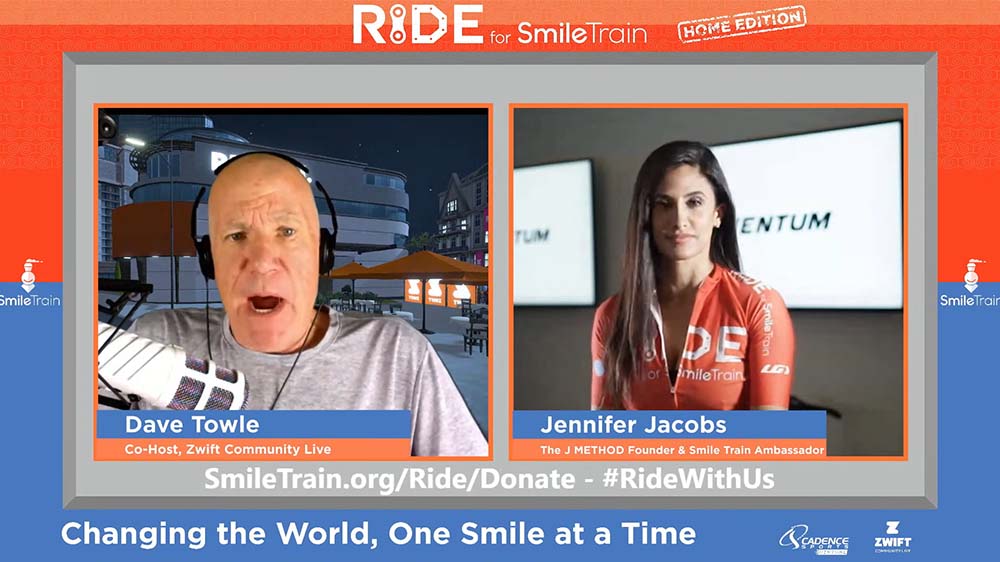 The event began with the Miles for Smiles Challenge on the online fitness platform Strava from November 1-7. Smile Train challenged users to log 250 minutes of activity that week in honor of the $250 minimum cost of cleft surgery; those who met the challenge were entered to win special prizes from Hyperice and Rudy Project. Then, on November 14 came the main event: a virtual ride on the digital cycling app Zwift led by fitness trainer and long-time Smile Train Ambassador Jennifer Jacobs.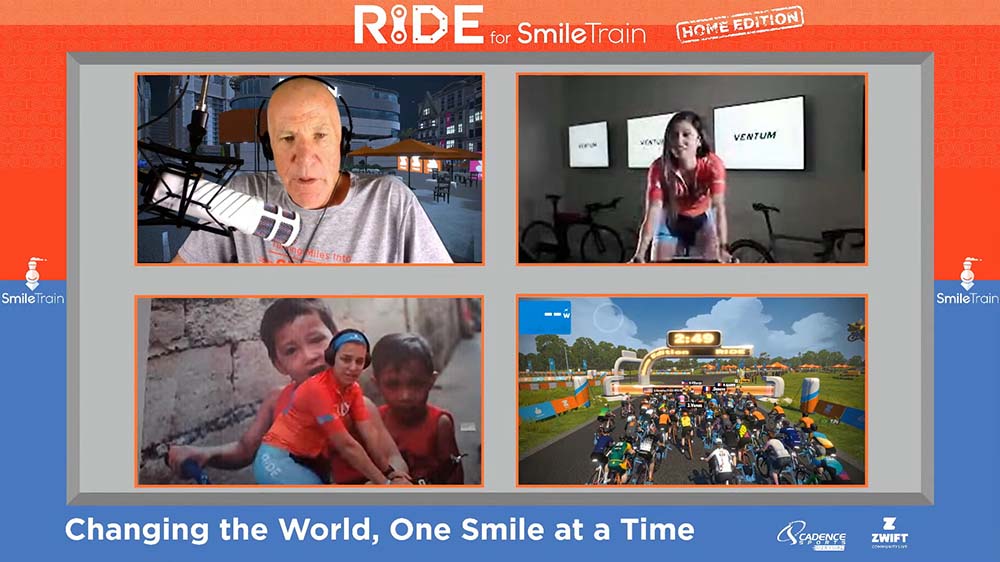 As more and more rider avatars kept popping up on the virtual Zwift starting line, the energy and excitement felt anything but virtual — it was downright palpable. "You're all here to do something amazing," said Zwift Community Live host Dave Towle as he tried to keep up with welcoming them all. "By being here… you're showing that a pandemic can't stop us from coming together, and it can't stop us from raising funds to support these life-changing medical procedures."
Jennifer felt the energy, too. "I'm so excited to be here today because this is what it's all about: fitness that empowers," she said. "I'm always talking about the importance of knowing your purpose when it comes to training…. And I know that every athlete that is watching knows that you must have that fire inside of you to perform at your peak, and that fire is ignited by your purpose. What a special ride we have here today because of such an incredible purpose… children that deserve a better life."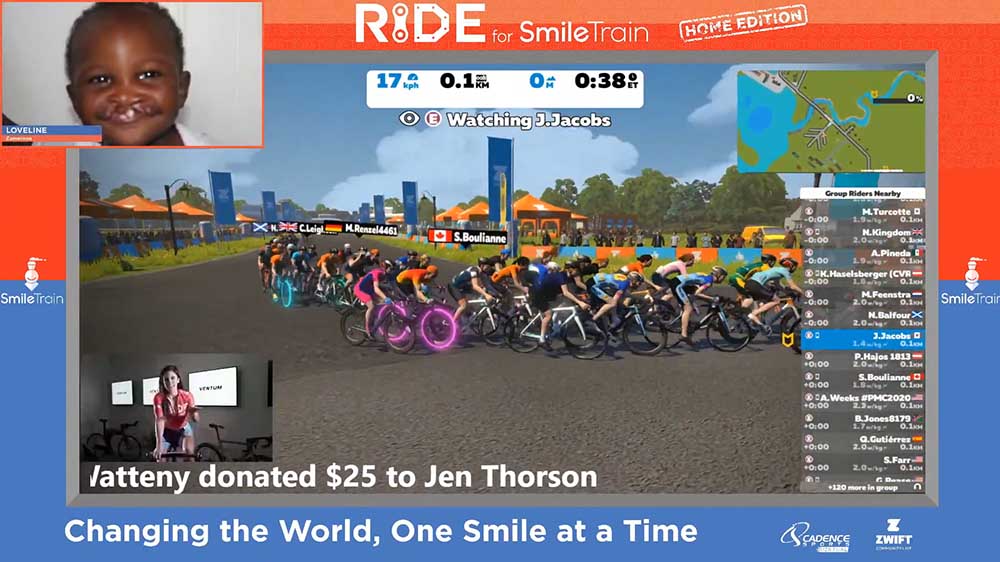 Through all the motion of the RIDE, this greater sense of purpose was a constant. A picture of a child with an untreated cleft flashed in the upper left corner of the screen every three minutes as a reminder that another child was born with a cleft in the time between one picture and the next.
Jeremy Hough - Team EMPOWER Trailblazer
Not all the action from the RIDE for Smiles: Home Edition was happening online. People were also riding in their neighborhoods around the world, and Smile Train's SVP of International Development, Troy Reinhart, joined live from Redbike Studios in Miami, where a gym full of dedicated souls sweated it out for smiles.
As the RIDE progressed, Dave and Jennifer tracked the riders' progress along the virtual course while interviewing Smile Train staff, fundraisers, and cleft-affected people and families from around the world.
Among those who checked in were Jeremy Hough, who helped launch Team EMPOWER after his older daughter was born with a cleft and has since raised thousands of dollars for lifesaving cleft treatment for children in need.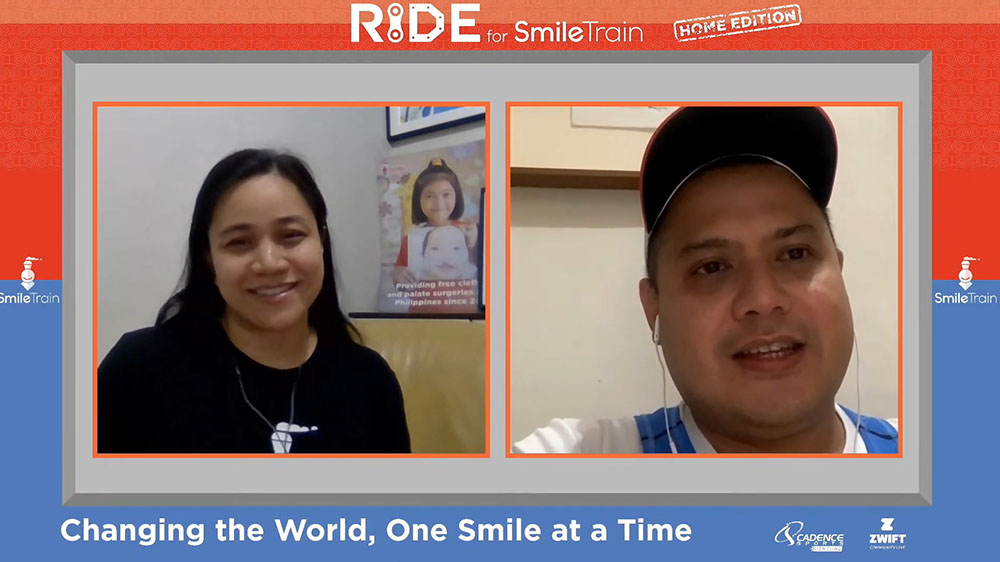 A little while later, Smile Train's Area Director for Southeast Asia, Kimmy Coseteng-Flaviano, called in from her home in the Philippines with a special guest: Dr. Gene Tiongco, a Smile Train partner surgeon since 2004 and a triathlete himself, who spoke about the challenges his patients endure and what keeps him going.
"I've noticed two major challenges in my time working with children with clefts. The first is the stigma, low self-esteem, and embarrassment to leave the house that affects patients and parents. The second is that they need help or assistance but either don't know where to seek it or assume it's too expensive or too far away," he explained, then shared that he is inspired to give so much of his time and energy to Smile Train because, "I love what I do. I love training and helping the less fortunate…. It doesn't come up as work or as a duty but as something I really enjoy doing."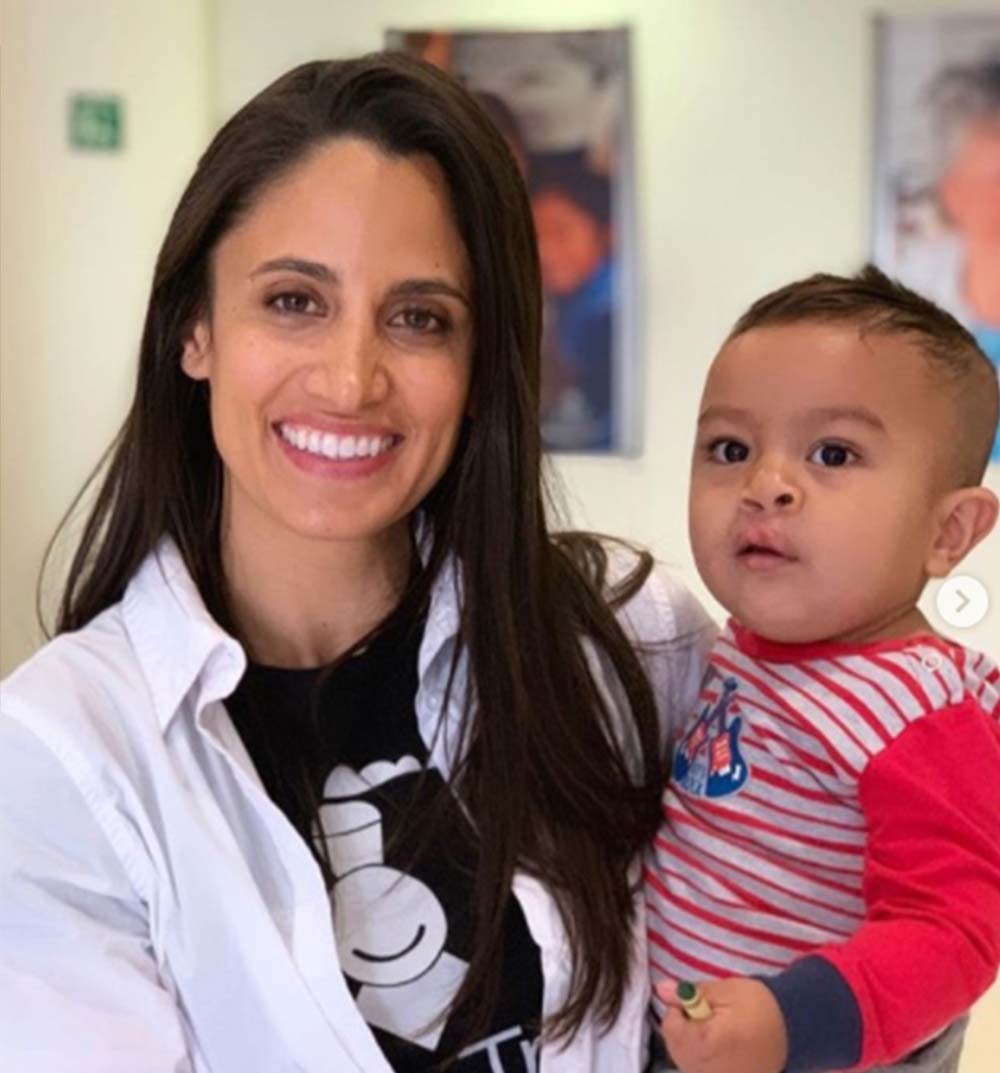 Dr. Tiongco's words reminded Jennifer of her experience visiting Smile Train partners and patients in Mexico City a few years ago. Though she met families in the hospital and watched surgeries as they happened, she said the part that moved her the most was when she had the opportunity to visit a young patient's home. "The parents opened their doors to us. They treated us as if we were royalty because they were so grateful for us being concerned for the wellbeing of their child," she said. "It's so inspiring to see… how organizations such as Smile Train are there to help [these families]. Because it's really scary at first — as a mother of two, I can only imagine what it must feel like. So, to have the support of Smile Train, it's phenomenal. It truly is."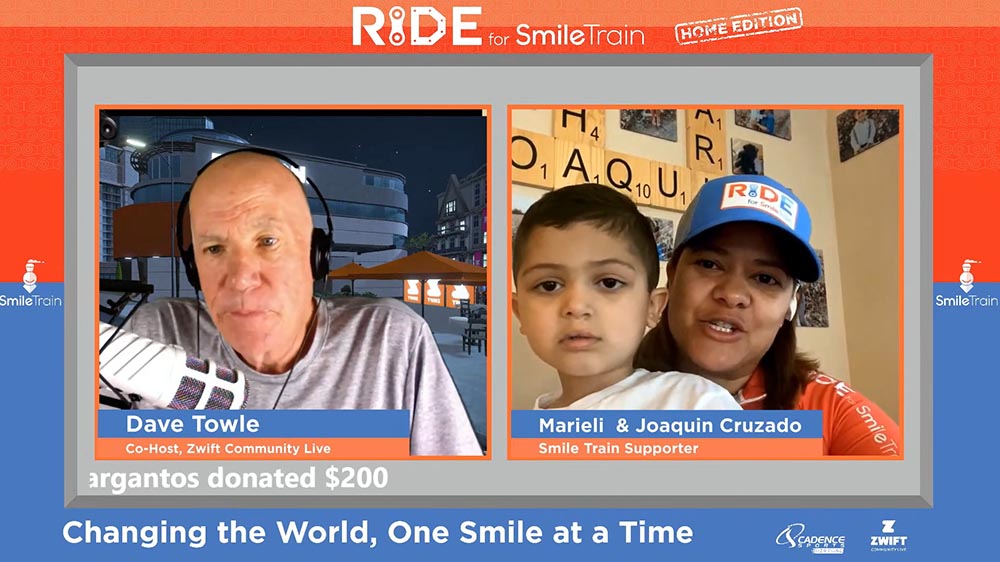 Marieli Cruzado doesn't have to imagine what it must feel like. She had never seen a cleft before her son, Joaquin, was born. And while he has received excellent care from his cleft team in Arizona, she soon learned not all children were so fortunate — leading her to get involved with Smile Train. An avid biker herself, she joined Dave to talk about her and Joaquin's experiences and offer her advice to other parents navigating their own cleft journeys.
"I always say that the wish for me is the wish of any other parent… that you want to have a happy, confident child. And that comes with a different responsibility when your face is different and when you go through all the other challenges," she shared. "I feel honored to be part of this community because we have the opportunity to help other people and to hear the stories about the babies that are neglected because of the way they look. It just breaks my heart because I thought my son was beautiful from the first day that he was born and I think he's beautiful now. I got to experience the cleft smile and the after-the-cleft smile and I think all of them have been wonderful…. You can find joy and you can find love and so much happiness through the process, you just have to be able to know that there's going to be light at the end of the tunnel. And that's what I love to tell all of the parents out there."
"With people like you and Dr. Gene, I don't think we can lose. We're just going to keep raising money and keep helping kids," Dave said.
A World of Smiles
At the end of the broadcast, we saw those children whose faces flashed on the screen throughout the RIDE once again, except this time, they were smiling after their Smile Train-sponsored cleft treatments. And thanks to this event, many, many more children in need will soon join them: By the end of the day, 410 riders representing 19 countries had raised $66,567 for life-changing cleft treatment!
"I'm glad to know I can still cry," said Dave. "Smile Train patients are going to have a huge impact on this society. It's not a hand-out, it's a hand up… It's awesome when you see the power of a donation."
The goal of the RIDE for Smiles: Home Edition, however, was always to change the lives of donors and participants at least as much as children with clefts. And in this metric, too, the smiles just keep on coming.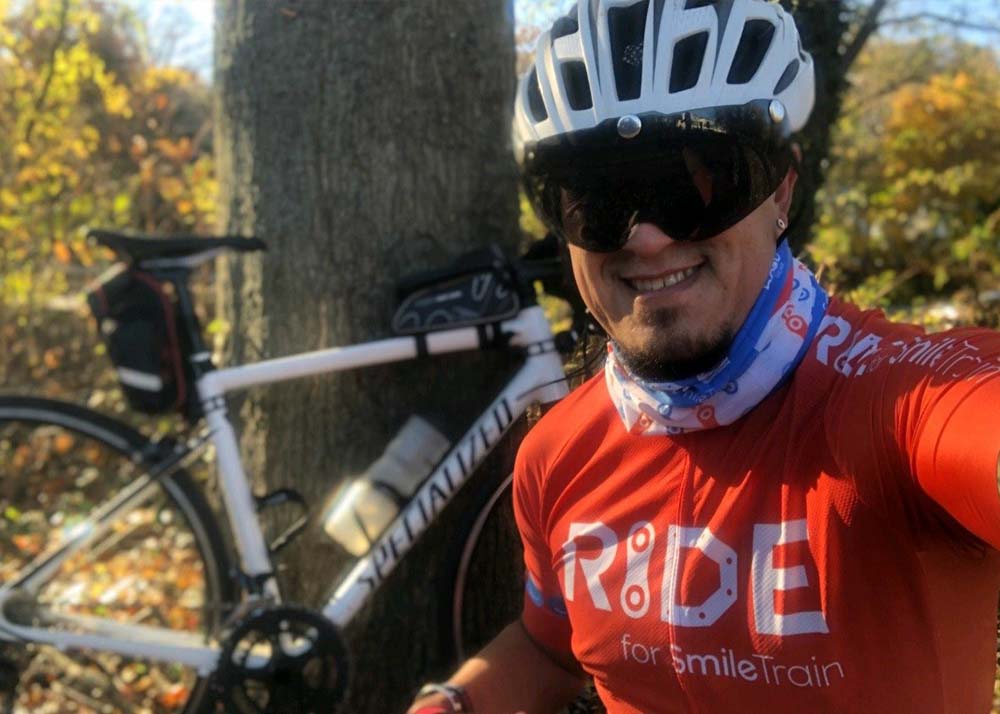 "I just wanted to help in some way to alleviate [the] suffering [of children with clefts]," said RIDE for Smile Train: Home Edition participant Marco Vinicio Escobar Paez. "I was touched by Marieli and Joaquin's story. I know that many people are going to benefit from our donations and more smiles can bring happiness to their families. I love Smile Train's positive impact in the world. I want to take advantage of this opportunity and thank Smile Train for [allowing] me to be part of the group. I am going to continue creating awareness and contributing with my donations as much as possible."