Homer Scoville's Legacy of Successes and Smiles
While Homer succeeded in three challenging careers, he was most proud of the smiles he made along the way.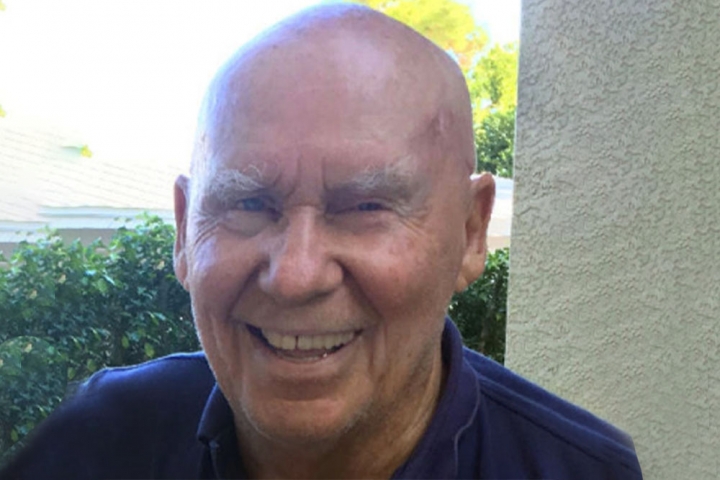 Homer Scoville was a success by any measure. He served his country with pride in the Air Force, then returned to his Connecticut hometown to serve as a family attorney. Always eager to challenge himself, he also branched out to become a real estate developer in Connecticut and Florida. Though he found success in both fields, he still wanted to help his community more, so he ran for, and won, a seat in the Connecticut State Senate. Though he succeeded in three distinguished, challenging careers, if you had asked him what his proudest accomplishments were, he wouldn't have mentioned any of these. Rather, he would have looked you square in the eye and told you his proudest achievements were all in the relationships he formed.
Homer's three children, John, Leslie, and Thomas, were the most important people in his life, and though Thomas tragically died young, his love for him lived on and suffused everything he did. His 10 grandchildren and four great-grandchildren were an endless source of joy.
His most cherished relationship was with his wife, Pat, who first came into his life around 20 years ago.
In his working life, Homer was a consummate disciple of Dale Carnegie. He had the uncanny ability to remember the name of everyone he ever met and saw each client, each potential customer, each constituent, as a friend who was counting on him to help their family or business. He did everything he could to deliver for each one of them. A true virtuoso at the lost art of negotiation, he always made his opening bid just a little too low to be taken seriously then, with tenacity, smarts, and patience, worked the other guy down to a good deal. Working to find the best deal for his clients always brought him to life because it gave him the opportunity to do the things he loved: talk to people, conduct business, think on his feet — skills that he pursued with equal tenacity at the bridge table, where he honed his excellent memory and competitive spirit later in life.
He brought that same passion to everything he did, whether exercising his body on the tennis court or at the gym, exercising his mind at the local library — where he would read and learn for hours at a time —or while engaging in deep conversations with family and friends, or exercising his spirit by giving back through the Rotary Club.
But Homer's favorite way to give back was through Smile Train. A loyal donor for 12 years, he appreciated how the organization's model set up entire communities for success by educating and training local medical professionals, who then went on to train others. He was no less impressed by how these professionals became role models to their patients, inspiring them to stay in school and believe in themselves. His deep belief in Smile Train's model is why, when he passed away in 2019 at age 88 at his home in Florida, Homer left an extremely generous bequest to Smile Train, and thus joined the Smiles for Life program.
In his honor, Smile Train is proud to establish the Homer Scoville Education and Training Endowed Fund. Through it, Smile Train will now be able to teach generations of doctors in even more countries around the world the latest in cleft treatment technology and techniques, empowering them to likewise make a lasting impact in their communities and in the lives of thousands of children in need.
"This is a perfect tribute to Homer because there's nothing he loved more than giving back and making children smile. The whole family is honored to be partnering with Smile Train on this Endowment," said Pat.
"I knew Homer Scoville as a kind, generous man who truly believed in the potential of 'teaching a man to fish' for helping individuals and communities lift themselves out of poverty," said Smile Train President and CEO Susannah Schaefer. "I can think of no greater way to continue his legacy than through the Education and Training Endowed Fund that, in his name, will give communities around world tools for success for generations to come."