Victoria Reed Wins Smile Train's Inaugural College Scholarship
Award given to cleft-affected students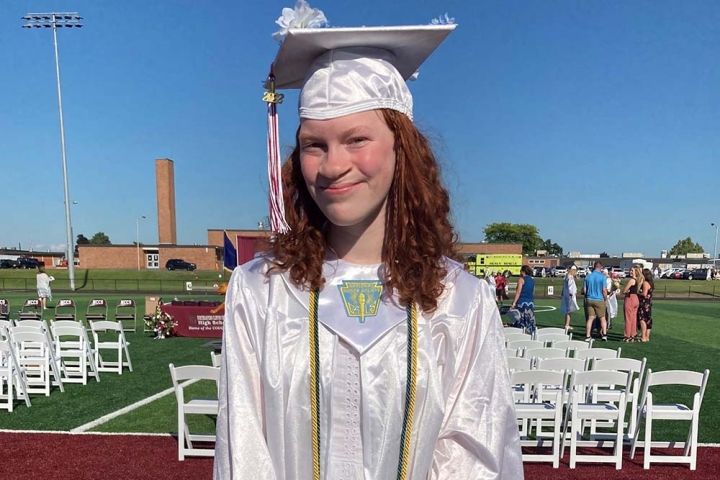 Alburgh, Vermont (July 1, 2022) – Smile Train, the world's largest cleft-based organization, awards 18-year-old Victoria Reed a $5,000 college scholarship. Reed, a 2022 graduate of Northeastern Clinton Central School, beat out dozens of applicants across the country based on her leadership, community service, extracurricular activities, and dedication to raising awareness about cleft lips and palates, a birth condition that can cause numerous health problems, including difficulty with eating, speaking, and hearing.
"I was born with a bilateral cleft lip and palate. Instead of allowing my condition to play a degrading role in my life, I chose to use it to uplift myself and others," said Reed. "I'm proud, excited, and honored to be awarded the 2022 Smile Train College Scholarship."
The award comes during the month of July – National Cleft and Craniofacial Awareness and Prevention Month. Reed has undergone 15 surgeries to treat her cleft.  As a former high school varsity basketball manager, varsity track manager, and member of the National Honor Society, Reed offers this advice. "It doesn't matter what anyone thinks of you. The opinions of others don't dictate your value. We're all different, and that's a good thing," Reed said.
In September, Reed will attend St. Michael's College in Colchester, Vermont. She plans to major in English. "This scholarship will help me worry less about college tuition and focus more on my academics," Reed concluded.
****Reed is available for media interviews upon request****
About Smile Train:
Smile Train empowers local medical professionals with training, funding, and resources to provide free cleft surgery and comprehensive cleft care to children globally. We advance a sustainable solution and scalable global health model for cleft treatment, drastically improving children's lives, including their ability to eat, breathe, speak, and ultimately thrive. To learn more about how Smile Train's sustainable approach means donations have both an immediate and long-term impact, please visit smiletrain.org.
Media Contact:
Nicole Bell
Vice President, Public Relations, Smile Train
nbell@smiletrain.org
(646)829-0996