Snowfox Celebrates Business Growth by Giving Back to Smile Train
Snowfox celebrates its recent partnership with Kroger grocery stores by supporting children with clefts around the world.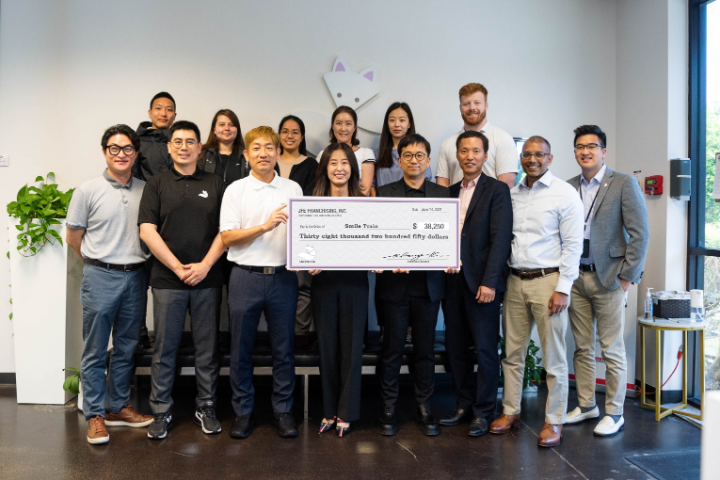 HOUSTON, July 9, 2021 - JFE Franchising, known to customers as the full-service sushi bar Snowfox, celebrates its recent partnership with Kroger grocery stores and gives back to Smile Train to bring awareness and funds for children with clefts around the world.

Since 2016, Snowfox has been a proud corporate partner to the world's largest cleft organization, Smile Train and in 2021, Snowfox achieved a new milestone in their business, opening 156 kiosks in Kroger locations across the country. To celebrate this important partnership with Kroger, JFE issued a significant donation to Smile Train in June 2021, donating over $38,000, or $250 for each franchise location opened within Kroger.

According to JFE Franchising President Stacy Kwon, "At Snowfox, we believe that embracing diversity frees everyone to grow and thrive as their truest, best selves. That's why each franchise is a family-owned business, creating economic opportunities for employees and partners in their own communities."

Smile Train's Senior Director of Corporate Partnerships Justin McCarthy comments, "We are so grateful for the support of JFE Franchising. Our business models both thrive on the strength of a strategic, global model for quality and purpose that is delivered effectively on a very local level via qualified staff and superior products and service."
 
Every three minutes a baby is born with a cleft. Over the last two decades, Smile Train has empowered local medical professionals to provide safe, high-quality cleft surgery and on-going cleft care, supporting more than 1.5 million surgeries for some of the world's most vulnerable children. This donation from Snowfox will allow Smile Train to continue its work in providing safe surgeries and comprehensive cleft care to children globally.

Currently, Snowfox is aiming to expand even further into the Northeastern U.S. and Pacific Northwest. Smile Train looks forward to supporting Snowfox in their business expansion and plans on celebrating many more milestones with Snowfox in the years to come.
 
###
ABOUT JFE FRANCHISING
FE Franchising, Inc. was established in 2005 with 5 Kroger stores in Houston Division. Since then, JFE has expanded into 10 Divisions with Kroger, Sam's Club, WinCo, Albertsons, King Soopers, Fry's Food and Drug, Fresh Market, and other grocery retailers. Our mission is to lead and exemplify Grab-N-Go sushi in all retail locations by placing our customers first, exchanging value with our partners, and dedication to offering innovative menu selections that are affordable, served fresh, in an attractive setting. For further details, please visit jfefood.com.
ABOUT SMILE TRAIN
Smile Train empowers local medical professionals with training, funding, and resources to provide free cleft surgery and comprehensive cleft care to children globally. We advance a sustainable solution and scalable global health model for cleft treatment, drastically improving children's lives, including their ability to eat, breathe, speak, and ultimately thrive. To learn more about how Smile Train's sustainable approach means donations have both an immediate and long-term impact, please visit smiletrain.org.
Media Contacts
Paul Yi
JFE Franchising, Inc
713-463-7777
paul.yi@jfefood.com
Nijha Diggs
Smile Train
646-751-3231
ndiggs@smiletrain.org