Smile Train's Director of Programs Safety Named a Heroine of Health by Women in Global Health
Dr. Elizabeth Igaga to be honored for prestigious award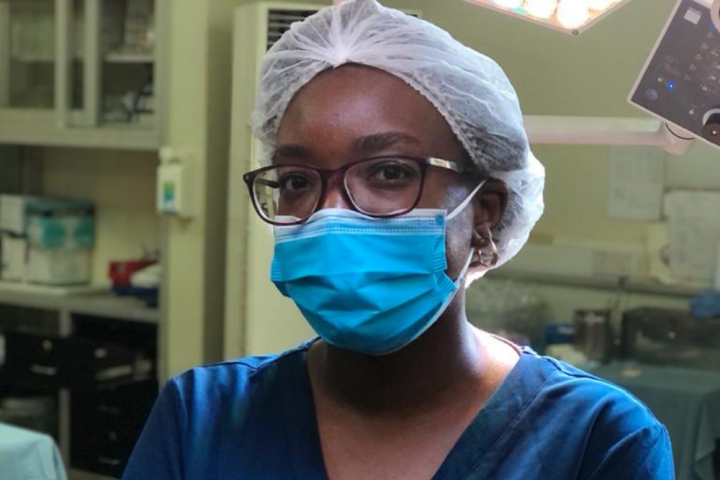 Kigali, Rwanda (July 19, 2023) – Smile Train, the world's largest cleft-focused organization, congratulates its Director of Programs Safety, Dr. Elizabeth Igaga, for being selected as a Heroine of Health 2023 by the advocacy organization, Women in Global Health. The award recognizes outstanding women in health.
Today, on the sidelines of the 2023 Women Deliver Conference in Kigali, Rwanda, Dr. Igaga and several other named Heroines of Health 2023 will be recognized during an awards ceremony.
"I'm honored to be named a Heroine of Health by Women in Global Health. The work I do is critical. As an anesthesiologist in Uganda -- a country with one of the world's highest maternal mortality rates, I have seen too many surgeries that should have saved the life of a new mother or her baby end tragically," Dr. Igaga said. "I will continue to serve on the frontlines while remaining dedicated to bringing the highest standards of safe and quality surgery and anesthesia to ORs across Uganda, Africa, and the world."
In her role with Smile Train, Dr. Igaga ensures that every one of the 100,000+ cleft surgeries Smile Train sponsors each year meets the same rigorous standards of safety and quality. She began her career as one of the only 40 anesthesiologists in her country. Uganda now has over 80 anesthesiologists, and nearly half of them are women. This is no accident as Dr. Igaga serves as a mentor to many aspiring young women doctors across the country.
She was also part of a team that advocated for the use of intrathecal morphine during labor and oral medication after delivery to enable patients to manage their pain. Her advocacy resulted in changes to anesthesia and pain relief approaches during labor in maternity wards nationwide.
In all, 12 women on the frontlines of health systems across the African continent including Ethiopia, Kenya, Burkina Faso, Senegal, Cote d'Ivoire, Malawi, Uganda, Nigeria, Togo and Ghana are the winners of the 2023 Women in Global Health Heroines of Health Awards. Award winners are being recognized for their outstanding contribution to advance safe maternity and sexual and reproductive health and rights (SRHR) in the context of a global campaign to roll-back decades of progress for the rights of women and girls.
"Women health workers, like the 2023 Heroines of Health are the backbone of our health systems, comprising the majority of health workers and accounting for over 90% of nurses and midwives. They play a crucial role in counseling and supporting women to access a range of modern contraceptives and make informed decisions about high-risk or unwanted pregnancies. On behalf of all Women in Global Health, I congratulate our 12 Awardees," said Dr. Roopa Dhatt, Co-Founder and Executive Director of Women in Global Health.
###
About Smile Train: Smile Train empowers local medical professionals with training, funding, and resources to provide free cleft surgery and comprehensive cleft care to children globally. We advance a sustainable solution and scalable global health model for cleft treatment, drastically improving children's lives, including their ability to eat, breathe, speak, and ultimately thrive. To learn more about how Smile Train's sustainable approach means donations have both an immediate and long-term impact, please visit smiletrain.org.
Media Contact: Nicole Bell | Public Relations
nbell@smiletrain.org | (646) 829-0996