Dr. Natalia Tetruieva Named a Heroine of Health by Women in Global Health
Smile Train nominated its partner, Dr. Tetruieva, for prestigious award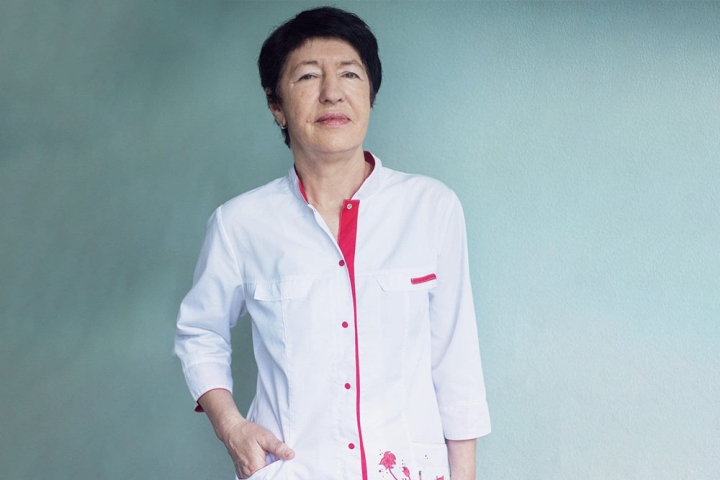 Berlin, Germany (October 17, 2022) – Smile Train, the world's largest cleft-focused organization, congratulates its partner, Dr. Natalia Tetruieva, for being selected as a Heroine of Health by the advocacy organization Women in Global Health.  Dr. Tetruieva of OHMATDIT, Ukraine's pediatric reference hospital, will be recognized and honored during the 2022 Leading Change: Heroines of Health Gala taking place on the sidelines of the World Health Summit in Berlin, on Monday, October 17, 2022.
Dr. Tetruieva is one of Ukraine's leading maxillofacial surgeons. Under her leadership, the OHMATDIT cleft team provides free comprehensive treatment to children with clefts from every region of the country, even during a devastating war. 
The Heroines of Health award began in 2017 to bring visibility to the contributions of women in global health, especially on the frontlines, and showcases the entire breadth of the ways women are improving the health and well-being of their communities. The gala allows global health policymakers and leaders to witness the stories and contributions of each year's selected class of remarkable women in global health.
"I am humbled and honored to be recognized," said Dr. Tetruieva. More importantly, I am committed to the advancement of women in this field and equally committed to using my skills, surgical and otherwise, to help children and adults live healthy and full lives."
Dr. Tetruieva has been healing the people of Ukraine for more than half a century. She got her start in 1966, when she joined the Faculty of Stomatology at Bogomolets National Medical University. She went on to become a dental and maxillofacial surgeon before traveling to Germany to complete a professional training program at the International Medical College in Münster. 
Dr. Tetruieva has served as Head of Maxillofacial Team at the Department of Plastic and Reconstructive Surgery at OHMATDIT since returning to Kyiv in 1994. In 2009, she began partnering with Smile Train to provide comprehensive, free cleft care to children in need across Ukraine; with their support, she now performs about 100 cleft surgeries each year. 
When Russia invaded Ukraine in early 2022, Dr. Tetruieva and her team immediately shifted to providing emergency care for the wounded, while still providing as much quality cleft care as possible. 
"We are thrilled for Dr. Tetruieva and the award could not be more well-deserved," said Susannah Schaefer, president and CEO of Smile Train.  "Dr. Tetruieva is not only an exceptional doctor, but also a trailblazer and a force for good. We hope her story will spur the policy change, namely removing the barriers to entry for women in surgery, that's so desperately needed."
###
About Smile Train
Smile Train, the world's largest cleft-focused organization, provides free corrective surgery to children born with cleft lips and palates. A cleft occurs when certain body parts and structures do not fuse together during fetal development. Clefts can involve the lip and the roof of the mouth. To date, Smile Train has supported safe and quality cleft care for 1.5+ million children. In its effort to provide smiles to children in low- and middle-income countries and all over the world, Smile Train supports training, funding, and resources to provide free surgeries to correct cleft palates, and in turn improve the lives of children and their ability to eat, breathe, speak and thrive.
Media Contact:
Nicole Bell| Public Relations
nbell@smiletrain.org
(646)829-0996