Smile Train and Kids OR Reach Milestone
Cleft Lip and Palate Awareness Week: Smile Train and Kids OR have successfully transformed 13 operating rooms in 10 countries across Africa, with an additional two to be completed in the coming weeks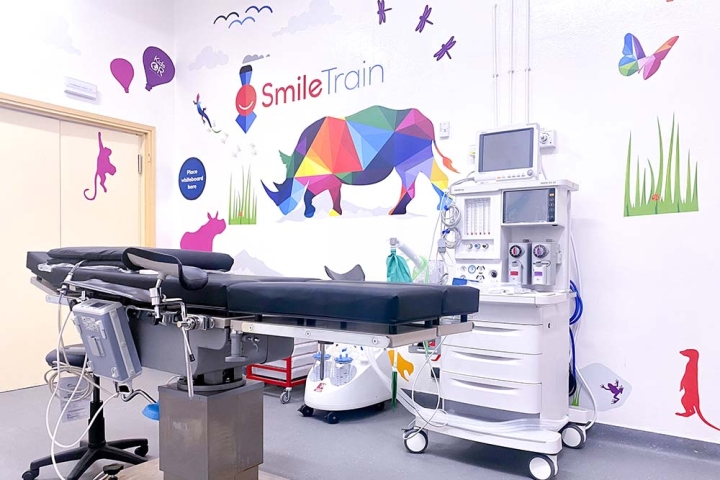 Smile Train and KidsOR have successfully transformed 13 operating rooms in 10 countries across Africa, with an additional two to be completed in the coming weeks
Each operating room includes 3,000 specialized items of pediatric operating equipment, totaling 30,000 items of equipment to provide safe surgery for children
In the last nine months and amidst the challenging backdrop of the global COVID-19 pandemic, the collaboration has created capacity for 9,000 life-changing operations for children per year across Africa
May 11, 2022: Smile Train, the world's largest cleft-focused charity, and Scottish charity, Kids Operating Room (KidsOR) have today announced a major milestone in their global partnership. Thirteen pediatric operating rooms in ten countries across Africa, including Cote D'Ivoire, Tanzania, Democratic Republic of the Congo, Nigeria, Senegal, Ethiopia, Mozambique, Cameroon, Kenya, and Zambia, have been transformed into state-of-the-art operating rooms for children's surgery, providing essential, life-saving surgical care to thousands of children. Two more operating rooms are set to be transformed in the coming weeks, in Mozambique and Ethiopia.
A cleft is the most common facial difference globally, affecting around 1 in 700 babies. In the UK, cleft repair surgery is carried out within the first 12 months of a baby's life by the National Health Service (NHS). However, 1.75 billion children worldwide do not have access to safe surgical care when they need it. The partnership between Smile Train and KidsOR aims to address this by providing surgeons and their teams with the infrastructure and training needed to transform care for their own nation's children.
Based at Smile Train and KidsOR partner hospitals across Africa, each state-of-the-art pediatric operating room includes 3,000 specialized items of pediatric operating equipment to provide safe surgery for children. The operating rooms are designed to transform the often-intimidating environment into a welcoming, calm, and reassuring child-friendly space featuring a colorful wall art of animals, trains, and balloons.
Kids OR's specialist team of architects and bio-medical engineers design each operating room based on the specific needs of the hospital and surgical team. The installation of each operating room will facilitate capacity for 600 operations every year. In the last nine months since the partnership began, Smile Train and KidsOR have created annual capacity for an incredible 9,000 life-changing operations for children across Africa.
Ian Vallance, Director at Smile Train UK, said: "Over the last two decades, Smile Train has empowered local medical professionals to provide safe, high-quality cleft surgery and on-going cleft care for more than 1.5 million of the world's most vulnerable children. Despite the challenging backdrop of COVID-19, the partnership between Smile Train and KidsOR continues to go from strength to strength. The newly installed operating rooms for children's surgeries are making such a difference to not only our cleft heroes but their families, the hospital and its skilled medical team."
David Cunningham, Chief Executive of KidsOR, said "Lack of access to safe surgery is a global issue affecting billions of children. More children die of surgically treatable conditions than from malaria, TB and HIV combined. That means that in low-income countries conditions like appendicitis become life-threatening and a broken leg can mean a lifetime of disability. KidsOR and Smile Train are transforming how children can access surgery by installing state-of-the-art children's Operating Rooms and training surgical teams to work in them. We work hand-in-hand with each country's Ministry of Health, hospitals and surgical teams to create sustainable infrastructure that builds long-term capacity."
The two charities share a long-standing commitment to increase access to pediatric surgical and anesthesia care through a sustainable and empowering model, that helps strengthen healthcare systems in-country.
Through the partnership, Smile Train and KidsOR will work together to locate Smile Train partner hospitals, whilst undertaking extensive discussions and consultation with each country's Ministry of Health, hospital administration and surgical teams to respond to their specific needs.
Over the course of 2022, Smile Train and KidsOR will be installing 15 additional operating rooms across Africa. The long-term collaboration will result in 30 pediatric operating rooms provided across countries in Africa over the next five years, treating more than 12,000 children. They'll also be rolling out an exciting scholarship program for 40 pediatric surgeons in sub-Saharan Africa – training the next generation of surgeons to provide life-changing and life-saving care for children with clefts.
ENDS
For further information please contact:
Philip Carroll
pcarroll@smiletrain.org
 
About Smile Train
Smile Train empowers local medical professionals with training, funding, and resources to provide free cleft surgery and comprehensive cleft care to children globally. We advance a sustainable solution and scalable global health model for cleft treatment, drastically improving children's lives, including their ability to eat, breathe, speak, and ultimately thrive. To learn more about how Smile Train's sustainable approach means donations have both an immediate and long-term impact, please visit smiletrain.org.
About Kids Operating Room (KidsOR)
Kids Operating Room is a global children's health charity working to give every child access to safe surgery when they need it. Over two billion children lack access to safe surgery. Every year, more children die from not getting the surgery they need than from Malaria, HIV and TB combined. KidsOR saves the lives of children in low- and middle-income countries by installing and equipping state-of-the art Operating Rooms dedicated to children's surgery, and training surgical teams to work in them. Since 2018, KidsOR has provided over 34,000 life-changing operations across 29 Operating Rooms in 14 countries