Ukraine's Dr. Natalia Tetruieva Was Always a Healthcare Hero
What our partner in Kyiv wants you to know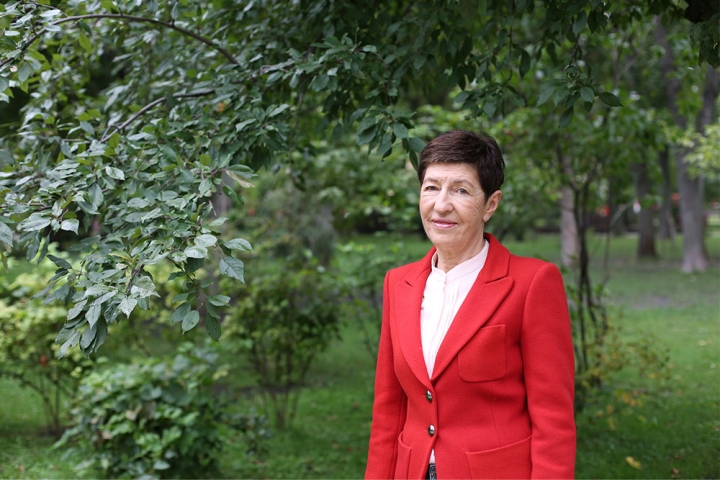 Dr. Natalia Tetruieva began her career as head of maxillofacial surgery at OHMATDIT, Ukraine's National Children's Hospital in Kyiv, just as the Soviet Union collapsed. In the decades since, she and her team have seen Ukraine develop as an independent nation, and now defend itself from attack. Through everything, she and her team have never lost focus on bringing life, health, and smiles to all in need.
Here at Smile Train, Dr. Tetruieva has been our hero since we began our partnership with OHMATDIT in 2008. This fall, the rest of the world took notice, too, when the international advocacy organization Women in Global Health named her one of their Heroines of Global Health for 2022 at their annual gala in Berlin.
In honor of this well-deserved achievement, we caught up with Dr. Tetruieva to learn more about what she's learned over her remarkable career, what keeps her going, why she's so passionate about cleft care, her role as teacher and mentor to the next generation of Ukrainian cleft professionals, her hopes for the future, and more. Once during our conversation, an air-raid siren screamed in the background for several minutes. It did not faze her.
Did you see many women doctors growing up? How did you decide this is what you wanted to do? What obstacles did you face along the way, both in getting into medical school and finding jobs? Did you have a mentor?
I went to medical school in the Soviet Union. Men and women had equal rights, however, "big surgeries" were traditionally reserved for men only. So, I struggled to be allowed to continue my surgical training after graduation; I was repeatedly told that it was a man's prerogative and that I should be satisfied with the position as a dental and oral surgeon that I already had.
But I persisted. I continued my studies for several years until, finally, I completed my post-graduate training in maxillofacial surgery and was accepted to work at OHMATDIT in the Maxillofacial Surgery Department, where they operated on children with clefts, other congenital differences, vascular tumors, facial trauma, and inflammatory processes. I dealt more with inflammatory processes and trauma then, though I had a little opportunity to perform cleft surgeries. Still, that largely remained the privilege of the male professors.
At that time, the Soviet Union was a very closed country; there was no opportunity to study new methods of surgeries in other countries, so we mostly used the methods of domestic surgeons.
As for a mentor, that was my sister. She was a great example for me. Although it wasn't easy, she got admitted to a medical university, and when she was doing hospital shifts as part of her training, she sometimes took me with her. Even after she had graduated and worked at an ICU, she let me in to observe her. She was always an example for me of how to care for patients.
What were your early years of being a doctor like? How did things change for you after the fall of the USSR?
I began my professional development the same year my country became independent, in 1991. With independence, the structure of the hospital changed, and I was given the task of organizing the cleft program. It was not an easy task because I was the only maxillofacial surgeon, and the patients knew little about us.
At that time, I received an offer to participate in a professional training program at the University of Muenster, in Germany, to learn from them not only surgical and other treatment techniques, but also the logistics and structure of a cleft center. Whether to accept the invitation or not was not an easy choice. I was 40 years old already; I knew only a little bit of English and German; my daughter, Natalia, was 16; and there was a difficult economic situation in our country at that time. I consulted with my daughter and only then accepted the offer. This event would determine my whole professional life.
In Germany, I spent my mornings working in the clinic, where I was able to assist all surgeries. In the evening, I worked with scientific literature — copying books on the specialty of maxillofacial surgery — studied, and selected instruments.
That was a difficult year for me, but also a very happy one. I'm very thankful to all my professors.
Once I got back to Kyiv at the end of my internship, I had a lot of organizational work to do. Treating children with clefts should be multidisciplinary and involve the work of a surgeon, anesthesiologist, orthodontist, speech pathologist, ENT, and pediatrician. We had good doctors for all those specialties, but they had not worked together like this in the past. I had to go in and help them all of them with their tasks. I also worked with the nurses and introduced them to new instruments and devices. Thankfully, we created a good team.
I often presented the results of new methods of treatment at conferences. Some professors didn't like the fact that we solved many problems independently, but the hospital administration supported us, and we attracted patients from all regions of Ukraine.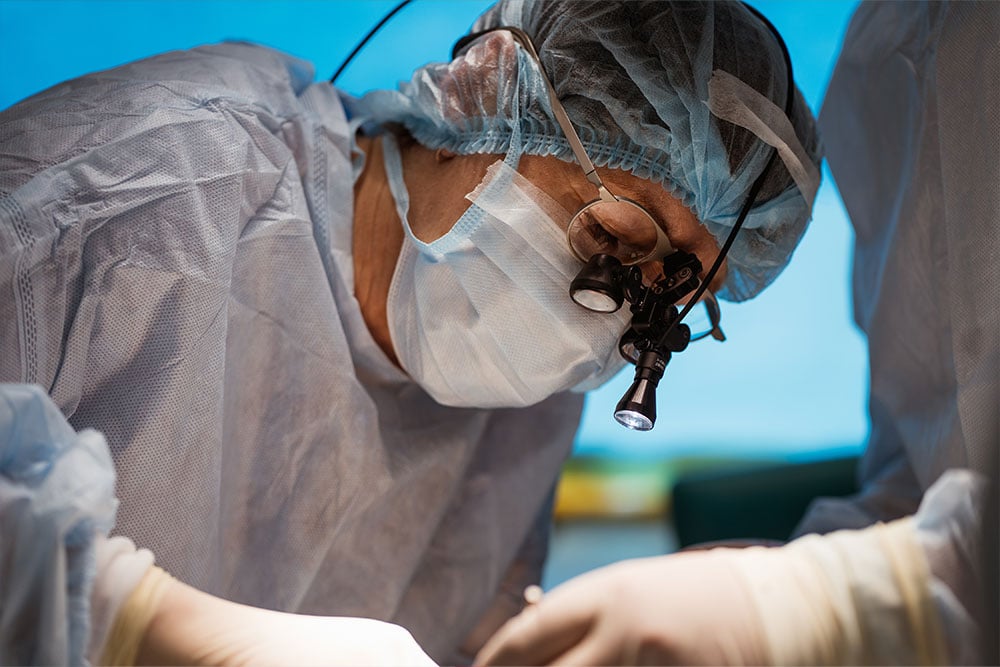 To backtrack a little, how did you decide to focus on clefts? Did you know anyone with a cleft before turning to this work? What was life like for children and adults with untreated clefts in Ukraine before Smile Train?
Prior to joining OHMATDIT, I was involved in the post-op treatment of children with clefts. While the surgeons did what they could at the level that was possible at that time, the results were not satisfactory — neither for children and parents, nor for their medical professionals. Patients had rough scars on their faces, their speech was impaired, and they often had problems socializing with peers at school. One day, one of my little patients told me his great wish was to be like everyone else. This determined my choice, and from that day on I made every effort to learn how to operate on children with clefts to allow them to live their best lives and unveil their full potential.
How did you learn about Smile Train? What was the process of becoming a partner like? What has our partnership meant for your patients?
In 1997, I was exploring possible opportunities for international exchanges, when we got connected with the cleft team at the University of Florida, Gainesville. We cooperated with this team for many years, and at their invitation, I went to Gainesville University Hospital, where I had the opportunity to become acquainted with new surgeries. Together with their team of speech pathologists and psychologists, our hospital organized two speech therapy camps for cleft-affected children and their parents in Kyiv with financial support from Smile Train.
That was how I learned about Smile Train. In 2008, we established our formal partnership.
Smile Train's support allowed us to purchase specialized instruments, more reliable sutures, and other supplies to provide cleft surgery to the international standard. It also allowed us to stay in touch with the international medical cleft community and stay abreast of the latest developments and techniques.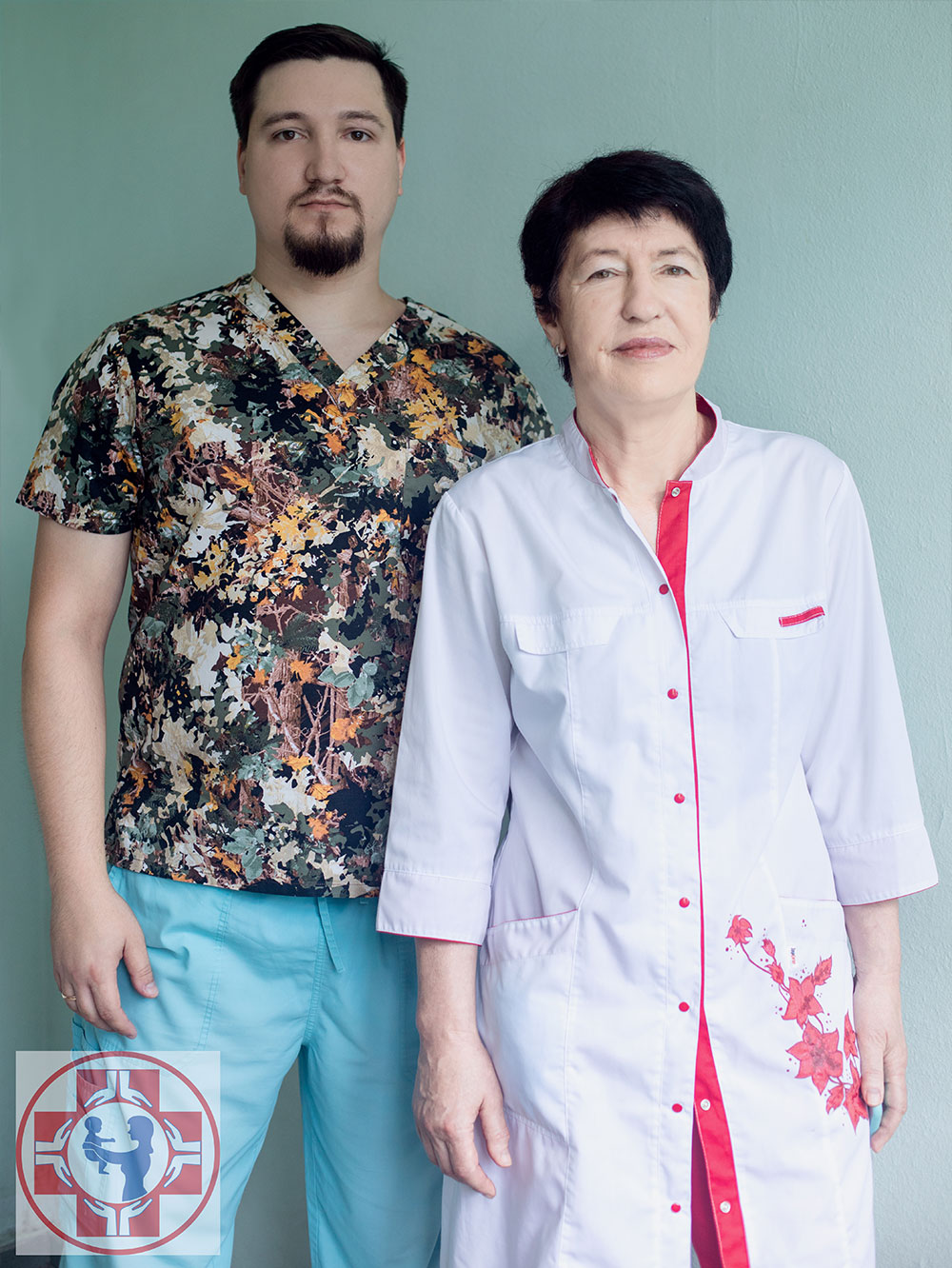 In your experience, why does Smile Train's model of local empowerment matter?
Because proper treatment of patients with clefts requires several surgical steps and a lot of comprehensive care in between (including speech and orthodontic treatment, among much else), it can be properly provided only by teams on the ground. The mission model doesn't work. When surgeons fly to a country and leave shortly after the surgery is finished, they never see their results and children do not receive all the elements of treatment that they need.
Supporting local teams, providing them access to specialized education and training, making them part of the global cleft professional network is the only way to go.
Talk about your work mentoring other female doctors and surgeons. Do barriers and biases still exist for Ukrainian women looking to enter the field? How are you helping them? What does your role as a mentor and role model mean to you?
Public healthcare is a very underpaid sector in Ukraine. Despite this, most of the women stay committed to improving a high level of the treatment, while men seek positions in the private sector to earn money.
At OHMATDIT, we do kidney and liver transplants, perform complex neurosurgery, raise pre-term babies – and most of this is done by women; most of the doctors at my hospital are women who want to have a good education, learn English, and take every opportunity to improve their skills. By supporting these women, we build the motivated and sustainable core of our health security. But access to specialty education and fair renumeration would help significantly.
As much as I can, I try to show with my own example that perseverance can allow us to achieve our goals and serve our patients so they can become full members of society.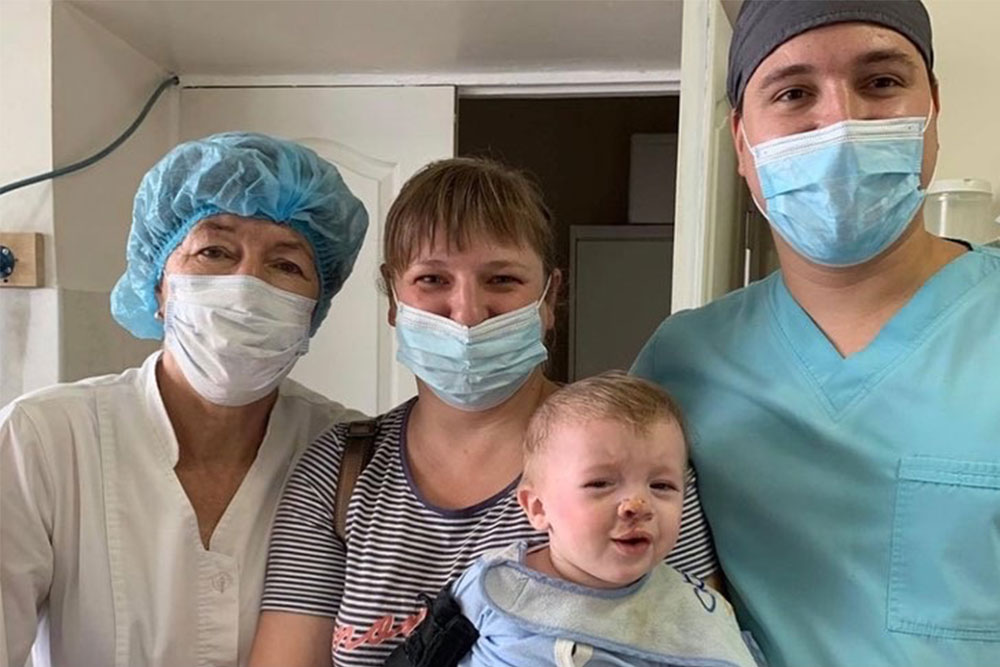 Why is it important to include patients' families in cleft care?
The treatment of patients with clefts starts at birth and continues until they are 16-18 years old. The child has to be treated by many different specialists, and parents are instrumental in making sure their child follows the prescribed treatment path. Parents also play the most important role in their child's psychological development, so including them in the process of cleft care is the key to success.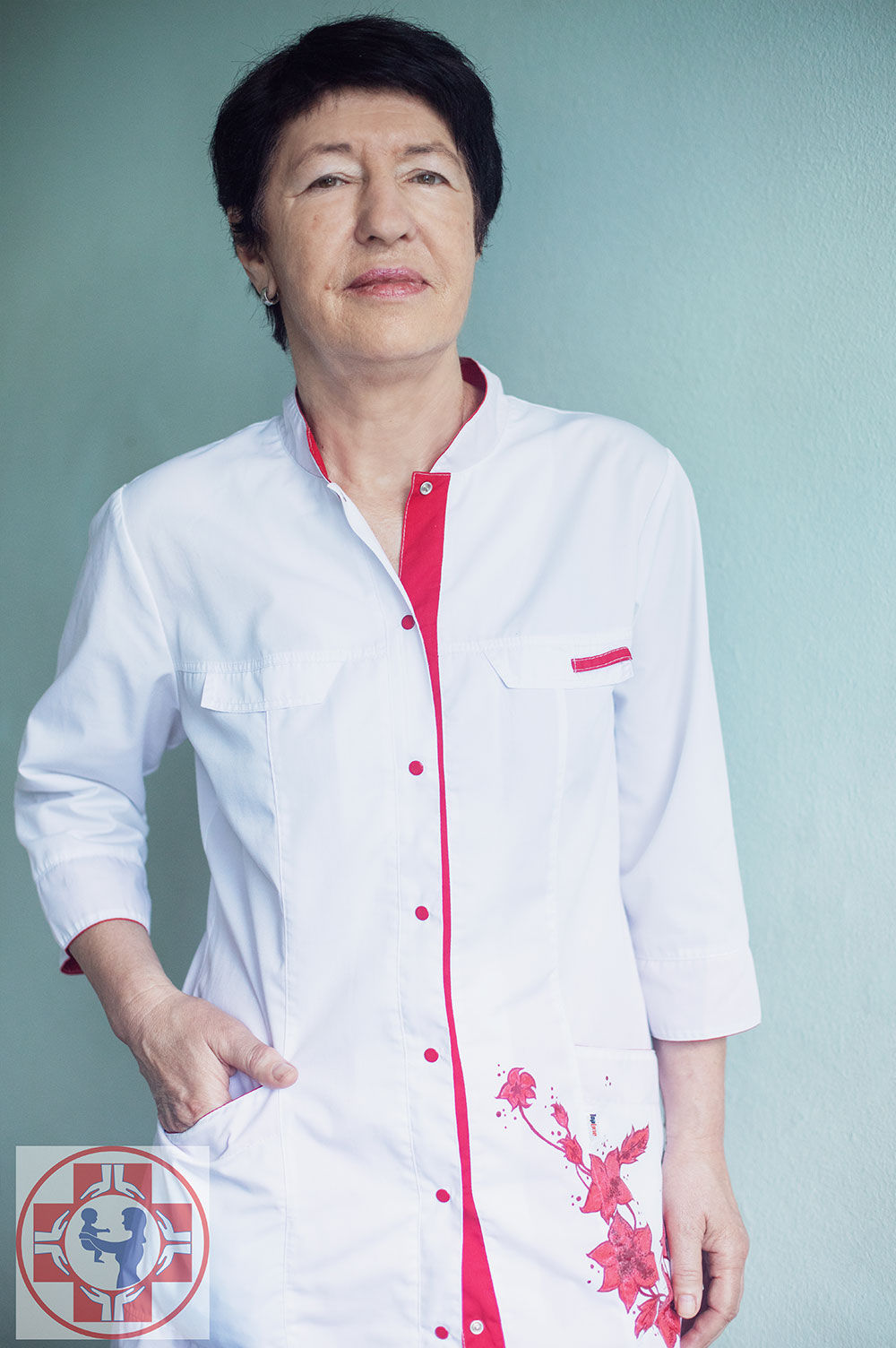 Before the war, you were involved in successful lobbying efforts on behalf of children with clefts in Ukraine, including making yours the first cleft team in the country to include an orthodontist and a speech-language pathologist, and winning permission for OHMATDIT to continue treating cleft patients after they turn 18. Can you take me inside these efforts? Why were these measures so important for your patients?
When I started working in the cleft field, specialists like orthodontists and speech pathologists were afraid of working with patients with clefts, in part because they didn't know the specifics, but also because, at that time, no one really believed that proper rehabilitation for these children was possible.
As our surgical results improved, and as I shared the examples of the German and American cleft teams I learned from, I managed to persuade some of my colleagues to treat patients with clefts with me. As they saw the results and saw that significant improvements were possible, the situation gradually started to change. Also, the word spread among the patients, and patients started coming to our team to get the complete treatment.
Now we have a lot of great examples of patients who have grown up, graduated from universities, got married, and have good jobs. Recently, we had a patient — who was completely rehabilitated — who wanted to go to the army when the war started, but needed a paper from us confirming that his state of health wouldn't prevent him from serving. It was a hard decision to make for me – not because there was any health-related reason that he couldn't serve, of course, but because being on the war front is very dangerous. But I was very proud of his decision, and, of course, we provided him with the documentation he required.
Let's talk about those early days of the war. Did you think Russia was going to invade? Describe the scene in your hospital February 24 and in the days and weeks after, until the withdrawal from the Kyiv area. How long had it been since you practiced emergency medicine, if ever? From a skills perspective, was it a hard adjustment?
Even though Russian troops were gathering near the border and tension was rising, no one really thought a real war would be possible. As soon as first explosions erupted, our hospital routine stopped and we switched to providing care to those wounded – both children and adults.
For the first month of the war, since it was risky to move around, most of the patients and personnel stayed at the hospital round the clock. We did not go home even to sleep. In this way, we were also standing at the frontline. In fact, many female physicians went to the army then to fight for the lives of our soldiers, for the victory.
I had previous experience in managing emergency situations, but none of us had experience treating weapon trauma. We received advice and guidance from our military doctors and the international health community – medical specialists with experience working in war zones came in-person or shared their knowledge during webinars to help us take care of our patients.
Every department took patients according to their own specialty, so mine treated patients with head, face, and neck injuries. I remember a young mother who was nursing her baby at home when a missile exploded near the building and all the glass from the window came into the room like rain. Luckily, the baby didn't get hurt almost at all, but we had to save the mother from the numerous wounds she received all over her body from the glass. We also treated a family who was trying to escape an occupied town when their car was shot at. The father died, but the son and his mother made it to our hospital.
One month into the war, when the situation in Kyiv stabilized a little, we gradually resumed our surgery routine.
How did you keep tabs on your patients in those early days? Are you in touch with patients who have fled the country? What special programs and care are you providing for displaced patients and their families from eastern Ukraine?
In our department, we keep a record of all patients that we have operated on or who have visited us for a consultation and require surgery. At the beginning of the war, I opened those records and personally called every name on the list. Some of the patients were displaced and out of the country and some were in occupied territories and not able to come to the hospital. With every patient, depending on their situation, we determined for whom cleft surgery would be possible and recommended and for whom surgery could be postponed without significant effect on the results – and what the parents could do for them in the meantime.
How did you find the time and the mental space to still be there for your patients in the midst of what must be chaos at your hospital, let alone in your country? Has it been difficult for you to manage your own emotions to be able to provide care, comfort, and support for your patients and their families?
Concentrating on the work at hand has allowed us not to panic and retain our sanity. For example, our speech pathologist switched to providing therapy online, and we held webinars for parents – all while continuing surgery for the patients who were able to travel to the hospital.
Smile Train made a $1 million donation to our Ukrainian partners in March. What did that gift mean for your hospital and your patients? What role has Smile Train played in helping you adapt to this new reality?
Smile Train's support has meant a lot for us. To use the funding as wisely as possible, we transferred a part of it to the hospital and used it right away to purchase medical supplies. We invested another part in a local charity organization that helps transport patients whose lives depend on access to critical, constant care out of Ukraine. Since the war is still going on, a portion is still to be allocated. As new needs arise, and as we learn to cope with certain aspects of our new war reality, we want to make sure it is used exactly where it will be most needed.
What has changed since the withdrawal from Kyiv? How do you safely bring in patients for care, and how do you care for those who cannot make it in? What has changed in your process and how are you managing that change?
The situation remains very complicated and unstable, but we continue surgery as much as possible.
If it becomes unsafe for our patients to travel back, they are allowed to stay at the hospital as long as needed.
Some patients cannot come for surgery because they are in the occupied territories. We keep in constant touch with them and provide advice on what can be done in the meantime.
We also, of course, keep in touch with our patients who were forced to go abroad, and we answer the questions of their doctors in those countries. 
No matter if they are coming from territory considered "uncontrolled," "controlled," or "occupied," we take all the children. 
Tell me about the recent missile strikes near OHMATDIT and what they have meant for you, your colleagues, and your patients.
We almost got used to the sirens going off several times during the day. One day, when I was walking to the hospital to work, I saw a rocket hitting one of the buildings in front me. I had to take a different route, but I still went to work that day.
Unfortunately, one of our doctors got killed during one of the bombings, and her son is now an orphan. He is currently staying with his grandfather, and we are making sure he gets all he needs to go on.
How is your family?
My daughter and my three grandchildren now live in Germany. Natalii is working closely with our Ministry of Education on a project targeted at helping children learn the Ukrainian language.
My niece is an orthodontist, and she is also involved in treating patients with clefts. I love that my whole family is involved in helping children reach their full potential.
Dr. Tetruieva at the Heroines of Health 2022 Gala in Berlin
 Photo credit: Anastasya Magerramova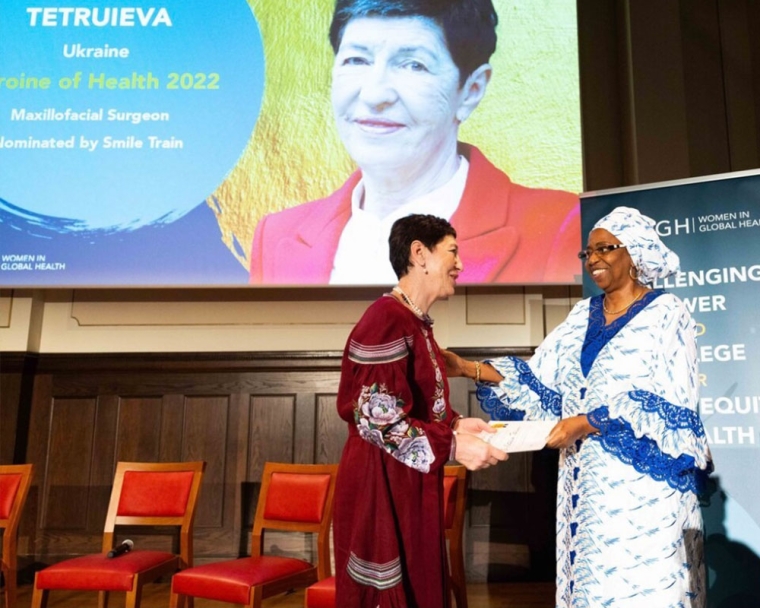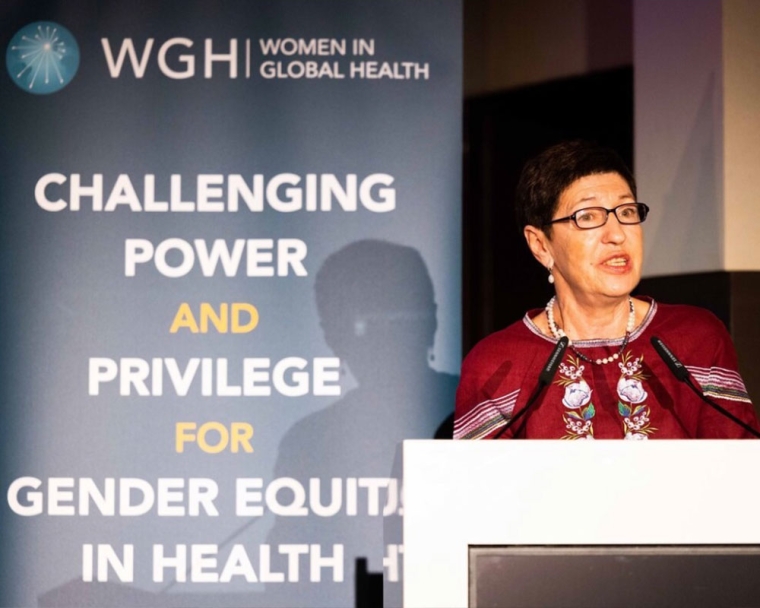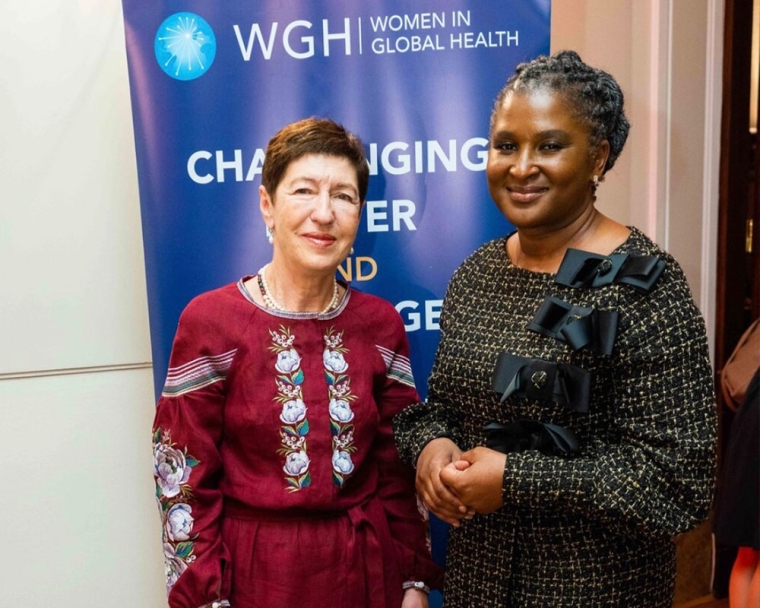 What was your reaction when you learned Women in Global Health named you a Heroine of Global Health for 2022? What does the honor mean to you? What have you taken away from the experience?
When Olga [Kudamanova, Smile Train's Program Manager for Europe] said that I was nominated, I thought, "Well, it is just a nomination; I won't be selected for the award." But then I was, and being there at the Gala with other outstanding women, I felt really overawed and empowered at the same time. These amazing women live in much more complicated situations and environments than I do, but they move towards their goals regardless and know how to stand their ground, fight for their rights, and work towards what they believe in.
The Gala coincided with my birthday, and I was very happy that my daughter and one of my grandchildren could also be there with me that day.
What are your thoughts about the future of healthcare in Ukraine, and cleft care in particular? How can Smile Train be helpful?
There was a planned restructuring of the healthcare system before the war started. We hope it will continue when the war is over. In the area of cleft treatment, our first task will be to rebuild what has remained. As of today, at least 383 children have been killed in Ukraine, and 743 wounded. Over 160 healthcare facilities have been destroyed and will need to be rebuilt; some cleft teams, especially in the occupied territories, now cease to exist. These crimes of the Russian army cannot be forgiven.
With help from Smile Train, we have just created a charitable fund called Ukrainian Smile, through which we hope to reach out to the remaining cleft specialists around the country, check where surgery is still available, and build stronger communication among the cleft teams, while also establishing a network of comprehensive care professionals — such as speech therapists and orthodontists — to ensure treatment is available to all Ukrainians with clefts close to where they live. Training the professionals will remain our biggest priority, and I know Smile Train has many excellent resources to help with this.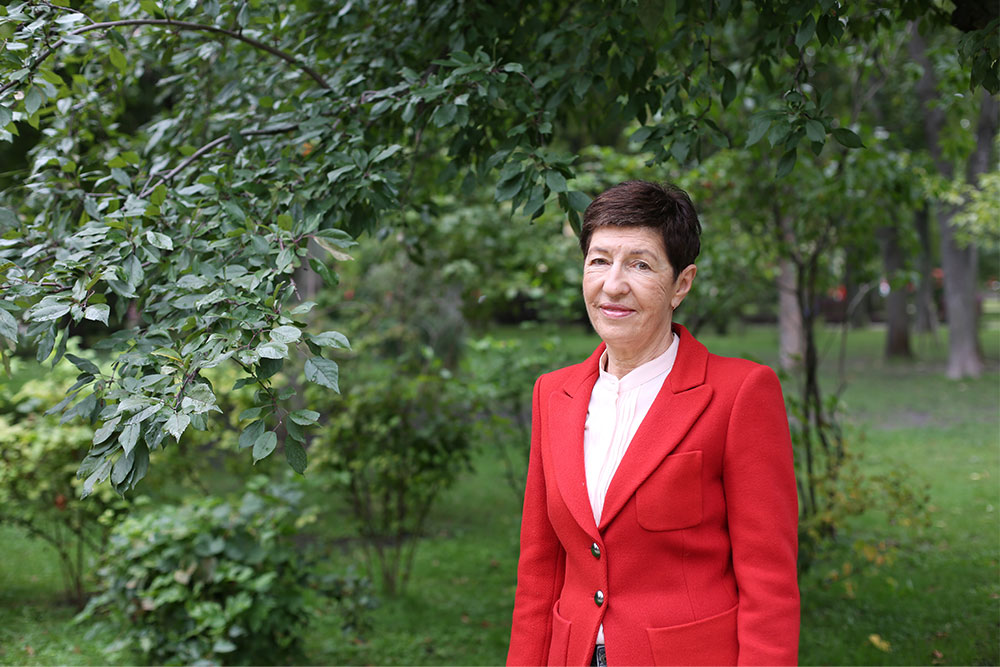 What do you want people to know about Ukraine right now?
I am a proud Ukrainian. The war has really united us a nation. Everyone, whether in the army, in the hospital, or any type of business continues doing their job in earnest, applying their efforts where they are most needed to ensure the victory.
We are fighting for our independence as a nation. Whether volunteering to provide for the army or helping to evacuate people from occupied territories to other parts of the country, everyone is doing what they can to help each other.
We are very proud of our leadership, especially our president, who has stayed in the country despite all threats and who addresses us every day to keep us informed on what is happening.
The support of the international community is very important for us. It is crucial for us to know that we are not alone in this fight. When we win, united as we are as a nation now, we will restore and rebuild our country that we are so proud of.
 
Help empower healthcare heroes like Dr. Tetruieva in 70+ countries.
1,200+
cleft surgeries sponsored since 2008
6
active partner surgeons (pre-war)
6
active partner hospitals (pre-war)