Art Impact For Health Mexico
The connection between art and mental health: An interview with Grace Peters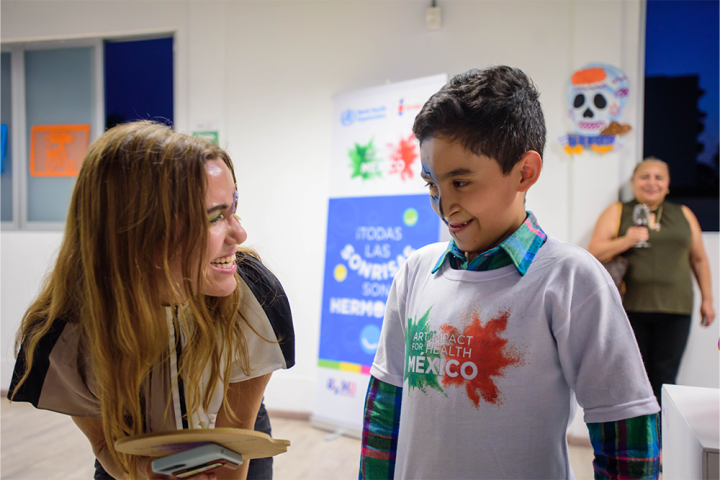 Skulls and colorful banners lined the ceilings and walls of the hospital, welcoming artists, families, cleft patients, and medical professionals from around the world to Art Impact for Health at Centro SUMA, a Smile Train Cleft Leadership Center (CLC) in Mexico City, in true Día de los Muertos fashion. 
Through Art Impact for Health, a multi-stakeholder incubator initiative from the WHO Director-General, the WHO works with healthcare facilities in low- and middle-income countries to enable healing, communication, and improved psychosocial well-being for all patients. The result is the UN's Health for All initiative come to life through engaging art and community activities. Smile Train and the WHO have co-hosted three Art Impact for Health events in Peru, Colombia, and Mexico over the past two years, but this was the first at Centro SUMA. 
At the helm of the Art Impact for Health Initiative is Isabelle Wachsmuth — artist, activist, and passionate advocate for advancing global health through artistic collaboration. In her role with the WHO, she unites people from all walks of life and all corners of the globe to form a community committed to advancing Health for All and the UN's Sustainable Development Goals. This is the kind of event she dreams of. 
Representing Smile Train at the event was Grace Peters, our Manager of Comprehensive Cleft Care (CCC) Programs. We caught up with her to learn more about the experience, how she views the relationship between mental health and art, Smile Train's psychosocial programs, and more.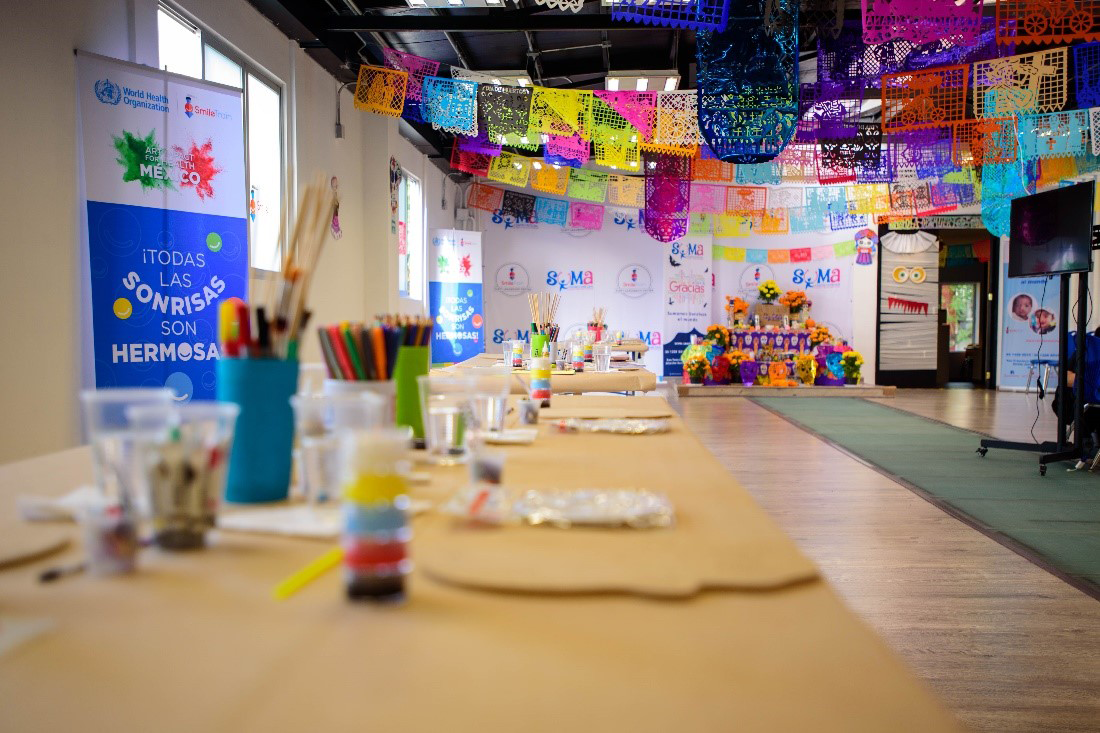 Can you tell us a little more about your background and role with Smile Train?
As Manager of CCC Programs, I work to expand cleft care programs globally. The bulk of my role focuses on expanding Smile Train's nutrition and psychosocial programs, so the Art Impact for Health Initiative is near and dear to my heart, in addition to being an incredible supplement to our work in mental health support for children with clefts.
The event took place on October 30, in anticipation of Día de los Muertos, the Day of the Dead, on November 1. For me, in addition to the Art Impact for Health event itself, it was such an amazing opportunity to visit our programs in person for the first time and to support our regional managers in Mexico. 
What role does psychosocial support play in cleft care? 
When you look at the timeline of cleft care for a patient, it might start with nutrition and feeding support, then the initial cleft surgery and possibly others. As the patient gets older, they may need speech therapy, orthodontia, and other cleft treatment at certain ages and stages of their life. Psycho-social support is a major part of the ongoing aspects of cleft care for patients and their families, and at Smile Train, we know it must be integrated throughout each stage of patients' cleft treatment. 
Around the world, clefts are often stigmatized. Many children with clefts are bullied or treated differently by those around them, and they often struggle with negative self-image and low self-esteem. It can impact their confidence and happiness. That's why psychosocial programs are so important, as is support from family members. But we also know that, even today, seeking this kind of support carries a stigma, and it's important to advocate for mental health and psychosocial support for all patients. 
For me personally, I love art and have always loved art. During the pandemic, art has been a way to step away from things that bring me down and to create something I'm proud of. Finding one hobby or the thing that makes you feel proud of yourself is key, and I think our patients and partners coming together to be creative allows cleft patients to tap into their true artistic selves, making way for self-expression.
I think that humans by nature are creative beings and exercising this through art and self-expression enables us to be present with the truest version of ourselves and let go of the things that weigh us down. Our patients are so much more than the scar on their lip. We are all so much more than our scars.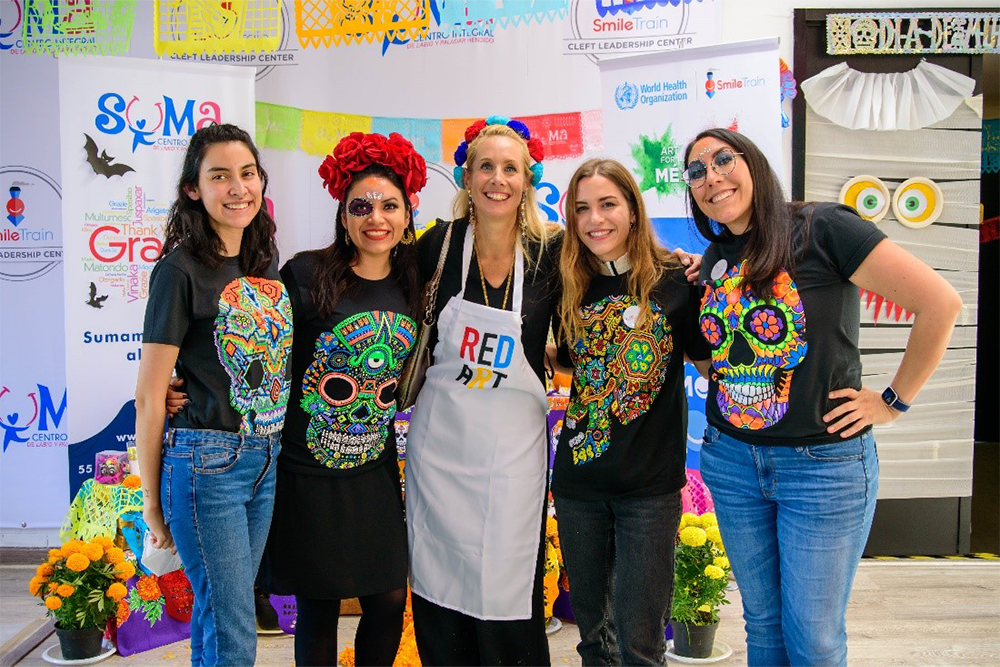 Tell us about the Art Impact for Health event. 
The day started off with local professional artists teaching our patients about different color categories, art techniques, and the importance of art in expressing emotion. After the art lesson, our patients painted and decorated wooden skulls. The skulls they painted had clefts, and this not only promoted the importance of representation of cleft within art, but it also made our patients feel connected to their art.  They were all so creative! So many colors and designs. It may sound strange to have a children's art project with skulls, but skulls are a traditional symbol of Día de los Muertos, representing and honoring loved ones who have passed away. 
We then had lunch with patients and families, and while Isabelle went on to paint beautiful murals in the feeding and lactation room, we invited our partners to see all the artwork. It was just one big celebration of the cleft community, Smile Train, and our partnership with the WHO and Art Impact for Health.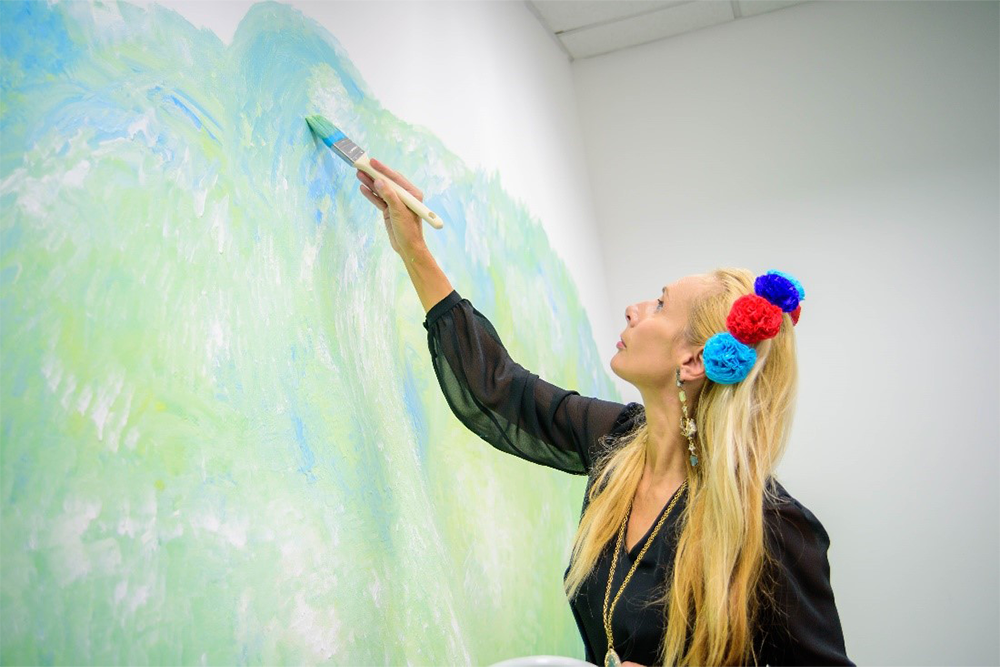 What impact did the event have for patients and families? 
It created such an incredible atmosphere of support and community. 
There was one patient in particular who struck me — a little girl named Diana who was initially very shy. She's enrolled in speech and psychosocial programs at another Smile Train partner hospital, Contigo Sonreimos. As Isabelle painted the mural in the feeding and lactation room, Diana walked in with a MATI doll, which is a doll created in Mexico that has cleft. As she looked up at me, I felt a unique connection with her, even though we needed someone to help translate. Diana's psychologist was at the event, and she said she has never seen her so comfortable and outgoing. It's so amazing to see how these events impact patients. 
You mentioned the connection you felt with children with clefts, particularly from your own unique experience. In this sense, why do you think representation is so important for cleft patients? 
I think my attendance at the event, as someone who was born with a cleft lip and palate, adds a lot in terms of representation. For the skull painting celebrating Día de los Muertos, it was important that the skulls had clefts.
With the MATI dolls, patients can see themselves represented. Representation should be included in all aspects of life. One in 700 babies is born with cleft around the world; these dolls help patients not only relate to what they are seeing, but also help them feel included and give them something to identify with. We need to keep working on advocacy and representation when it comes to birth differences. It's so crucial to have this kind of representation.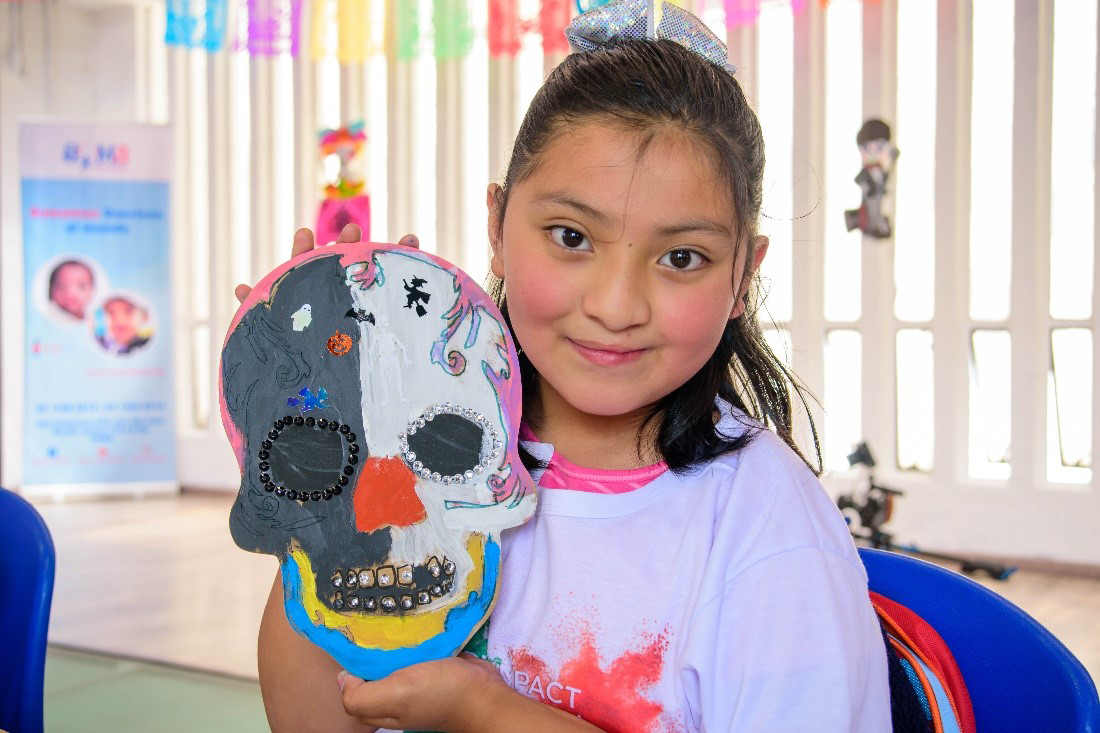 What advice do you have for any cleft-affected person who struggles with a negative self-image? 
Some days are really hard, I know. You are not alone. Your truth and beauty go deep into your heart and the scar on your lip leads to your heart. You are so much bigger than your cleft — be kind to yourself. You have an incredible story. Surround yourself with things you are most passionate about and people who make you smile. Sometimes when something is bothering me or a negative thought comes into my head, I hold my hands to my chest and say "Let it go" out loud three times. That helps me to shed away negativity or energy that does not serve my best self. You are stronger than you know.