Susannah Schaefer Receives Honorary Doctorate from SUNY
Degree recognizes a career of leadership, vision, and smiles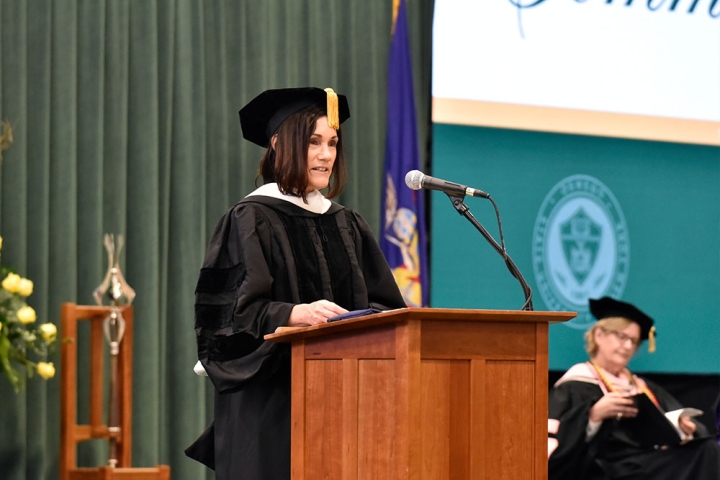 The State University of New York (SUNY) honored Smile Train President and CEO Susannah Schaefer with an Honorary Doctor of Humane Letters at SUNY Oswego's 161st combined commencement ceremony for the School of Communication, Media and the Arts and School of Education last weekend. Schaefer, who graduated from Oswego in 1990 with a bachelor's in communications and a concentration in public relations, was recognized for her visionary leadership of the world's largest cleft organization as well as for her personal passion for protecting the world's most vulnerable.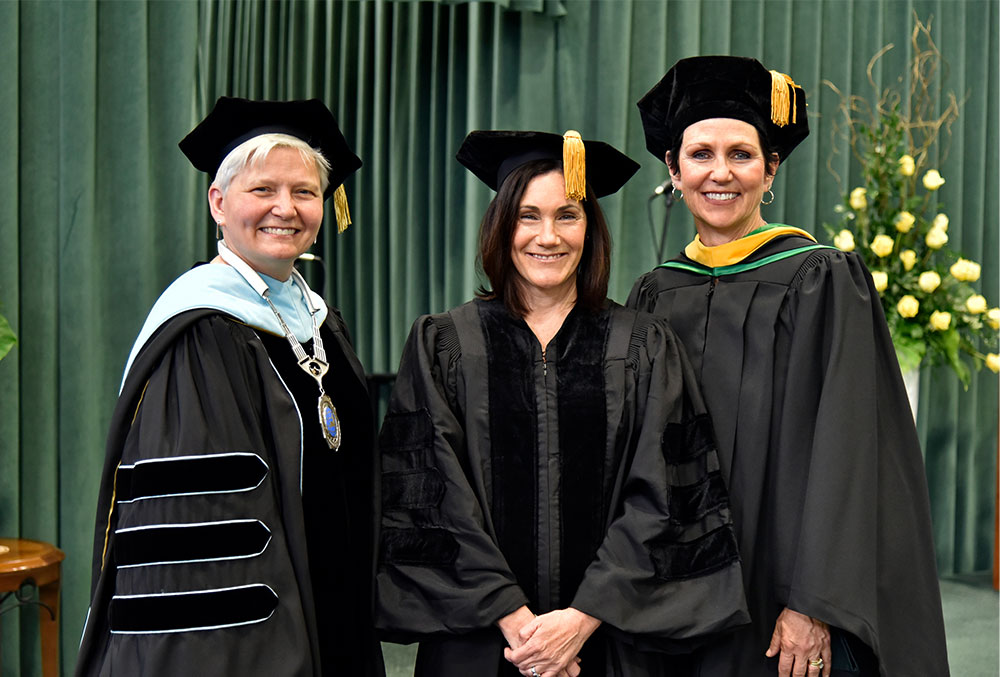 Specifically, the university's citation noted how Schaefer has overseen nearly a decade of phenomenal growth across all aspects of Smile Train's work since taking the reins in early 2013. Under her leadership, the organization has expanded lifesaving cleft care partnerships to dozens of new countries, transforming — and saving — the lives of hundreds of thousands of people with clefts. This was made possible thanks to a network of loyal and dedicated financial supporters and the development of some of the most efficient, effective, and portable surgical training tools, including the Virtual Surgery Simulator.
Oswego leadership further noted how she guided Smile Train through one of the most devastating public health crises in history — the COVID-19 pandemic. Since early 2020, she has spearheaded major efforts to ensure patients can still receive the vital care they need, whether in person or virtually, and has greenlit the donation of more than $3 million in necessary medical equipment to partner hospitals, allowing them to keep patients and themselves safe though the worst of the pandemic.
All while ensuring Smile Train continues to earn the highest marks for nonprofit efficiency and transparency.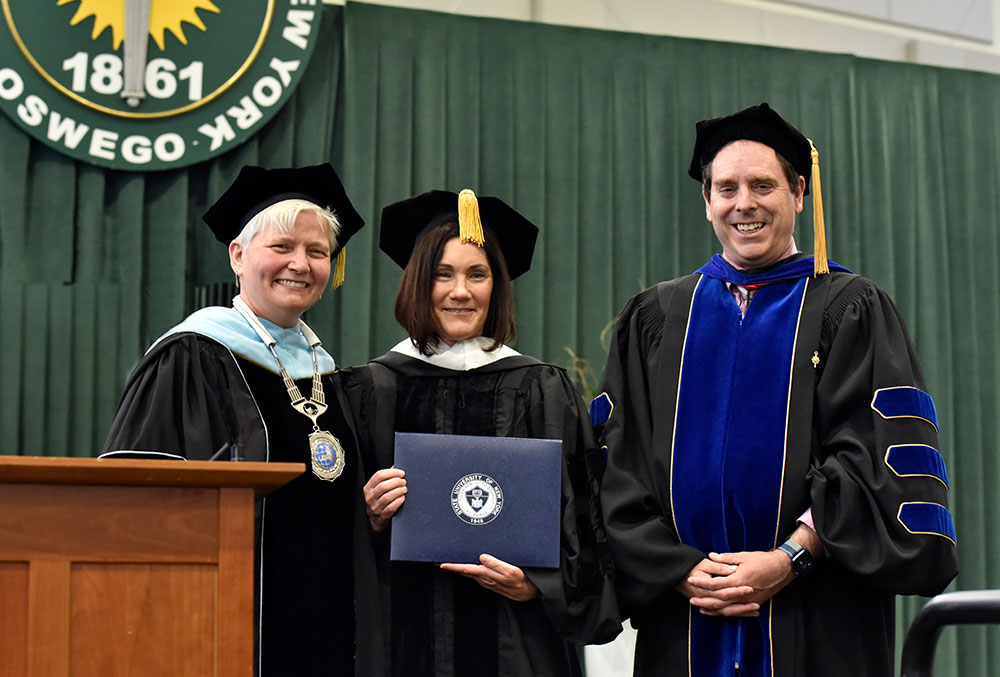 Finally, Oswego commended Schaefer for her selfless devotion to causes outside of Smile Train — including sitting on the boards of the National Center for Missing and Exploited Children and Lifebox, a leading global surgical safety nonprofit — for blazing a trail for other women executives, and for always making time to give back to her alma mater.
In her address to students, faculty, families, and all present, Schaefer revealed the secrets to her success: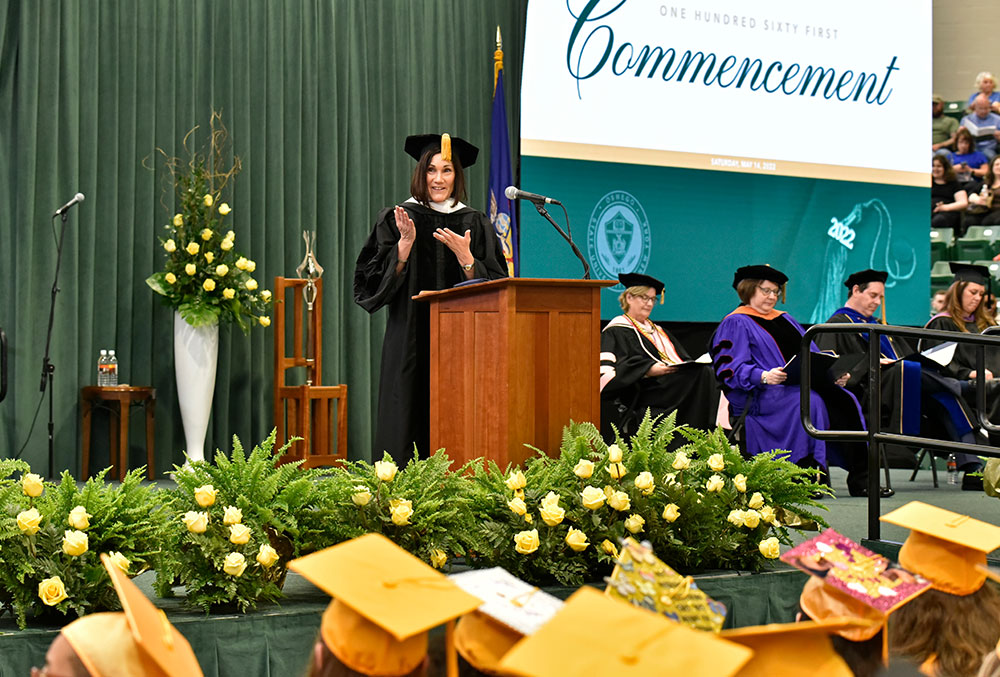 "Every bit as important as the things I learned in the classroom were the traits I gained from my Oswego experience and my degree in communications," she said. "Oswego taught me how to think and how to work hard; how to trust my own judgment and to believe in myself; and, more critically — how to communicate."
She noted the supreme importance of communication was also one of the most critical lessons she learned from her beloved mentor, Smile Train's late founder, Charles B. Wang:
"Charles would say that you can… have the best idea in the world, but if you can't communicate your ideas well, your brilliance, your drive, your unique self will not shine through and set YOU apart from the rest. And he's absolutely right. Putting in the work to be effective, thoughtful, and compassionate in your interactions with others is crucial. Approaching people with an open mind and open ears — listening! — will be key to your success throughout your professional and personal lives."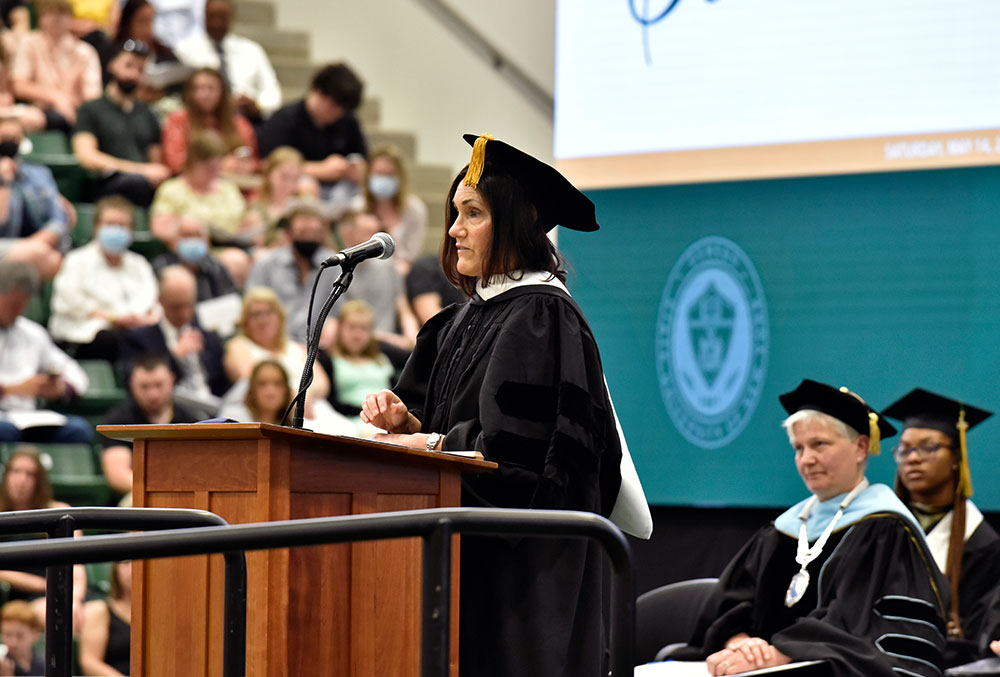 She closed with three key pieces of wisdom she took from Oswego all the way to the top of her field:
Work hard – life's big wins usually don't come easy.
Communication is your superpower – so treat it like one! Putting in the work to communicate effectively, inclusively, and empathetically will pay off.
And finally, HUSTLE! This is that Oswego X-factor – be inquisitive and tenacious, find mentors, lead with kindness, and BELIEVE in yourself.
Susie, the whole global Smile Train family sends you our warmest congratulations on this well-deserved achievement! Under your guidance, we look forward to making millions more smiles together for years to come.