Jaya's Smile Is Living Proof of the Power We All Have to Make a Difference
How Smile Train and GSK are partnering to save more children's lives
Sudha's six-month ultrasound left no doubt — Jaya would have a cleft. With that knowledge came another sure thing: As a family living on less than $3 a day, Sudha and her husband, Arun, could not afford the care their daughter-to-be would need to eat, breathe, speak, and thrive.
But before the family could lose themselves in fear, the technician opened a door to hope. Go to Sri Ramachandra Hospital, she suggested. There, an organization called Smile Train will sponsor all the cleft care Jaya will ever need.
They headed straight to the hospital and were welcomed with open arms. The staff showed Sudha and Arun before-and-after pictures of other patients. They gave the couple the special bottles they would need to feed Jaya so she wouldn't choke on milk like so many other babies with clefts.
They explained that, thanks to Smile Train, all the cleft treatment Jaya will ever need — including those bottles — would indeed be 100% free.
One Flood, Many Lifeboats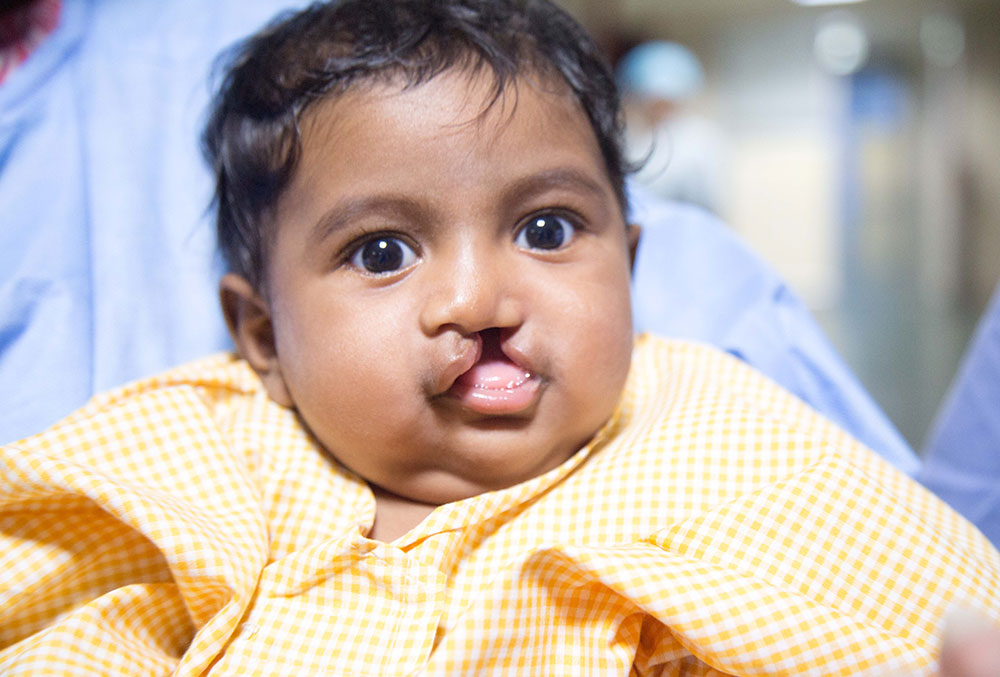 Some things are simply impossible to prepare for. Though Sudha had known about her daughter's cleft for half a year, all her fears and anxieties for Jaya's future came flooding out the moment she first held her little girl in her arms and saw her split lip and mouth up close.
"I had never seen a child like this in my life before," Sudha said.
Here, too, Smile Train was there. Dr. Jyotsna Murthy, then head of the cleft team at Sri Ramachandra, immediately put the new mother at ease, reassuring her that she had personally performed more than 7,000 Smile Train-sponsored cleft surgeries and that Jaya would be in safe hands with her skilled team.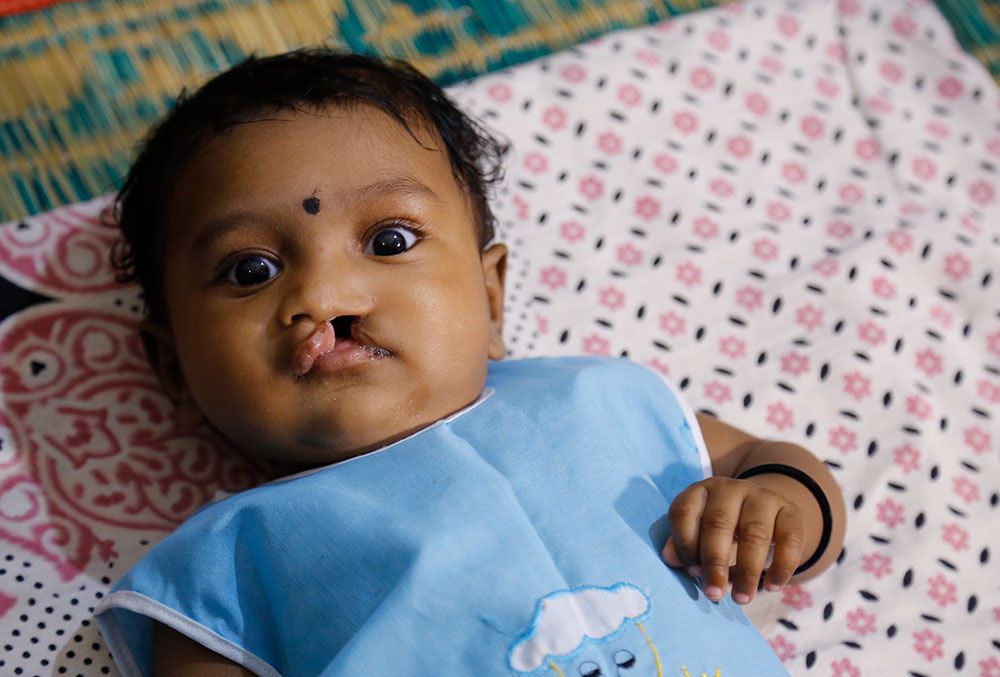 Sudha and Arun diligently used everything they had learned over the past six months to keep Jaya well-nourished and healthy enough to receive the cleft surgery she so needed at the soonest possible date. Five sleepless months later, their efforts were rewarded when Jaya was cleared to receive her first free cleft surgery.
It was auspicious timing. Little did the family know that, just a few months before, Smile Train had inked a partnership with GSK Global Healthcare, and now Jaya was about to become the very first child to have her cleft surgery funded by GSK.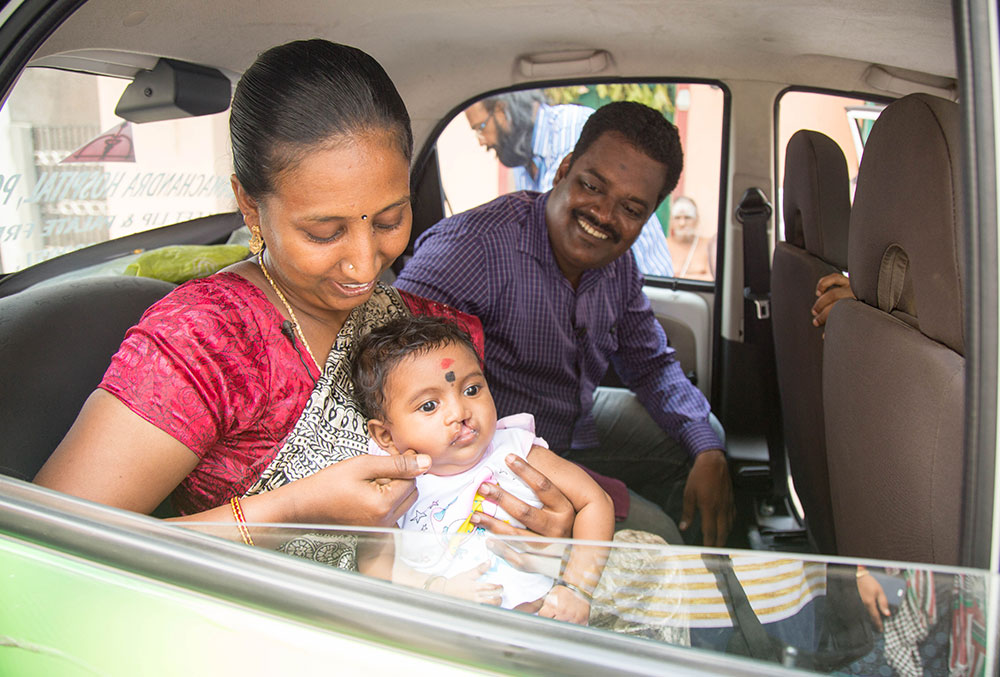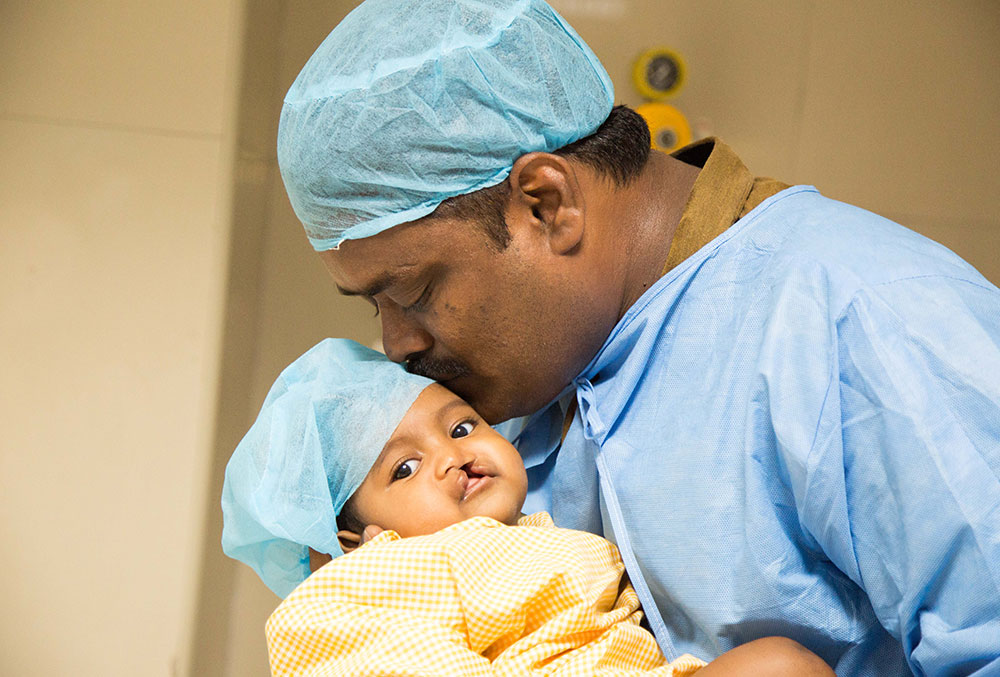 "When I finally had to give the baby away for the surgery, I broke down completely. I have no words to describe what I went through," Sudha recalled. "But the nurses and doctors who were there took good care of everything. The way they treated the child, the way they handled her tubes, and the way they carried her around… all these are unforgettable memories. When I finally got the baby in my arms, I was able to see that they did a wonderful job."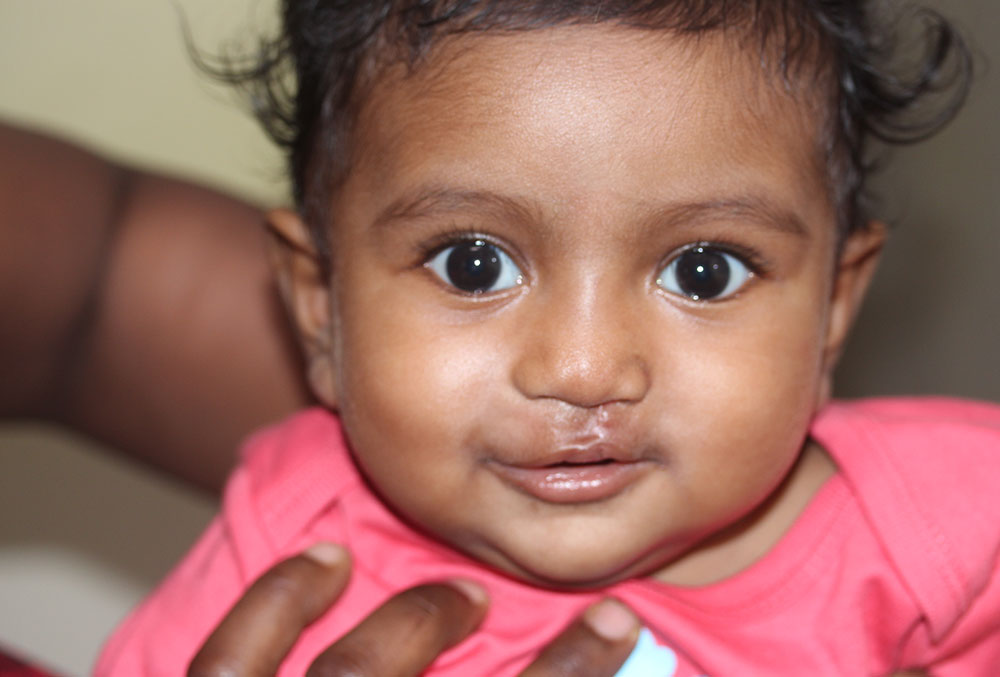 She was no less impressed with the aftercare. "Dr. Murthy removed the stitches very professionally. I had surgery before, but the way she took care of the child was exceptional; she took the utmost care to make sure she didn't hurt the baby while removing the stitches. I was very happy to see that. They also guided me on how to feed the child after her surgery, how to make her feel comfortable, and the precautions to take while taking care of the baby."
Treating a cleft requires so much more than a one-off surgery. Besides nutritional support, children with clefts usually require years of specialized dental work, orthodontics, speech therapy, psychosocial counseling, and so much else to not only live, but thrive. That's why Smile Train innovated a model of empowering local professionals to consistently provide all the cleft care children need locally and at no cost to their families. And it's why GSK, with its commitment to fighting preventable oral health problems, is so proud to support this work.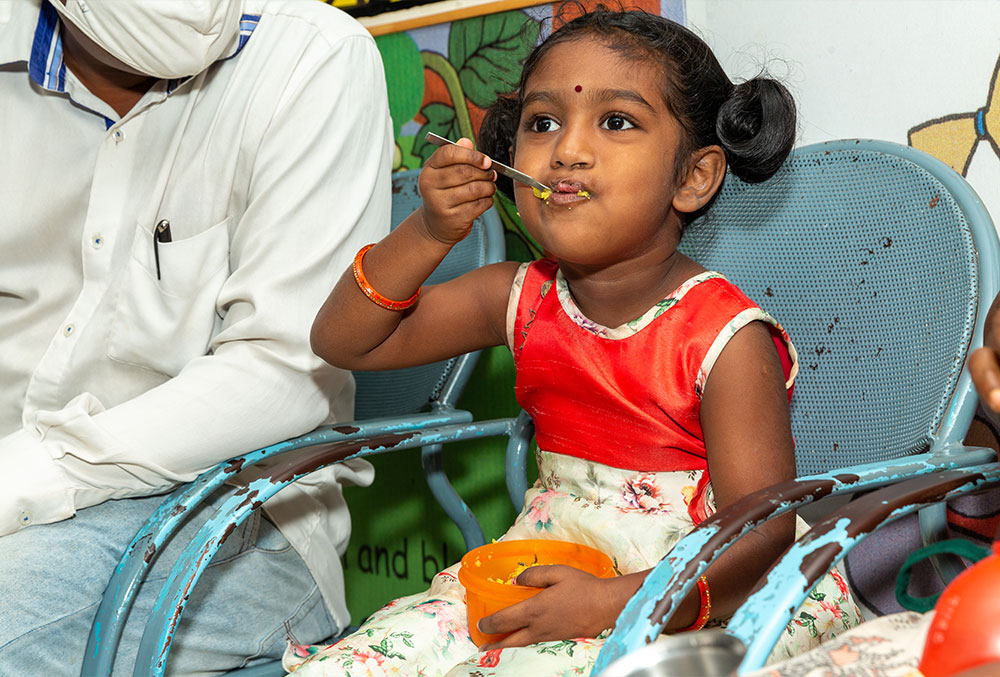 In the years that followed, Smile Train and GSK sponsored specialized dental care for Jaya. Now four years old, she's enrolled in speech therapy at Sri Ramachandra.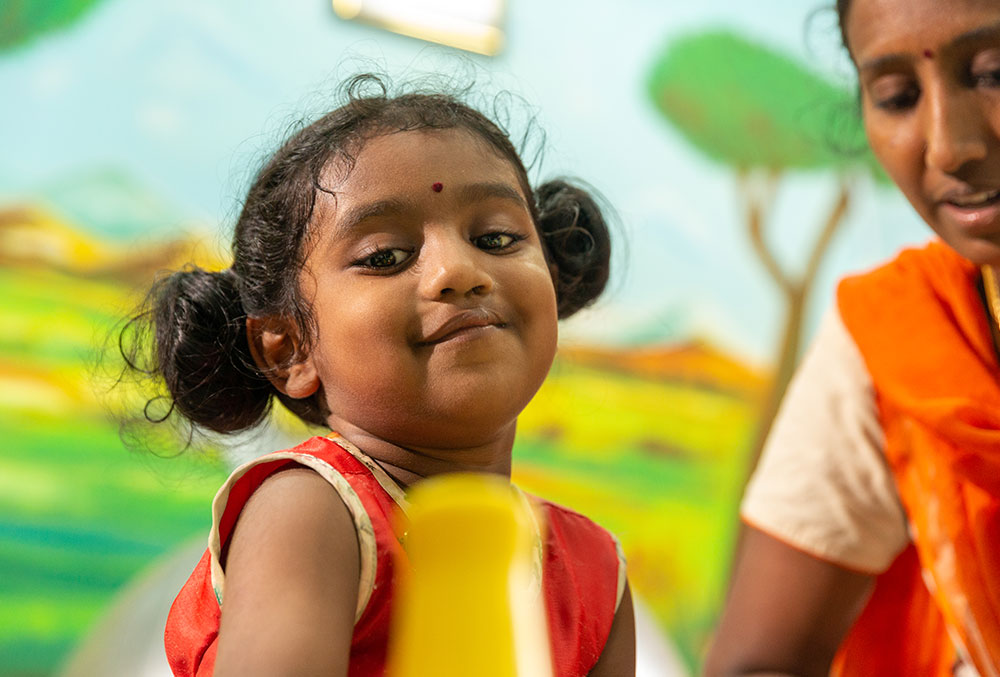 "For a long time, I was worried that my child would never speak. Now, when she pronounces the [sounds] tha, pa, and ka I am very much delighted. I will never forget this in my life," Sudha said.
When the COVID-19 pandemic hit in early 2020, cleft charities with a model of sending doctors on mission trips to other countries were forced to shutter or suspend operations. But because Smile Train and GSK believe in empowering local specialists, Jaya's care was not interrupted.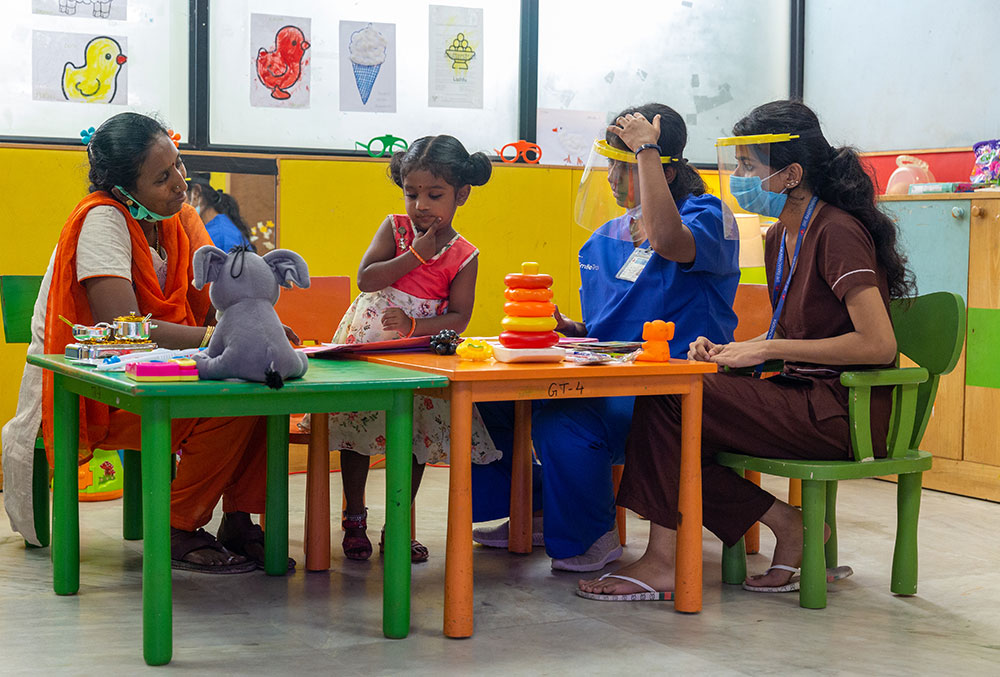 As Arun describes it, "When the coronavirus lockdown was imposed, we didn't know how to go about her treatments. Thankfully, the people from Sri Ramachandra Hospital called us at regular intervals and gave us what we needed to continue her care with videoconferencing technology. I had my doubts that it would work, but they called me directly to clear them up then followed through on their promises without delay."
Our Impact in India, as of May 2022
676,500+
cleft surgeries sponsored since 2002
210+
active partner surgeons
135+
active partner hospitals
Now, Jaya looks forward to going to school each morning and playing with her friends each evening. She is living the happy, healthy life her parents always dreamed of for her — and, thanks to Smile Train and GSK, so are thousands of other children around the world just like her.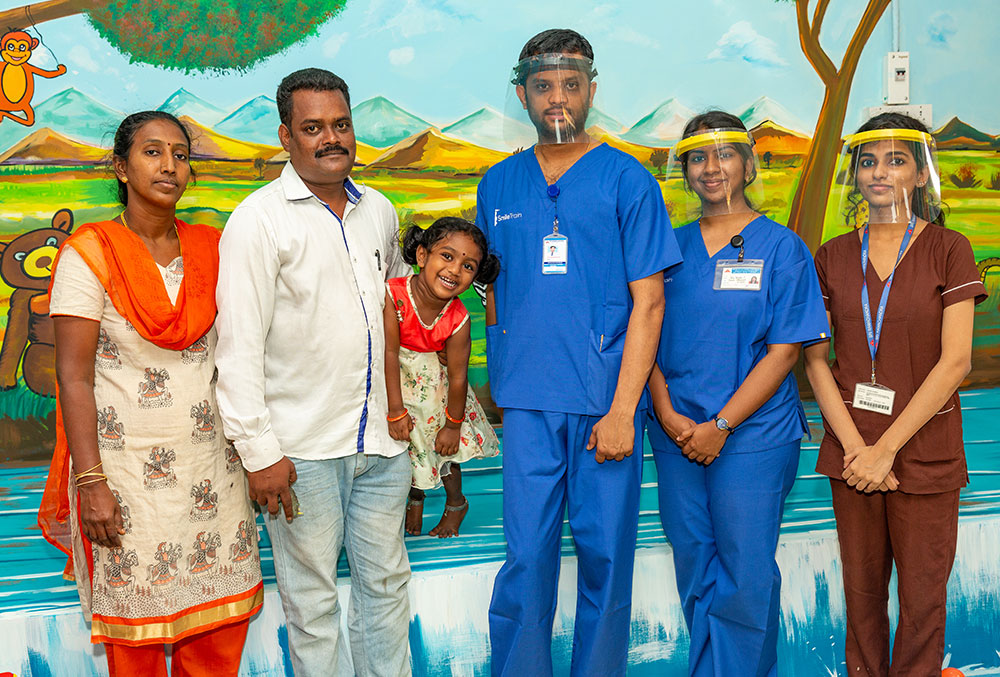 "Jaya never stops smiling, thanks to GSK, Smile Train, and the team at Sri Ramachandra Hospital," said Sudha.
"After our experience with GSK, I can confidently say that any child anywhere in the world with a cleft can be healed. My child is living proof of that," said Arun. "She can do whatever any other child could do, maybe even better, with the help of GSK."
Smile Train mourns the loss of our longtime dedicated partner Dr. Jyotsna Murthy, who passed away in February of 2020. In her time as a partner, Dr. Murthy provided 7,000+ Smile Train supported cleft surgeries and changed the lives of countless more by passing on her skills and knowledge to cleft specialists across India. Dr. Murthy's legacy will always live on in the smiles of the faces of thousands of children she helped – including Jaya's - and in the hearts of everyone who was fortunate enough to know her. Her unwavering passion, commitment, and dedication to children with clefts was unmatched.