Untold Stories
In Ethiopia, Dr. Bethel and Smile Train are changing the narrative around malnutrition.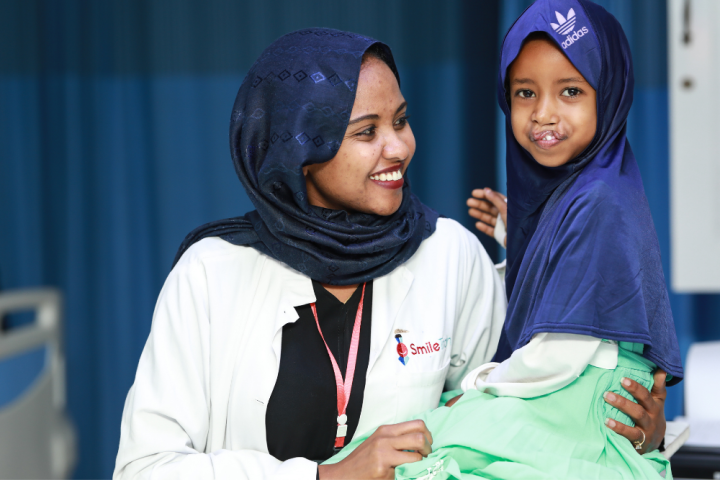 Frustration and desperation tinged every word spoken by the soft voice on the other end of the phone, and Dr. Bethel Mulugeta listened carefully. She almost didn't need to hear the words themselves — this mother's story was one she hears all too often. For the mother who was pouring her heart out, though, it was a trial she had never imagined.
Her son, Abel* had been born just two weeks ago with a cleft — something she and her husband had never seen. It quickly caused an even graver problem when he was unable to latch and breastfeed effectively because of it. In his first two weeks of life, he had already lost 2 lbs. from his birth weight. The mother had no one to help — no family member had ever heard of a cleft, and after the cruel reactions of her neighbors, the mother was afraid to even show her baby to others.
Years ago, stories of babies like Abel* — babies struggling to survive the insidious effects of malnutrition — had inspired Dr. Bethel to pursue a medical degree at the College of Health Science of Addis Ababa University. In 2020, she graduated and immediately began to pursue a master's degree in general public health. That same year, she joined Smile Train as a Nutrition Advisor for Ethiopia (She has since joined Smile Train's staff as Program Assistant for the East Africa Horn).
"I have seen many, many babies who are malnourished. Malnutrition is multidimensional and multifactorial, and the burden will be doubled in children with cleft lips and palates. I realized the dire need and the huge gap in available care. It was very easy for me to see how difficult it is for a malnourished baby, born with a cleft lip and palate, fighting for his life," said Dr. Bethel.
Alongside Smile Train partners and fellow Smile Train Nutrition Advisors, she is determined to change the narrative by training health workers and building nutrition programs throughout Ethiopia. In the meantime, she's fielding calls to ensure that every cleft-affected child and family can access the information and support they need so desperately.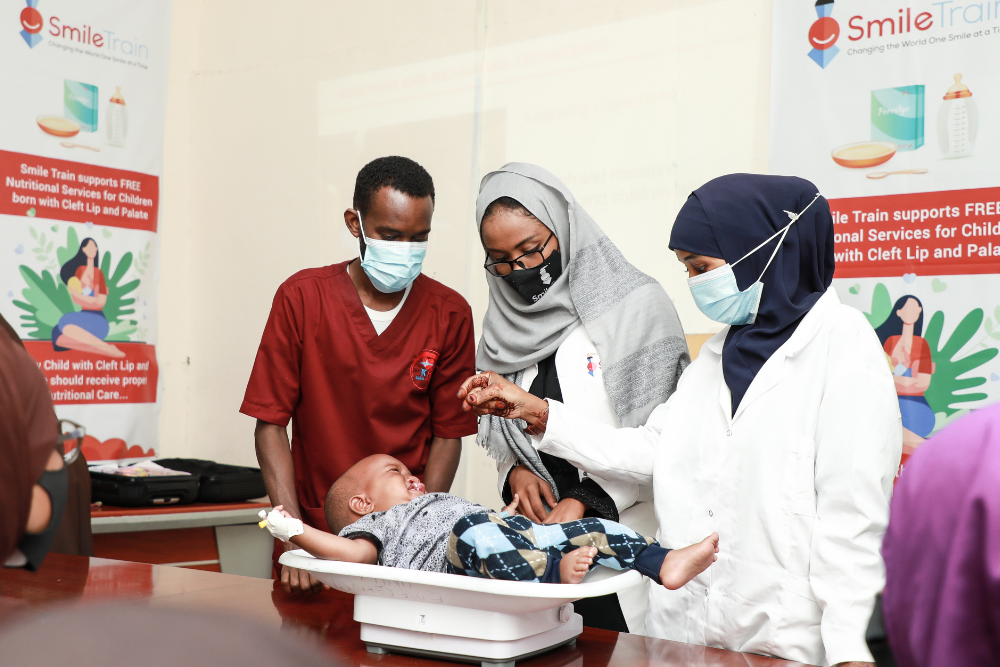 That's how she ended up speaking to the parents of two-week-old Abel* — they saw a billboard for Smile Train, and when they called in, they were put directly in touch with Dr. Bethel.
Something in the woman's voice — a tinge of hopelessness — told her that this family needed more than a phone call, so Dr. Bethel wasted no time in traveling to the family's home, one rented room a few hours away.
Dr. Bethel was glad she had listened to her instincts when she saw Abel* in person. Despite the best efforts of his parents, he was moderately malnourished already. With Dr. Bethel's help and a series of follow-up phone calls to guide them every step of the way, his parents mastered feeding techniques and he quickly made up for lost time. Thanks to their dedication, he'll soon be healthy enough to safely receive surgery for his cleft at his local Smile Train partner hospital.
"Baby Abel* couldn't have survived this critical time, the first few weeks of life, without help. Now I've created a bond with them and it feels like a family," said Dr. Mulugeta proudly. "There are many untold stories and hidden stories that we'll uncover through our nutrition programs ahead. It's a huge turning point for me to realize the gravity of the issue and how much we can do with this little effort."
In 2021, Dr. Bethel attended a Train the Trainer comprehensive cleft care workshop in Kenya to observe the session and host similar trainings in Ethiopia. The first training in Ethiopia convened nurses, nutritionists, and a pediatrician. While most of them worked with patients with clefts every day, the group didn't have formal training in nutrition assessment or in providing support to families.
As Dr. Bethel and her fellow nutritionists instructed the medical professionals on strategies to teach and support families of babies with clefts, they also took the opportunity to learn what challenges the medical practitioners saw their patients face and how they thought nutrition programs could be implemented to reach every family in need. Ensuring nutrition programs are as effective as possible is essential — because there's not a moment to lose.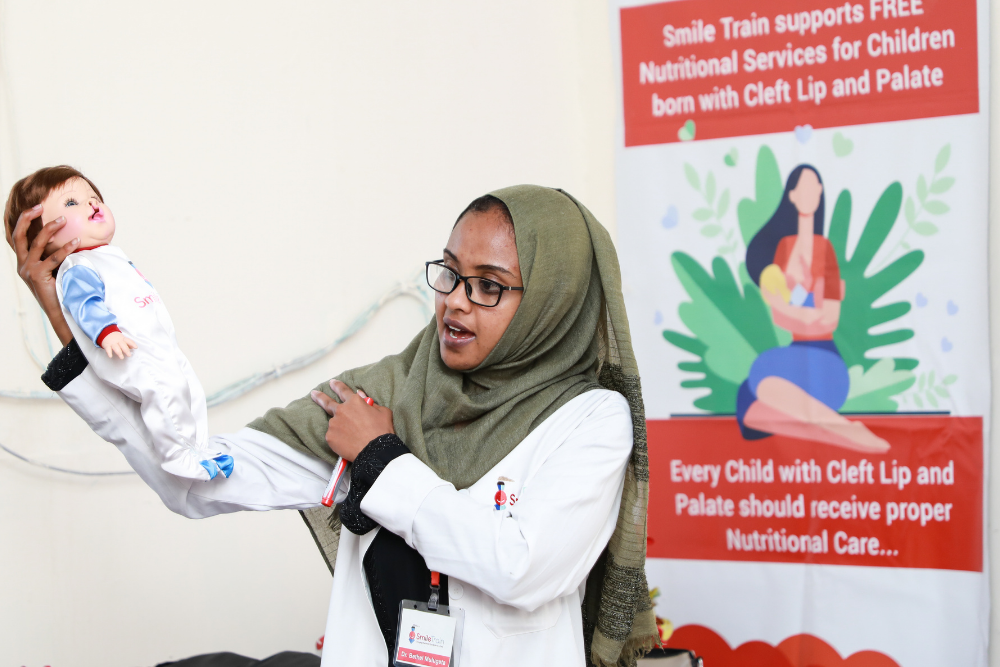 "There is a huge, dark corner that we haven't reached — we reach those who are lucky. We need to build nutrition programs to reach as many of these people as possible before they struggle so we can address that dark corner. This is really a case where an ounce of prevention is worth a pound of cure," says Dr. Bethel.
The work ahead is tremendous, but Dr. Bethel and Smile Train's partners are more than equal to the task. For Dr. Bethel, every phone call answered, every training completed, and every day of progress is something worth celebrating.
"There is no joy equal to that of being able to do the thing that inspires you most — making a difference for vulnerable children," she says.
*Due to privacy concerns, a pseudonym was used