Saber's Cleft Journey, in His Parents' Words
Their names are withheld; their truth is not.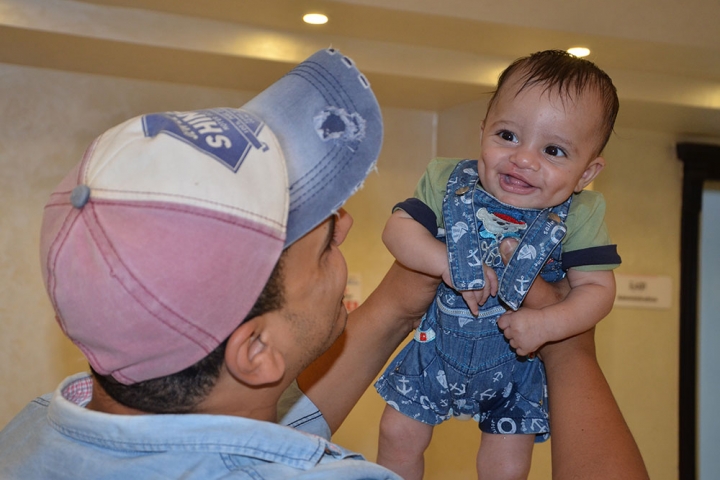 Saber was born this March in northern Egypt, one month premature and with a cleft. Below, his father and mother (who asked not to be named) share an intimate, honest account of their journey from a difficult pregnancy to unexpectedly having a son with a cleft to receiving much-needed help from their local Smile Train partner.
Saber defied my expectations even before he was born. I felt so sick early in my pregnancy that I went to many doctors, who all told me the same thing: this baby will be difficult to bring to term because he is not stable in the uterus. They presented me with many options, but I insisted on holding on despite the severe fatigue and instability I felt.
I was hospitalized in the fourth month and was in and out of the hospital for weeks at a time until Saber was at last delivered in the eighth month.
That was the moment I had spent nearly a year praying to God for, and all I wanted in the world was to see him healthy. So just imagine how I felt when I saw his cleft. I had never seen anything like it before. Then, before I could even understand what was happening, the hospital staff took my baby away from me for hours and hours to run tests on him in the nursery. All of it was so sudden and so unexpected and much too much. I admit I was not in a good place.
I spent that time while Saber was away panicking, wondering what I did to cause his cleft and what others would say. I didn't know if care was possible, but if it was, it was clear to me that there was simply no way my husband and I would be able to afford it. I felt like I was drowning. This was not how my first day with my first child was supposed to go.
I was shocked to see Saber's cleft — I also had never seen anything like it before. But even in that moment, immediately, I felt so much joy in him. When I come across a difficulty, my first instinct is to turn and look for solutions; that's just who I've always been. So when I saw Saber had this condition, my thought was, "Okay. Now I need to find someone who can heal him."
I turned the city upside down to find a surgeon who could maybe help my son. After a few months of searching, a friend pointed me to Dar Al Qimma Hospital in Tanta. That's where I met Dr. Walid Mustafa. He reassured us that Saber's cleft was not at all our fault, then explained how he partners with Smile Train to provide cleft treatment to children in need, all at no cost. I couldn't believe it; my wife couldn't either. We already considered Saber our miracle baby. To us, this was more than a second chance for him — it was a second miracle.
Saber's cleft made feeding him difficult from the time he was born, but my wife did an incredible job keeping him well-nourished and healthy so that he easily passed his health screenings and Dr. Mustafa could perform the surgery on him right away. Thank God it was successful, and the results were amazing.
To me, Saber is a hero and a warrior. He suffered a lot and kept holding onto his right to live and be in the world. He has already overcome so much and is now a healthy boy with a laugh and a smile that brings joy to everyone around him.
Thank you, Dr. Mustafa.
Thank you, Dar Al Qimma Hospital.
Thank you, Smile Train.
13,000+
cleft treatments sponsored since 2007
20+
active partner healthcare professionals
12+
active partner hospitals