Cleft Proud. Peoria Proud.
These boys' smiles are one in ten million.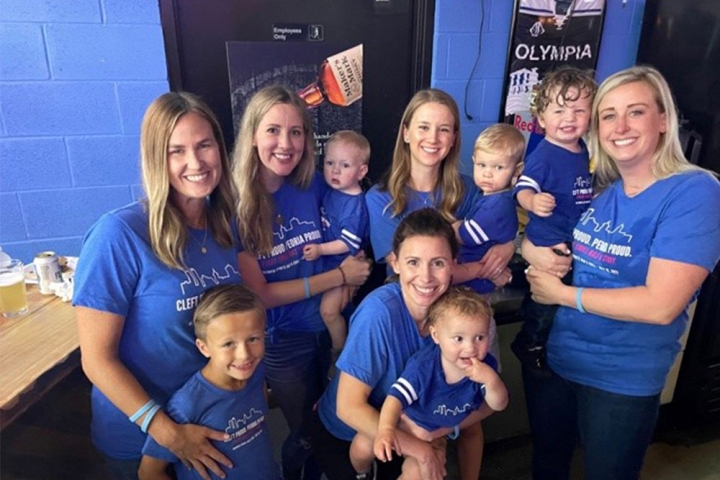 When Molly Reeser of Peoria, Ill. learned her son, Greyson, would be born with a cleft at her 18-week ultrasound, "I just bawled my eyes out with the 'what-if's.'"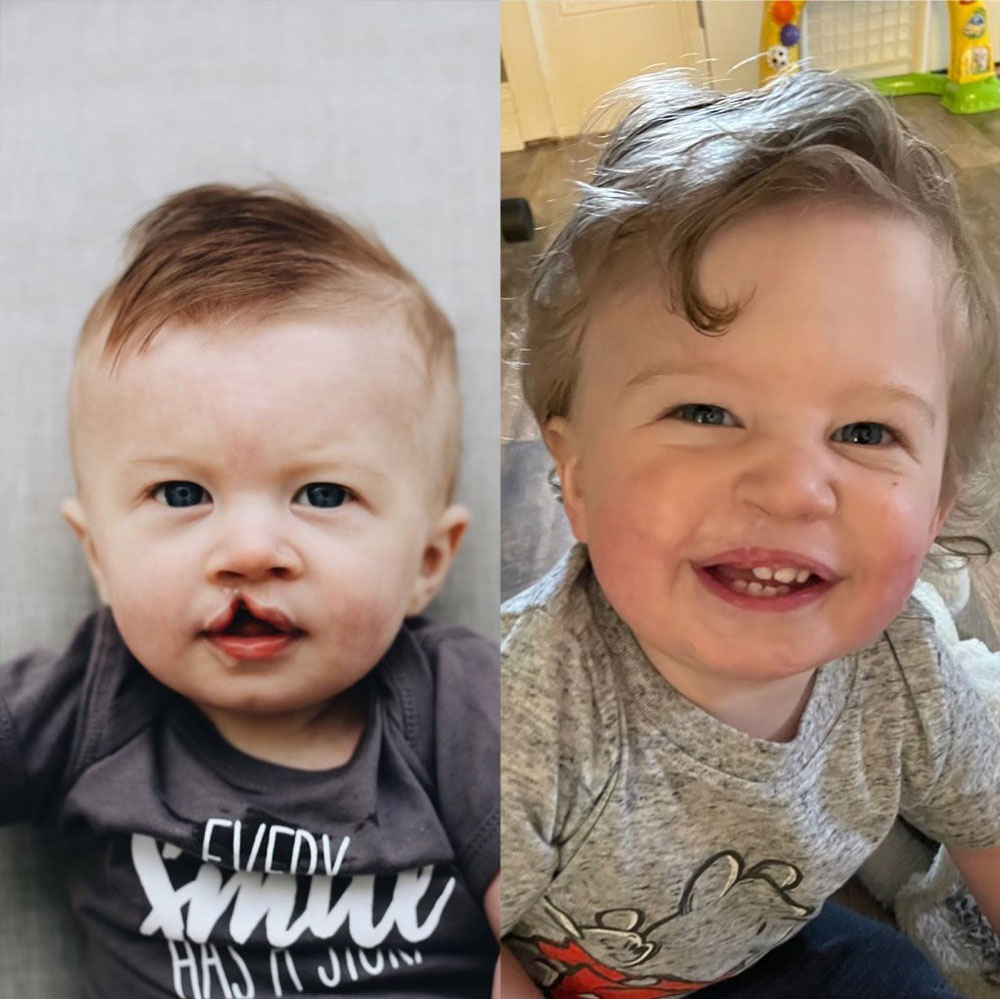 But even in that moment of panic, she knew how lucky she was. Just a few months earlier, a guy she knew from high school, Kyle Ihnken, posted on social media about Patrick, his newborn son with a cleft. He now lived in St. Louis. They hadn't spoken in at least eight years, but for Reeser, the possibility of having a friend through this time was worth the risk of reaching out cold. So she poured everything she was feeling into a long Facebook message to him. He responded quickly. He and his wife, Evanne, would be there for her family through every step of their journey.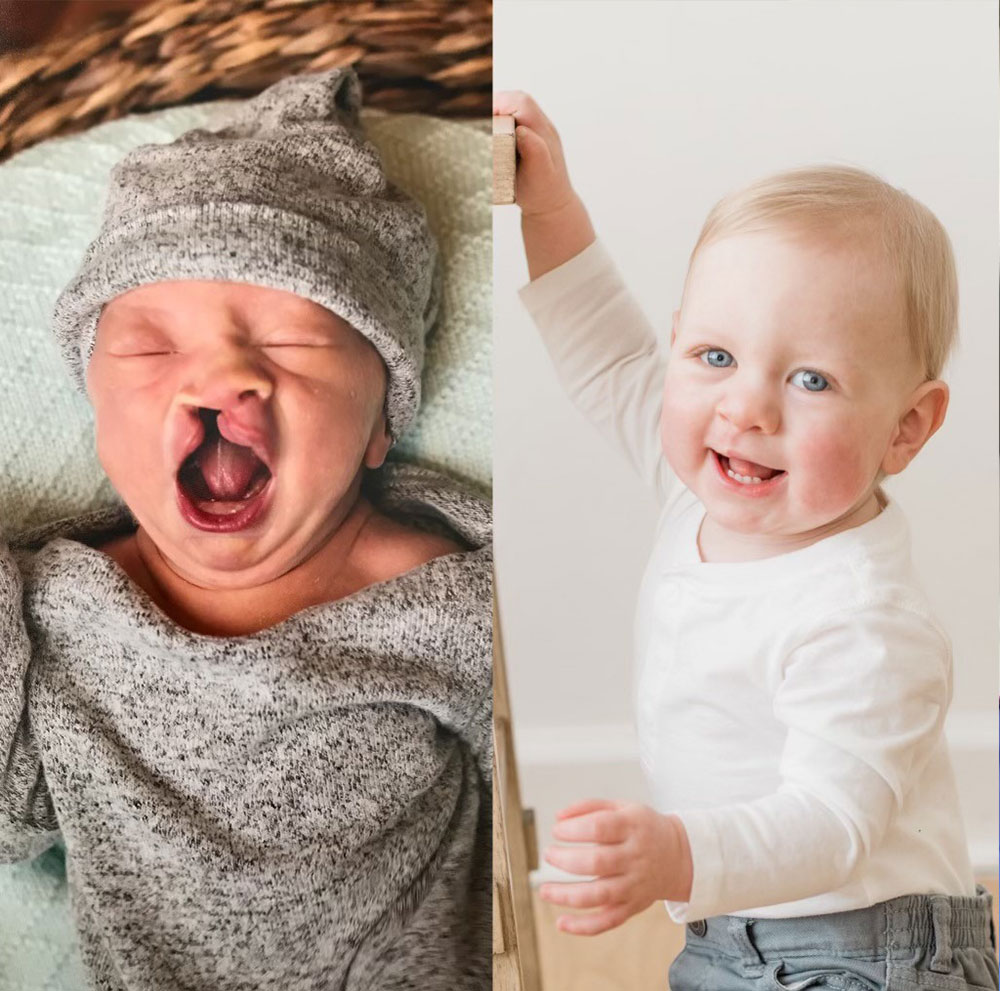 A few months later, Molly Fiddes of Chicago learned at her 20-week ultrasound that her son, Miles, would be born with a cleft. She knew she was in good hands at her hospital but still felt helpless. And in shock. Fiddes usually considers herself a private person, but she needed to get out of her head, so she unleashed all her fears and anxieties into a long and personal Facebook post to two people she knew from back home in Peoria who had also just posted about having sons with clefts.
She hadn't spoken to them in a decade, but Molly Reeser and Evanne Ihnken immediately became like family.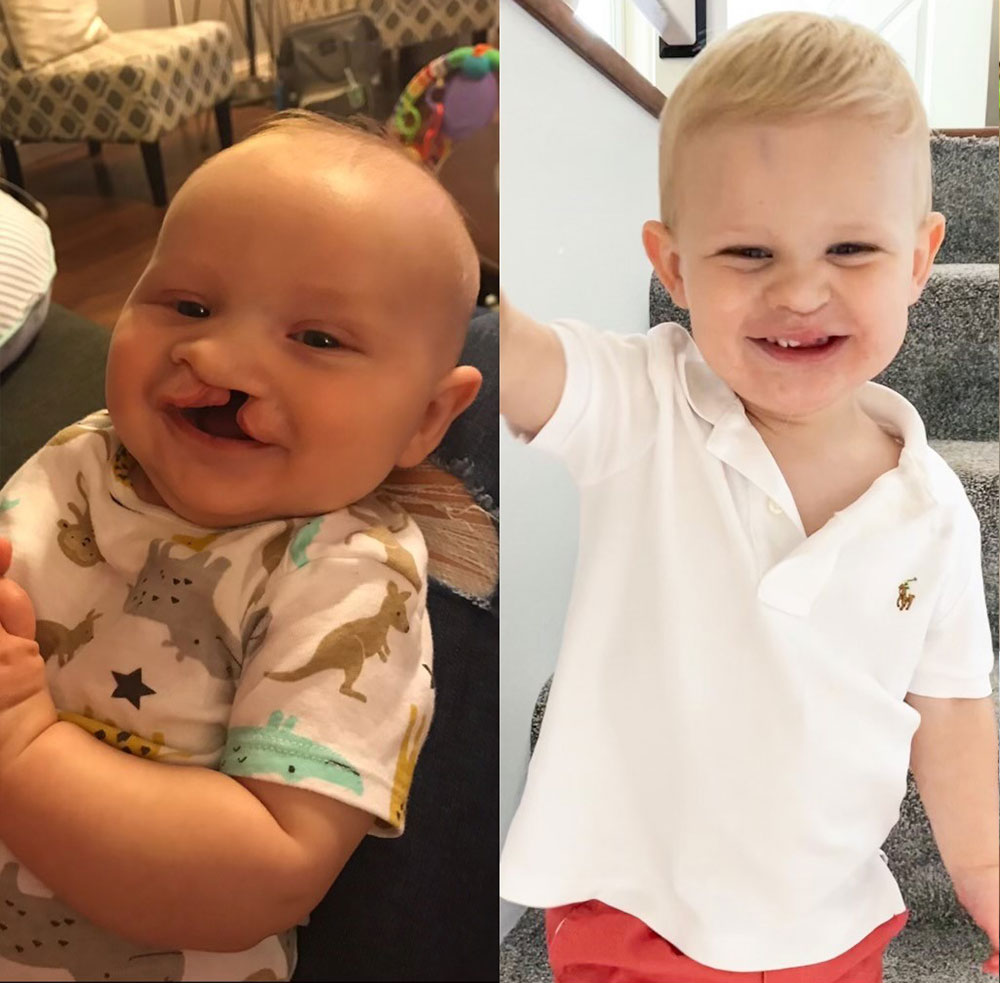 This exclusive club got a fourth member when Lyndsay Mentgen, another old friend in Peoria, and her husband, Nick, had Brody, a little boy with a cleft, just over three months after Miles was born.
For a new cleft mother to know even one other cleft-affected family is rare. Controlling for environmental and other factors, the odds of these four American schoolmates all having sons with clefts within a year of each other are at least one in ten million.
Building a Cleft Community Through COVID
Brody was born in May 2020. While the COVID-19 pandemic was disrupting social life around the world, it provided the perfect conditions for these Midwestern moms and their families to form a long-distance support group. From navigating staring strangers to struggling with how different their boys' already beautiful faces looked after surgery, they were always surrounded by others who understood, even while confined to their homes.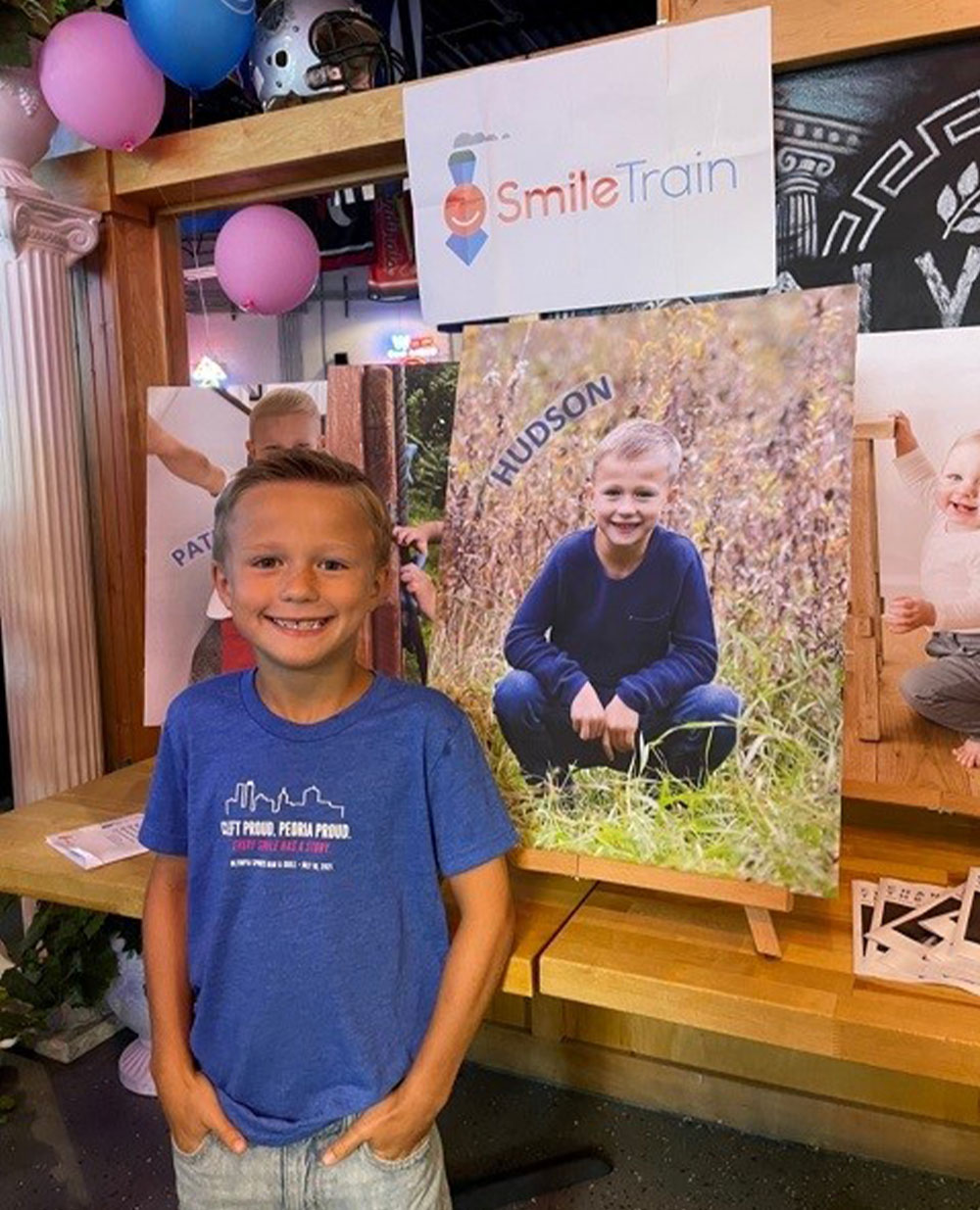 Every interaction reminded them of how fantastically fortunate they were, not only to have one another, but to also have access to good health insurance and high-quality cleft care. It made them want to celebrate their blessings and share them with others. So they joined with Matt and Erin Chan, another family they knew from high school whose then-seven-year-old son, Hudson, was born with a cleft, and made a plan to party in Peoria as soon as circumstances allowed.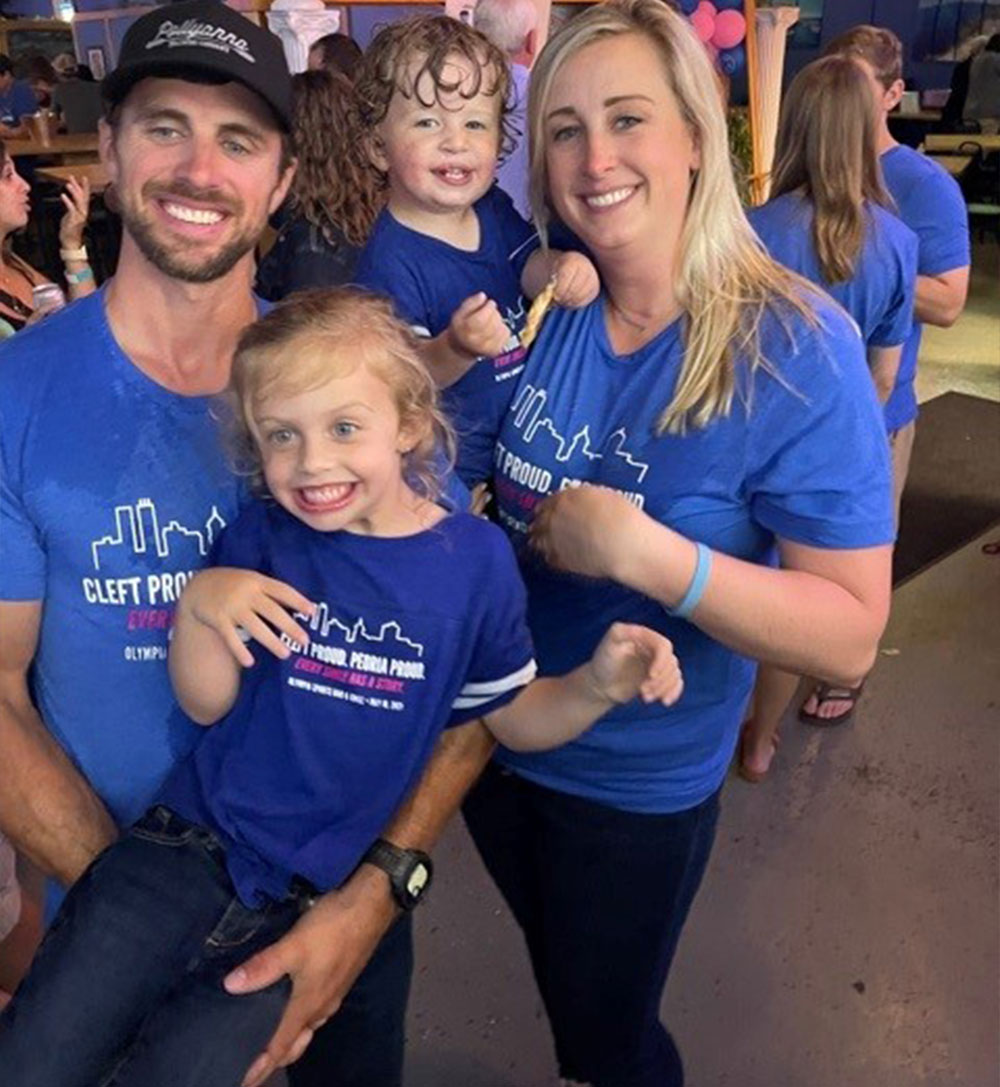 Choosing a venue was easy — Nick Mentgen's friend owns a large bar in town. As for choosing a charity, Reeser recalls:
We know that having a cleft is not just cosmetic. It's the breathing, it's the eating, and we wanted to be able to help kids who do not have our healthcare system. We asked our surgeons for a recommendation, and they said Smile Train was a great organization, so we all just kind of looked at each other and said, "Alright, let's do it; let's sign up for this!"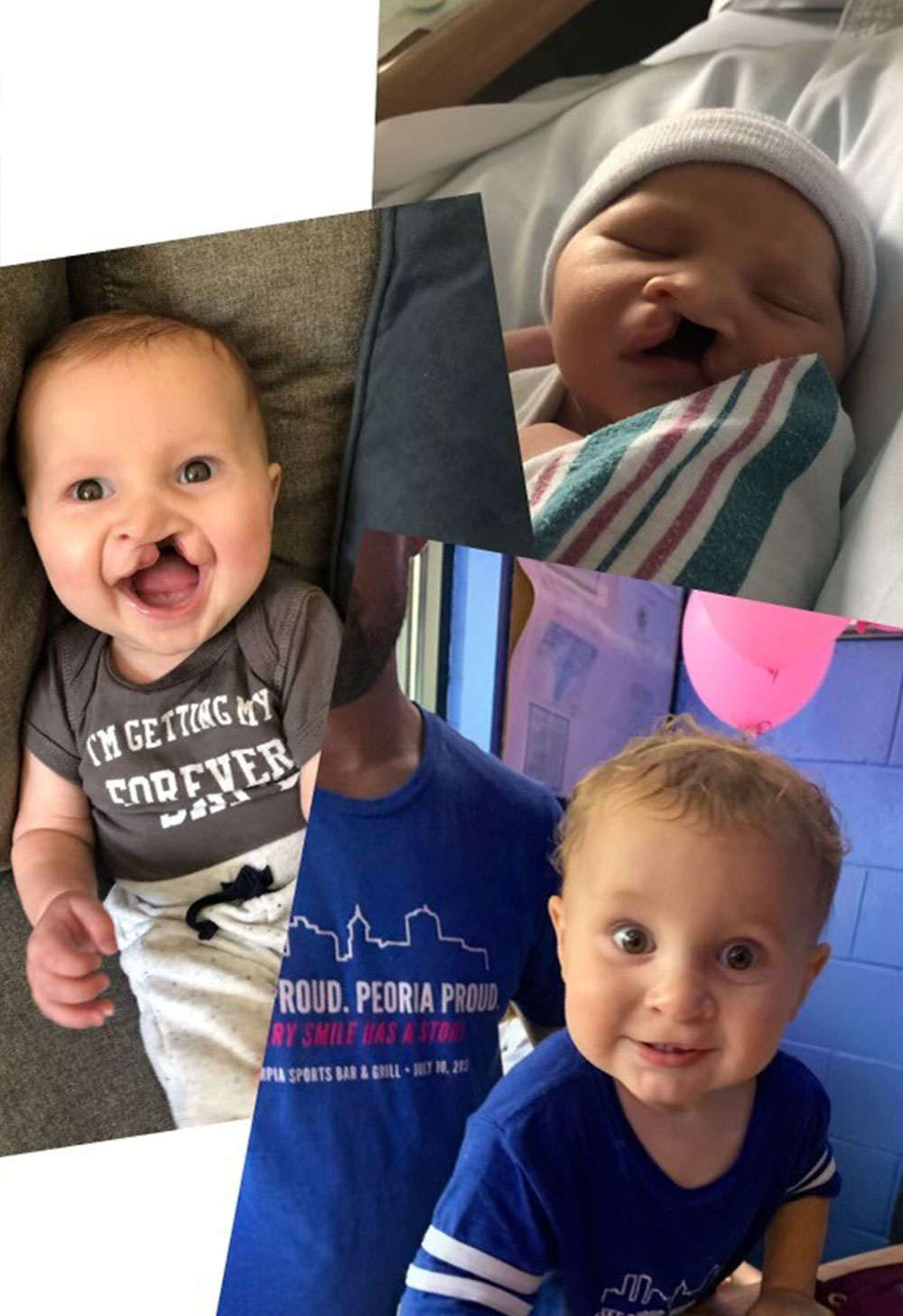 At first, their goals were modest. "Our original motivation was really just celebrating the boys and spreading awareness, so I did not have a high fundraising goal when we started," said Mentgen. "I just threw out a wild number like, 'Let's raise $1,000!'"
But as conversations continued, their plans grew more ambitious. "Not only did we want to support Smile Train, we also wanted to be able to provide for our Peoria community," Fiddes said. They decided to sell tickets for beverages and all-you-can-eat food at the bar and to enlist local businesses to contribute to a silent auction. As the world began to reopen in spring 2021, they had their date: Saturday, July 10.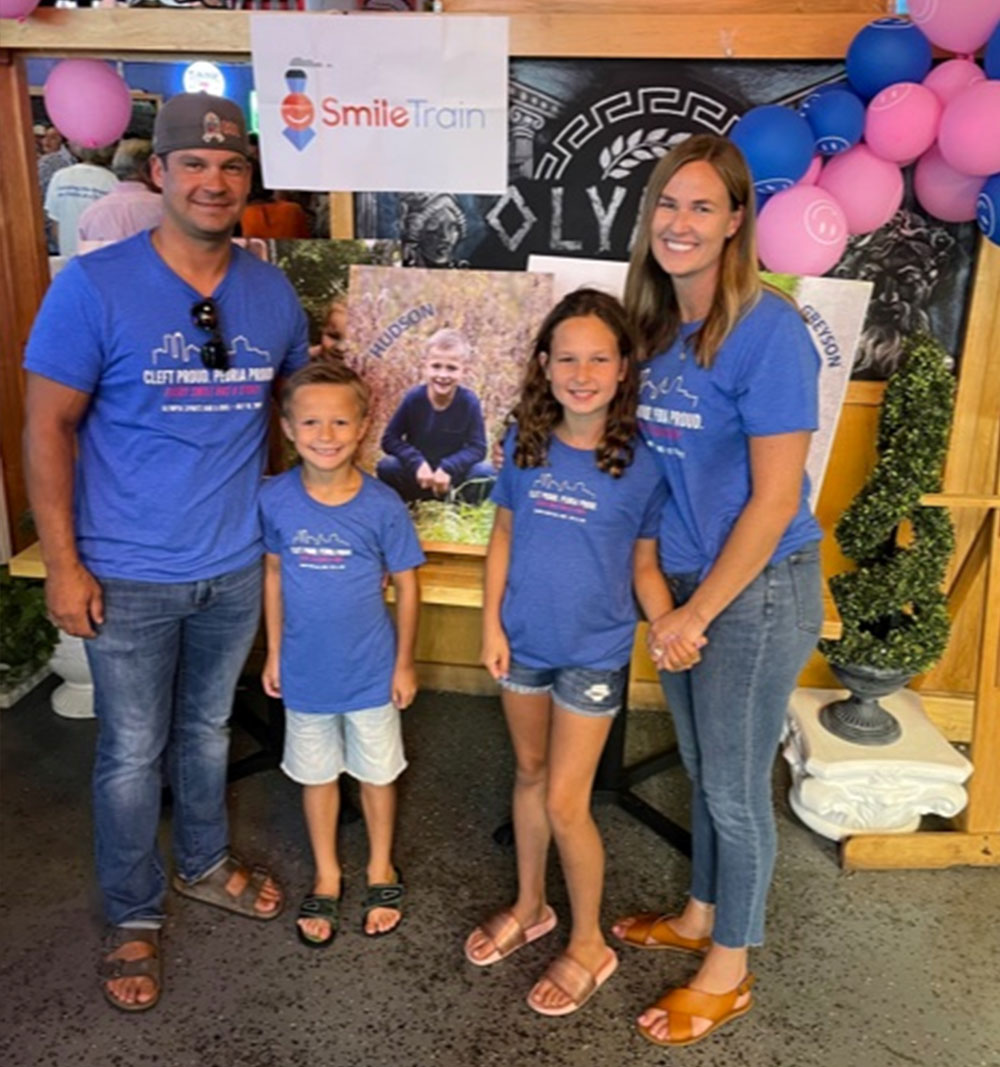 The response was overwhelming. Bars, restaurants, spas… seemingly every shop in the city wanted to contribute a gift card or product to the cause. The women even found themselves turning businesses away when they had more than they could possibly auction off in one night.
The Art of Smiling in the Rain
July 10 was a rainy day in Peoria. When the boys finally met in person, they ran to jump in the puddles together. Meanwhile, their parents got to work: setting up the cookie decorating station, situating the balloon sculptor, unfolding the donation boxes Smile Train provided, arranging the silent auction.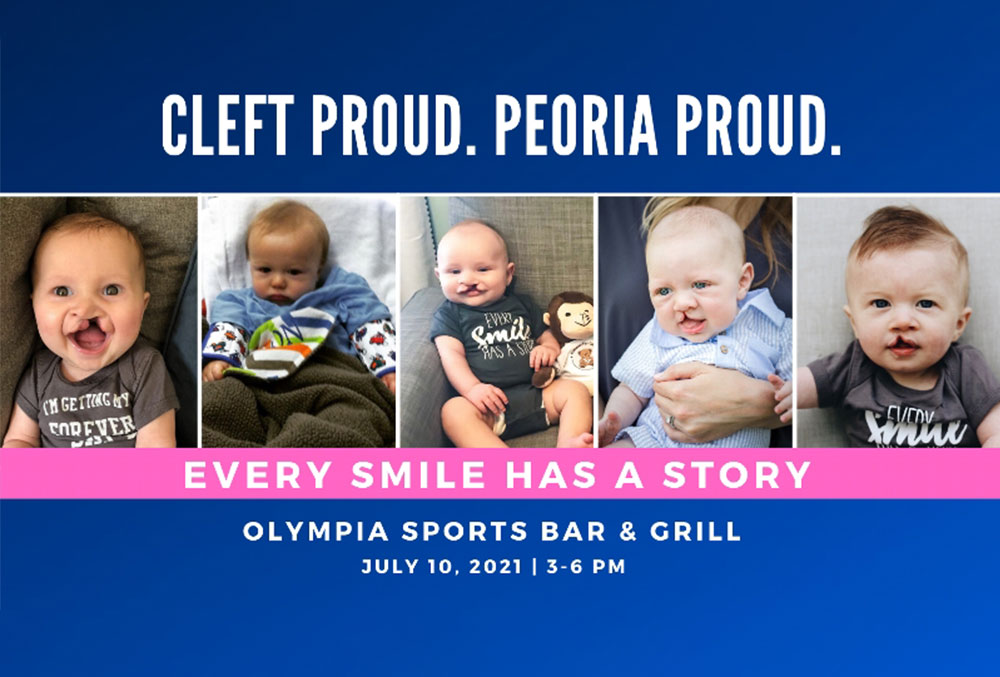 Soon, relatives and friends who had never met the boys in person before scooped them up out of the puddles and passed them around. The guests were arriving, with more coming every minute. Before long, it seemed as though all of Peoria had come out from the pandemic to celebrate these boys — these families — and learn more about clefts.
The women were in awe at how many people showed up. And the chance to pay the love forward came much sooner than they expected.
"A lady who was pregnant with a child with a cleft who had previously reached out to me, Lyndsay, and Evanne came to the fundraiser, and I think it was a relief for her," Reeser shared. "She saw that yes, the boys might have these little scars, but they're just running around and eating and drinking just like any other kids. I'm so glad she came for that support, because a lot of people are alone."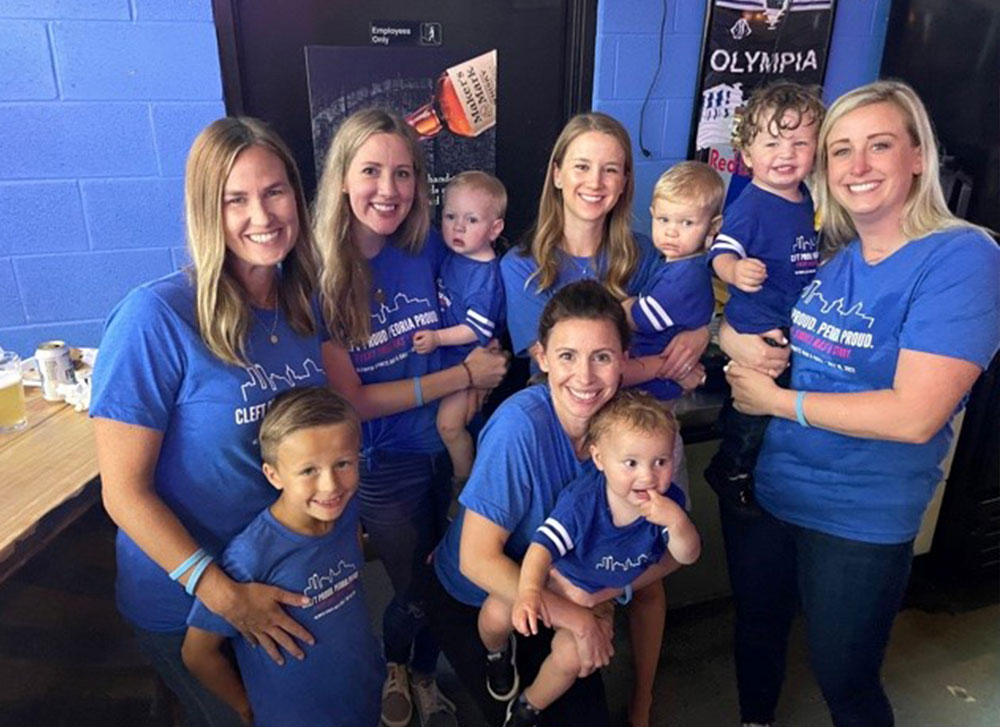 After the last item was auctioned off and the last child fell asleep, the moms opened the donation boxes to find the second biggest shock of their lives. "We thought we'd have $1s and quarters, but here we're pulling out $100s!" said Reeser. In the end, between ticket sales, the silent auction, and contributions made to their Smile Train fundraising page, about 350 people had chipped in to raise more than $25,000 to support other cleft-affected families around the world.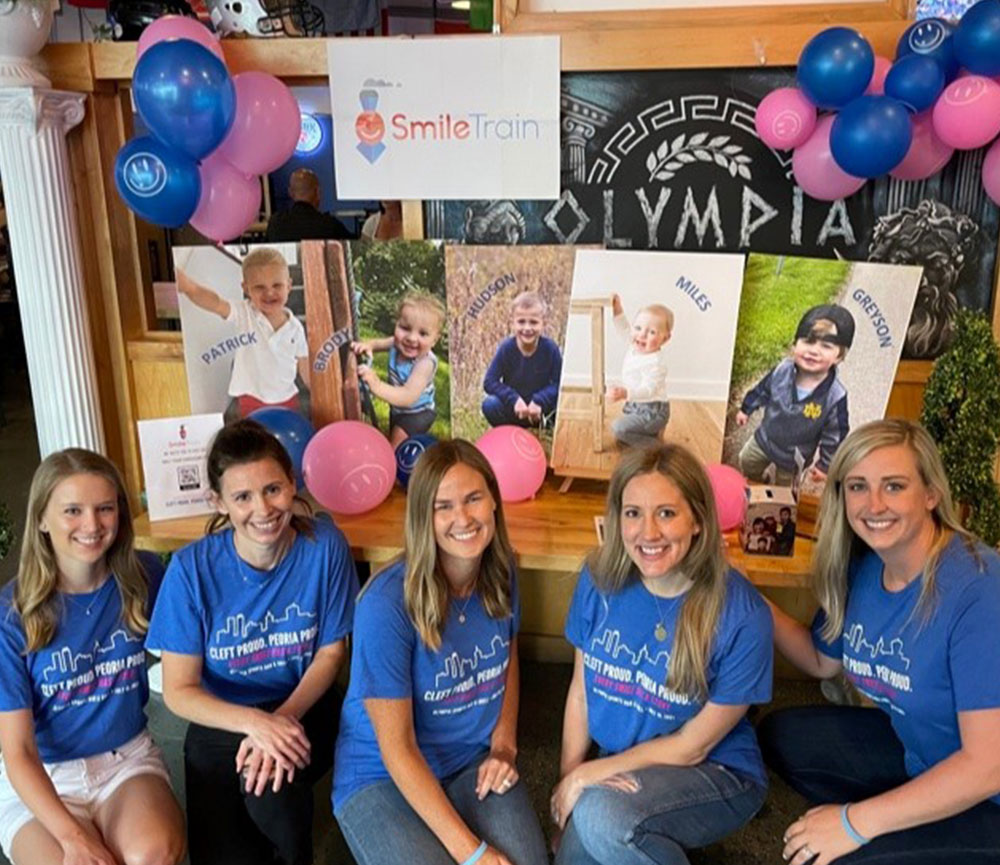 Their plans for next year? Fiddes says:
The women hope to make this fundraiser an annual opportunity for their boys to grow up together and for their hometown to celebrate its extraordinary connection to smiles.
"We're going to watch them grow, and this is such a great opportunity to get together for good," Mentgen said. "Knowing how many kids we're helping in the world and how many parents we're taking some of the stress off of by helping to support them through Smile Train — I can't imagine being in our situation without finances and insurance, so this is going to be an ongoing push for us."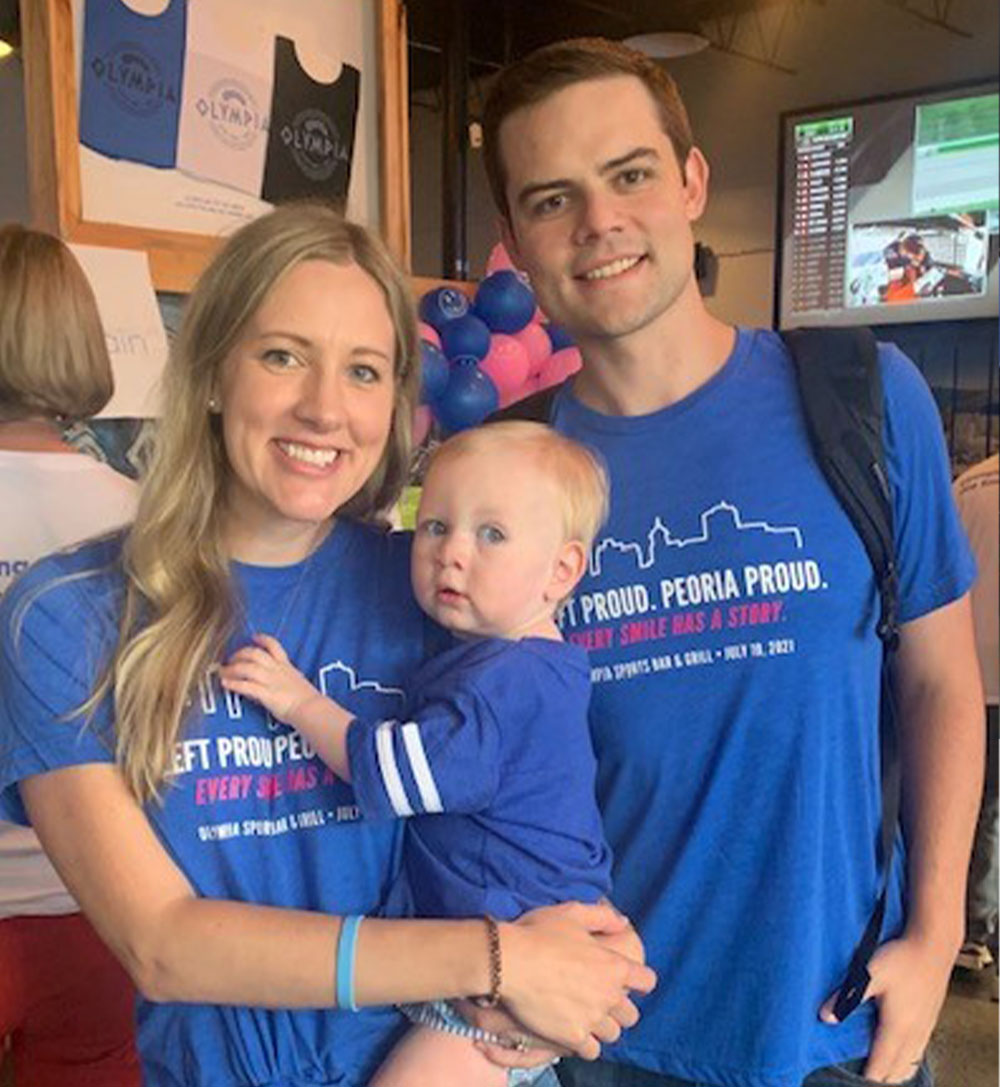 "Through this journey, we've just been amazed every step of the way at how tough our boys are," Fiddes added. "For the moms, I think it's just a true testament — you realize how strong you are. Sometimes you might feel like you're on autopilot. But once you can really take a step back and reflect on what you've been through, you're kind of amazed, like 'I can't believe I did that,' and at how strong you are throughout the entire process. So I think it's something we're all proud of."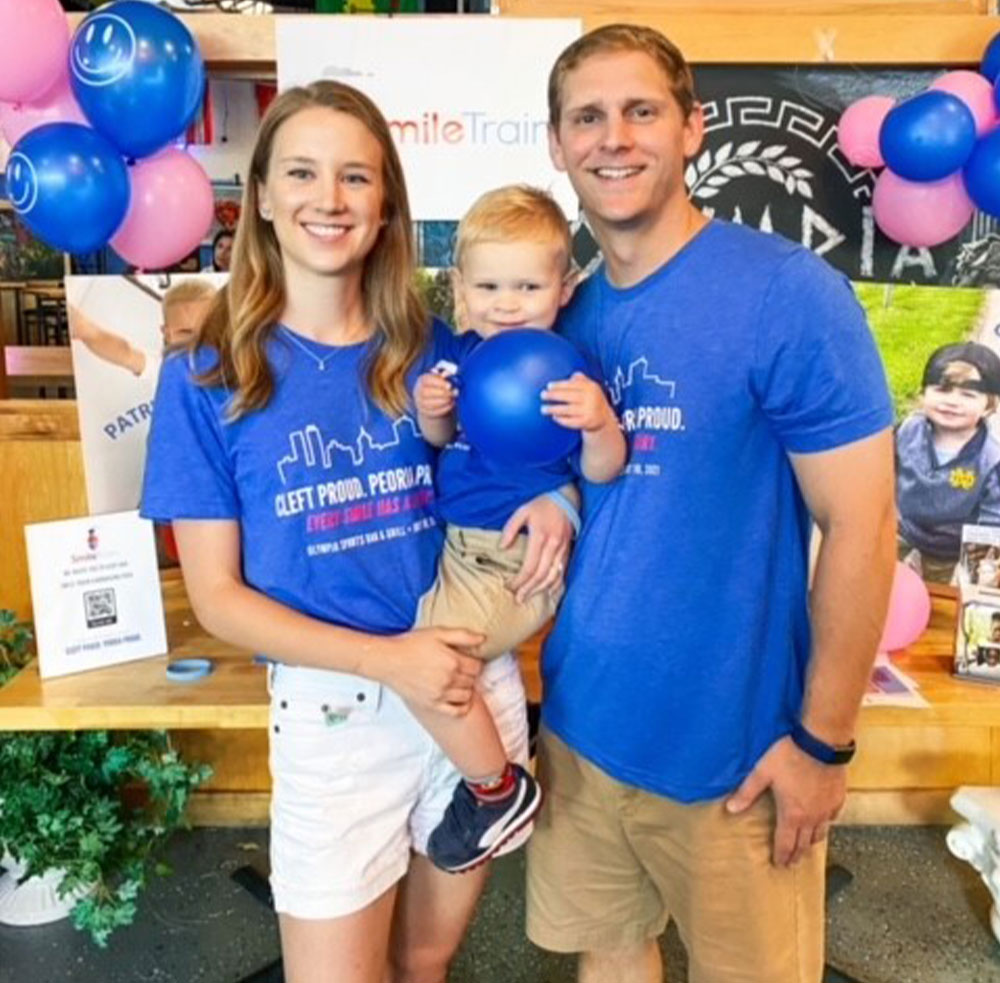 More than anything, the moms want to use this event and the story behind it to remind their sons always to be empathetic, understanding, and unstoppable. "I want Patrick to know that he can do anything, because he's already done so much and he doesn't even know it," Ihnken said. "Hopefully, he'll look at his scar and not see it as a downfall, but as something that he's been through and that pushes him to do more and to feel like he can do anything because of it. And I also hope it makes him more empathetic towards others, that it teaches him not to judge anyone for anything."
No child or mother with a cleft should feel alone. Join these five families in spreading smiles around the world.