GSK and Smile Train Give Karina's Family Something to Smile About in Lockdown
Distance and pandemic are no match for this social worker.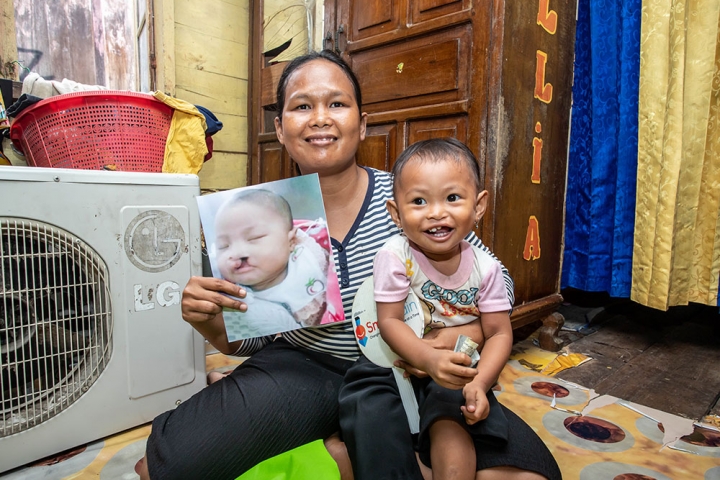 When Malianto and Kisjayanti's third child, Karina, was born with a cleft, their thoughts immediately turned to her future. Malianto scarcely makes enough as a day laborer to support his family — how could they ever afford the surgery she needed? How would she ever go to school, make friends, or get married?
But more present issues soon pushed future ones out of mind. Karina's cleft made her choke on breast milk, and what she didn't choke on dribbled out her nose. Her mother did everything she could to nourish her, but it never seemed enough. Worse, COVID-19-related shutdowns across Indonesia and no internet access in their part of the country meant she had nowhere to turn for information that might save her baby's life.
Still, Kisjayanti and Malianto never stopped believing that Karina was a gift from God and never stopped praying for the help she needed. They'll never forget the day their prayers were answered. It was the day they met Endang Sasi.
Endang is a social worker at Smile Train partner Yayasan Ummi Romlah in South Sumatra. Thanks to an Awareness Grant from Smile Train partner GSK, money and distance are no longer an obstacle to her finding children in need of cleft treatment in a part of the world where people can live hundreds of miles from the nearest hospital. So when a former Smile Train patient told Endang about Karina, nothing stood between her and connecting her family with the care they needed to save their daughter's life.
Observing strict COVID guidelines, Endang arrived at Malianto and Kisjayanti's home to explain the details of how cleft surgery works, the special protocols they have implemented to keep patients and medical staff safe from the pandemic, and answer any questions they had. She also reassured them many times that both the surgery and the transportation to the hospital really were free thanks to the generosity of GSK and Smile Train's donors all around the world — yet no matter how many times she said it, they simply could not believe their wildest dream for their baby was coming true.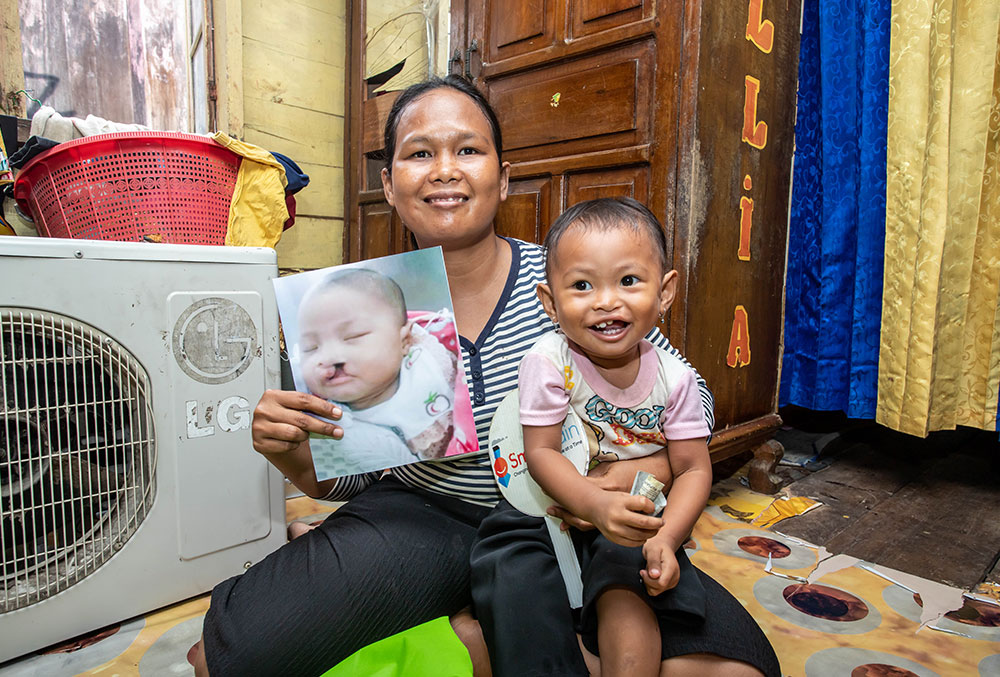 They still may not have believed it, but when a car from Smile Train showed up outside their door a few days later, the driver found them standing outside with their bags packed. He brought them to a halfway house where Karina would receive her pre-surgery screening and the family would quarantine for 10 days before coming to the hospital. The many sleepless nights Kisjayanti spent nourishing her baby paid off; Karina passed her health screening with flying colors and was cleared for surgery.
"All the staff at the halfway house was friendly toward us and took care of us," said Kisjayanti. "They explained everything we were asking."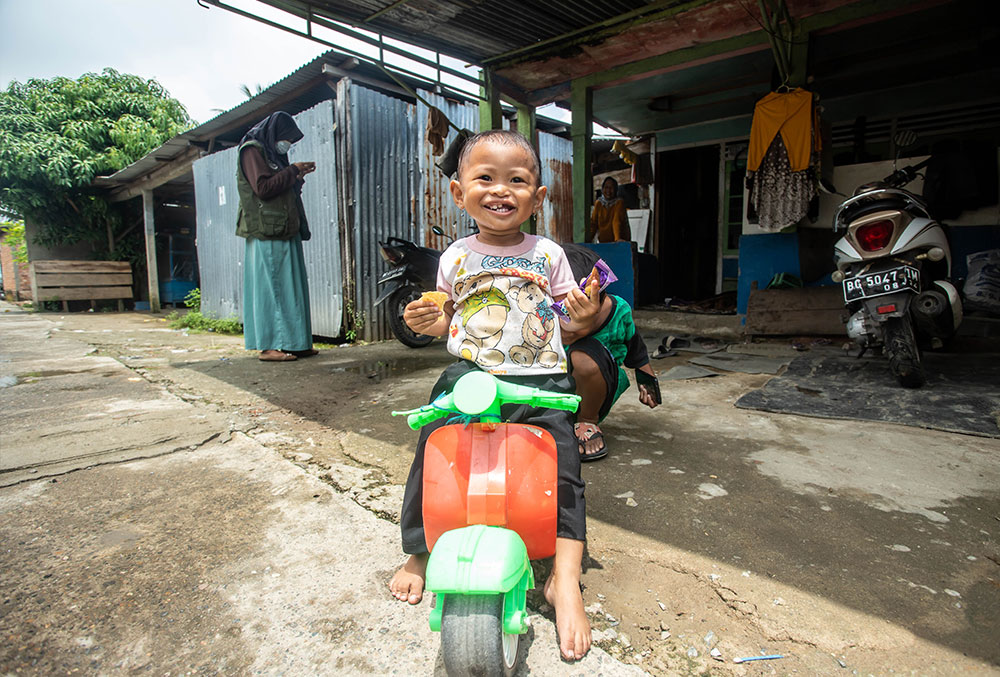 Now, Kisjayanti and Malianto see a future for Karina as bright as her smile.
For Endang, smiles like Karina's are what make it all worth it. "Social work makes me happy. It releases all the tension when I can see the patients' happiness when they get a new smile," she said, adding, "Thank you, GSK and Smile Train, for your kindness and support."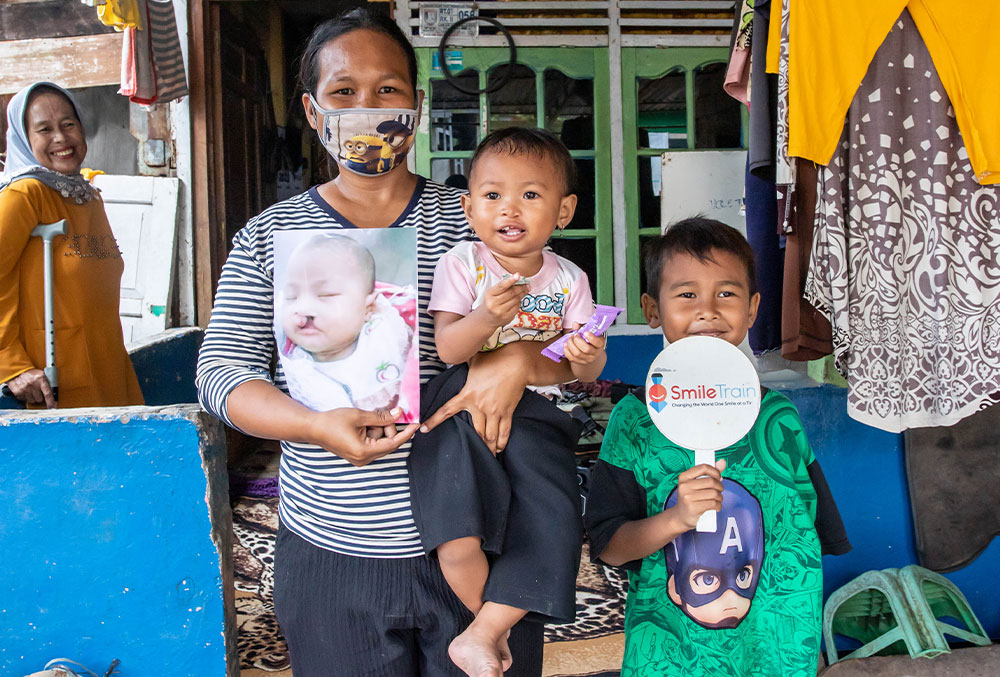 "Thank you, Smile Train, for this miracle!" her parents said.
83,000
sponsored cleft surgeries since 2002
140+
active partner medical professionals
115+
active partner hospitals