The Fight to Provide Safe Surgery
Inside and outside the operating room, Dr. Elizabeth Igaga is fighting to make anesthesia and surgery safer for every patient.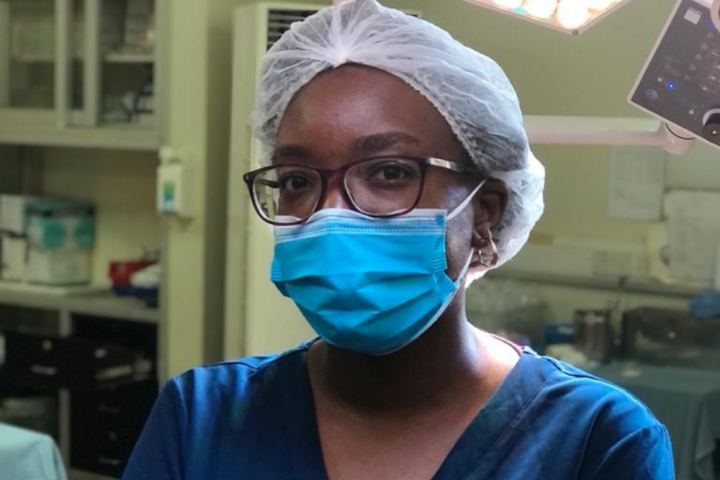 As part of the Smile Train-Lifebox Safe Surgery and Anesthesia Initiative Content Series, we sat down with Dr. Elizabeth Igaga to discuss her work, patient safety, and the need for advocacy and training to make surgery safe for every patient. Dr. Igaga is a Ugandan anesthesiologist and a lecturer at the Department of Anesthesia and Critical Care, College of Health Sciences, Makerere University. She attended medical school and completed her Masters at Makerere University. She currently does her clinical practice at the Uganda Heart Institute. Elizabeth is currently the treasurer of the Association of Anesthesiologists of Uganda (AAU), a member of the Intensive care society of Uganda (ICSU) and a foundation fellow of the College of Anesthetists of East, Central and Southern Africa (CANECSA). She is also one of the 5 inaugural fellows of the Patient Safety Movement Foundation Healthcare Safety Fellowship.
Tell us about your work and your journey into anesthesia.
During my time in medical school, in all the rotations I went through, it felt like there was something missing—until I did my anesthesia rotation. During this rotation, I was exposed to simple, low-cost, and seemingly mundane interventions made big and occasionally life-saving differences in a matter of seconds. For example, a patient with an obstructed airway required only simple airway maneuvers like a jaw thrust or the insertion of an oral airway to relieve the obstruction and help them breathe better.
This exposure was very critical to my decision to choose anesthesia as my career, as I just had to be part of this life-saving action.
Now, as an anesthesiologist, I am part of a team that works with patients who come in with life-threatening conditions and our interventions help them pull through their illnesses. This is probably the most rewarding aspect for me as an anesthesiologist—walking patients through their entire surgical experience and transforming their anxiety into happiness by managing both their pain and expectations.
One of the most challenging aspects of the work is knowing that if I had access to the patient earlier, their outcome could have been different. There are many reasons why patients don't receive the care they need and deserve. It is extremely frustrating knowing that there was lost time in the chain of care due to so many different circumstances. These are challenges that we are endlessly trying to solve.
Part of solving these challenges is advocacy. I have been a member of the Association of Anesthesiologists of Uganda since its inception and currently work in the capacity of treasurer. As an association we do a lot of advocacy work for safety standards. We are currently developing guidelines that will be proposed as national guidelines for safe anesthesia delivery in Uganda. The association also advocates for funding from the government for the training of more physician anesthesia providers as our numbers are a far cry from the Lancet Commission for Global Surgery's recommendation of surgical specialist density of 20 per 100,000 population.
*Note: the density of physician anesthesia providers per 100,000 population in Uganda is 0.18, according to the WFSA Workforce Map.
How did you first become interested in patient safety?
My interest in patient safety was born through my exposure to what anesthesiology and critical care mean in the low resource setting in which I work. One of the roles of an anesthesiologist is to advocate for and enforce safety standards. Hearing and witnessing preventable incidents and being part of the SAFE courses and Lifebox oximetry workshops opened my mind up to the WHO Surgical Safety checklist. My dissertation was on compliance with the checklist and we found that this was unacceptably low. There are many incidents that constantly remind me of the need for the development of a safety culture and continuously teaching and advocating for safety in the hospital.
In August I will start my newest role as one of the inaugural fellows of the Patient Safety Movement Foundation Healthcare Safety Fellowship. I am looking forward to learning from this role and how it will empower me to advocate for patient safety during the perioperative period.
As an anesthesiologist, could you explain the importance and role of an oximeter in the provision of safe anesthesia?
The pulse oximeter is a basic tool which, if used the right way by a knowledgeable provider, provides so much information pertaining to the patient's state at the time. It acts as an early detector of hypoxia, giving time for intervention in a situation where late intervention would be otherwise catastrophic. In the earlier days, the anesthesia provider relied on the surgeon to detect a color change in blood for an intervention to be made. By the time this change was evident, it was often too late. The pulse oximeter has bridged this gap significantly.
Trying to provide safe surgery without an oximeter is, I believe, a harrowing experience. The kind of responsibility that an anesthesia provider takes on in trying to provide a safe anesthetic, and in the long run safe surgery, without an oximeter is immense. No one should ever have to bear that burden. We continue to work hard to ensure that the minimum standards for safe surgery are met all around the country.
You recently led an online Train-the-Trainer for the Smile Train-Lifebox pulse oximetry workshops. How did you become involved in this work?
Since the start of my residency, I have been involved in teaching as a trainer and as a student. I have taught multiple SAFE courses and Lifebox oximetry workshops and each time I have left learning something new. In the wake of the pandemic, a lot of our teaching has been moved online. I jumped at the opportunity to be a trainer for the Smile Train-Lifebox pulse oximetry workshops to use those skills again.
The oximetry workshops are empowering to both the trainers and the trainees. The participants gain knowledge and learn new ways of enforcing safety standards in their settings based on evidence. Our anesthesia colleagues will benefit from these workshops as a refresher course, but also as an encouragement and some form of recognition of their role in the fight to provide safe surgery.
What has working in the OR been like during COVID-19?
There was a lot of uncertainty at the start of the pandemic. It shook us up and showed us some of the glaring gaps that needed to be closed. There was also a lot of information being shared and a lot of confusion on what to use as guidelines. Elective surgery was halted as we tried to figure out what the best way forward was.
We slowly developed guidelines that we thought would work for our setting and continue to modify them as we become more knowledgeable about the virus. We also had simulation training on how to intubate a patient with COVID-19. Elective surgery has been opened up again gradually and with caution. Anesthesia providers are high risk and efforts have been made to provide them with the appropriate PPE.
I have been on both ends of COVID-19 as a patient and as an anesthesia provider/critical care physician. I believe I am more empathetic to the patients because of that.
If you could have one wish for your colleagues in the operating room to improve patient safety, what would it be?
Start with the basics. The WHO surgical safety checklist encompasses teamwork and most of the minimum standards for patient monitoring. Advocate and empower the team to speak up and uphold the standards agreed on for the setting.