A Calling and a Duty: Advocating for Universal Health Coverage
An interview with Dr. Esther Njoroge-Muriithi.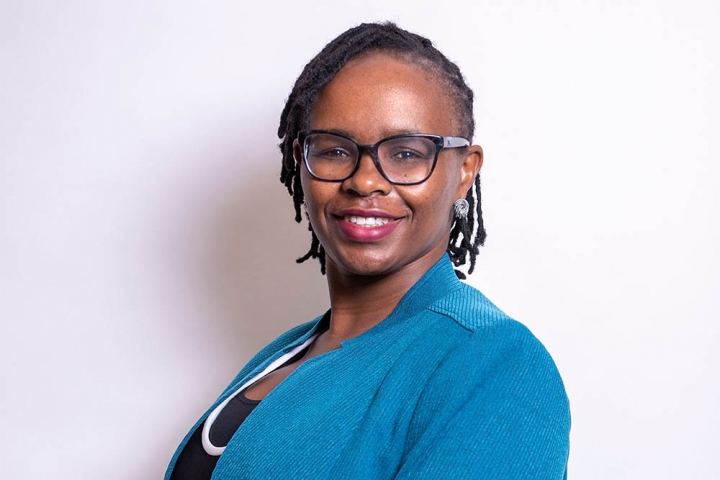 Dr. Esther Njoroge-Muriithi is Smile Train's Vice President and Regional Director for Africa and an Advisory Board Member of the UHC2030 Civil Society Engagement Mechanism. When she's not working to connect children across Africa with free, world-class cleft care, she's in the halls of power, raising her voice on the global stage on behalf of children with clefts, their families, and the right to health for all. She defines #ChooseToChallenge, so in honor of International Women's Day, we caught up with our hero to learn how she does it.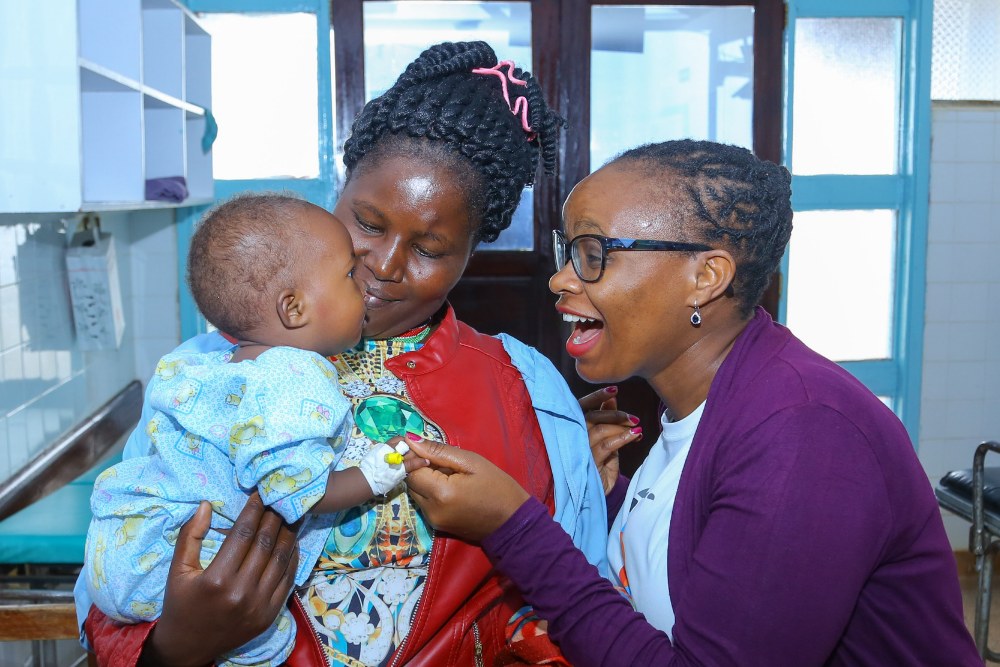 Where did you hear about Smile Train?
I heard about Smile Train for the very first time in 2008 when I met Smile Train's then-Director for Africa. He said he was looking for volunteers to support his work. I joined Smile Train as a volunteer for three years. When an opportunity opened up, I formally joined the team. The rest is history.
What appealed to you about Smile Train's work?
What about Smile Train's work isn't appealing? From the tremendous impact on children, their families,and communities, to the organizational culture that allows for everyone's voice and input to be heard, to the autonomy accorded to our local medical partners.
But really, the most appealing part was – and is – the children. You start off with a mother whose baby is born different. They're confused and scared. Then, once their child is treated, you have beaming joy and gratitude.
When I hold a child with a cleft in my arms, I speak blessings to their life. That intersection with a Smile Train partner hospital is a turning point in their life.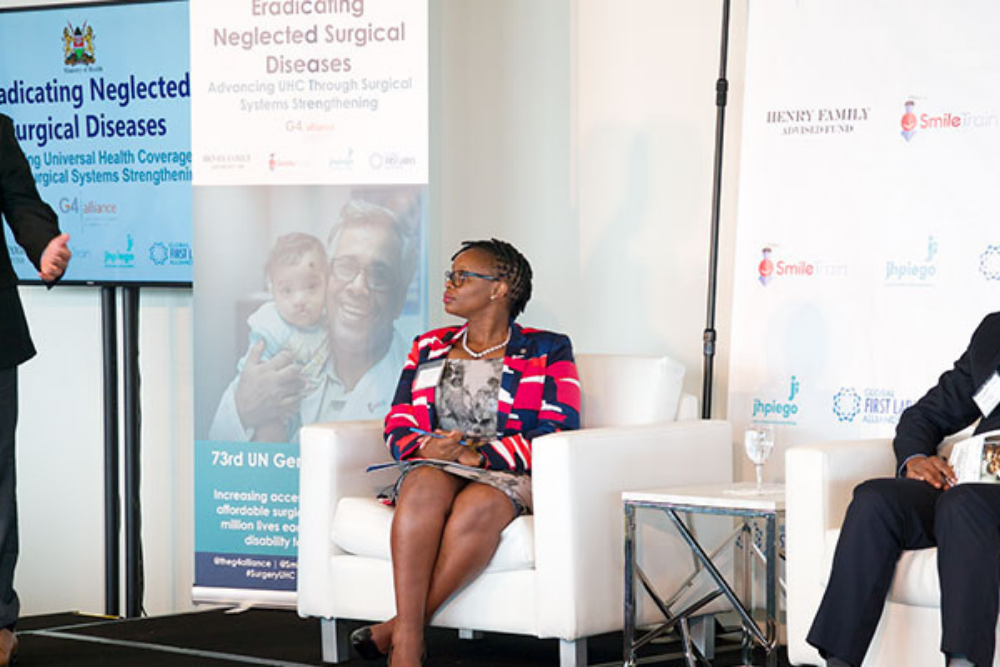 Tell us about the advocacy work you and your team are doing, both with Smile Train and elsewhere. 
For the longest time, I did not understand advocacy. I felt like it's this black hole that resources go into and there are no tangible results to be seen. I didn't feel this type of work should be funded. 
Then, I realized that I often spoke about why children's health should matter and why cleft care should be prioritized. One day, it hit me – that's advocacy. 
I have been involved with all levels of advocacy across all media — including word of mouth, social media, and mainstream media — explaining what clefts are, what causes them, and how they are treated. 
I have engaged and collaborated with other organizations to advocate at the UN General Assembly, speaking on behalf of children living with neglected surgical conditions like clefts. The team and I are continually advocating for clefts to be included among national governments' priorities. 
My team has also been involved in advocating on behalf of the cleft-specific training courses offered by Africa's two main surgical training bodies: the College of Surgeons of East and Central Africa (COSECSA) and the West Africa College of Surgeons (WACS). These programs ensure that we are continually investing in developing human resources for health through the lens of cleft treatment.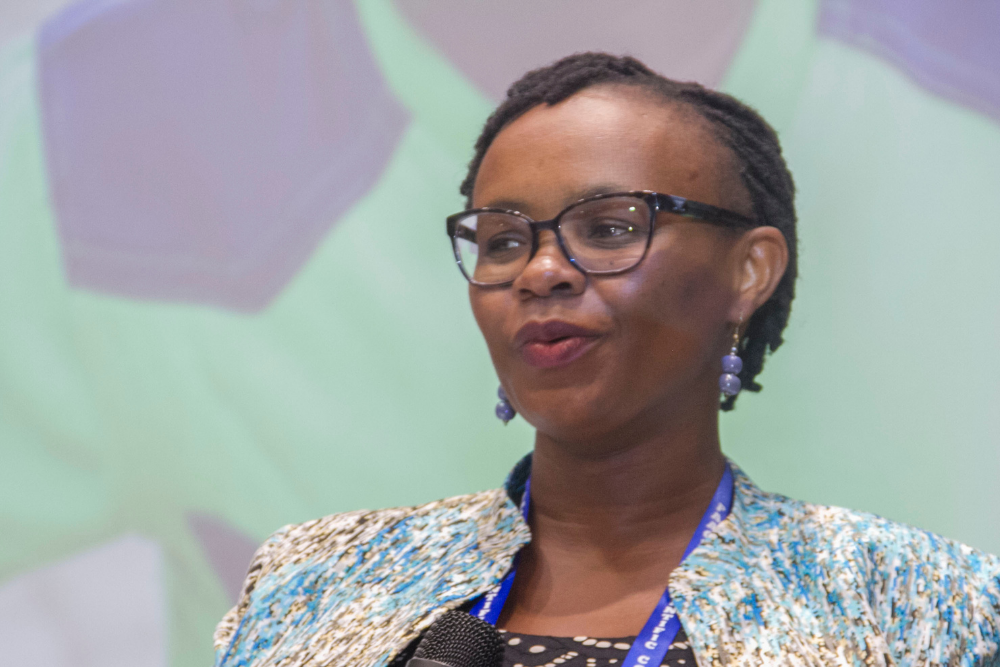 You serve as a member of the UHC2030 CSEM Advisory Group. First, what are UHC2030 and the CSEM? What is your role as an advisory board member?
UHC2030 is the global movement to strengthen health systems to achieve Universal Health Coverage (UHC) by 2030 as part of the UNs Sustainable Development Goals.
UHC2030 brings together governments, international organizations, civil society organizations, the private sector, academia, and media. It promotes collaborative work on collaborative health systems strengthening at the national and global levels, advocates for increased political commitment to UHC, and facilitates accountability and knowledge-sharing.
The Civil Society Engagement Mechanism (CSEM) is the civil society constituency of UHC2030. Civil society means the non-governmental and non-commercial sectors, so individuals, communities, institutions, non-profits like Smile Train, etc.
In short, the CSEM raises the voices of civil society organizations (CSOs) within UHC2030 to ensure that UHC policies are inclusive and equitable and that systematic attention is given to the most marginalized and vulnerable populations. We want to ensure that no one is left behind.
As an advisory group member, I join a distinguished team of 19 leaders from diverse backgrounds and organizations. We are charged with linking CSOs at the global and national levels, ensuring the sector's diversity is represented, setting priorities for our constituencies based on national inputs, and acting as a technical hub.
In other words, we review tons of documents. We are largely focused on providing feedback on UHC2030 policies and guidelines, developing tools and protocols to continually improve engagement with national civil society, and collating input from national-level CSOs on major global UHC milestones.
What are some of the strides you've seen CSEM make towards UHC2030 in the last year?
I could count many strides, but the most important happened just before I joined CSEM. The UN High Level Meeting on UHC was a major milestone that garnered political goodwill from many countries, leading to the signing of the Political Declaration by the heads of state of UN member countries. For many countries, my own (Kenya) included, this meant that our governments committed to achieving Universal Health Coverage for their populace.
Another stride has been the development of a handbook on social participation in UHC, which was launched in December. This is a practical guide on the 'how' to include input from CSOs and communities in developing and implementing UHC policies. To this end, CSEM hosted a series of webinars, questionnaires, and online discussions soliciting and collating input from its membership.
A further stride has been the several papers developed and published on the governance of COVID-19 response, as well as the role of CSOs in that response. We recently released a survey on this topic showing that 70% of participating CSOs were not meaningfully involved by their governments in COVID-19 response. So, CSEM developed calls-to-action that centered on four pillars we call LIFE: Leave no one behind, Increase public health financing, Focus on health workers, and Engage civil society and communities. This is what civil society wants to see in COVID-19 response.
I must also mention the strides in my own country, where the government developed a UHC policy and is very committed to ensuring healthcare for all.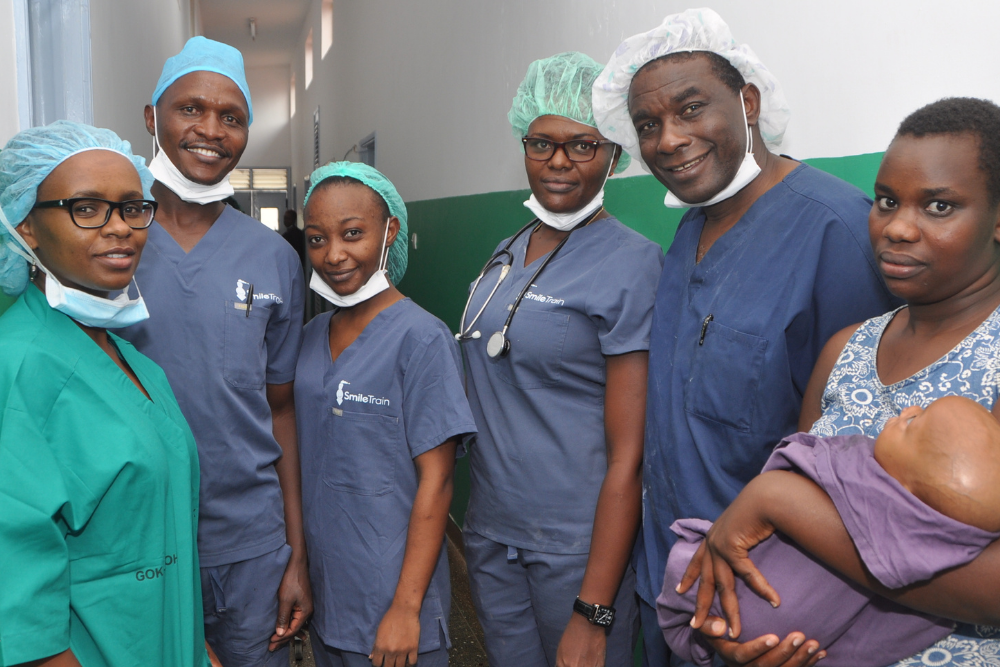 The COVID pandemic exposed glaring gaps in global healthcare systems, but it also gave rise to innovation. Which African countries have taken the lead in supporting human resources for health?
COVID-19 halted many operations, including medical services, and especially surgery. As a result of the necessarily strict measures around physical distancing and wearing masks, many of Smile Train's training programs were hampered.
But our partners were resilient. An innovation from Nigeria pivoted our training to online. In collaboration with the West Africa College of Surgeons, we quickly put together a comprehensive cleft care training program that we dubbed TeleCleft. The trainings ran for one hour twice a week starting in late April and were initially planned to run for three months; they are still running today, and we still have more than 70 participants logging in for each weekly training. I must pause here and commend my colleague Nkeiruka Obi, who spearheaded this project, as well as the rest of the Africa team, who has supported its fine-tuning and smooth running so that it has now reached more than 1,000 individual attendees.
A speech therapist in Ethiopia successfully held a speech therapy training following a unique and very simple innovation: placing a Pyrex glass shield between themselves and the patient, in addition to a face shield.
A trainer in Kenya offered a nutritionists' training in DR Congo through Zoom. As the restrictions have eased across Africa, we have successfully carried out hybrid trainings, where some people meet in person and others join in virtually.
Through this pandemic, we have come to learn that a lot can be done remotely, even though we miss the human contact, the water bottle chats, the coffee breaks.
In your experience at Smile Train, what can be done to ensure that safe surgery for children is prioritized?
Advocacy and more advocacy! I have learned in my 12 years of working with children in need of surgery that there are a lot of misconceptions beyond the doctor's room or operating theater.
Surgery isn't prioritized because often its benefits cannot be monetized, nor can the cost of not having it be adequately measured. What's the cost of a child living with a cleft to the economy?
Africa has the youngest population of any continent. So, when the World Health Organization found in 2017 that around 1.7 billion children and adolescents worldwide did not have access to surgical care, that is an especially big issue for us. These children need surgical interventions in a safe environment. It's up to us in the know to keep educating the decision-makers— the politicians — on the paramount importance of investing in surgery for children.
How have you seen advocacy change policies? Change lives? What do you think the ultimate value of advocacy is?
Advocacy brings to the fore the hard truths, the data, and the benefits of alternative decisions. Most importantly, it allows for a more inclusive policy-making process. As a result of consistent advocacy, public participation is a valued part of the political process in some countries. The war against HIV, malaria, and polio are all being fought through advocacy.
We can act upon knowledge that cleft treatment can return as much as $50,000 into the local economy as former cleft patients go on to contribute to economic productivity and lead full lives in their communities. The list is endless. The ultimate value of advocacy is being the voice of the masses, asking hard questions and providing alternative views while working towards sustainable solutions. Driving advocacy also pushes for creativity and innovation in healthcare.
What is your ultimate hope for healthcare across Africa?
My ultimate hope for healthcare in Africa — including surgical care — is to have every country, through their national budgets, provide adequate, safe, effective, accessible, and affordable health services. That health promotion and disease prevention are made a priority, and that communities aren't living with debilitating conditions without hope.
My hope is that our political leaders will realize that investing in the health of their people is investing in the wealth of their people.
What would you tell practitioners and people in the cleft community about their role in advocacy?
Get out of the operating room occasionally and lift up your voice for making cleft care a priority! Your technical expertise makes yours a very respected, authoritative voice to speak for those who cannot speak for themselves. It is your duty.