Virtual Marathons, Real Lives Saved
When endurance events got canceled around the world, these Smile Train supporters ran anyway.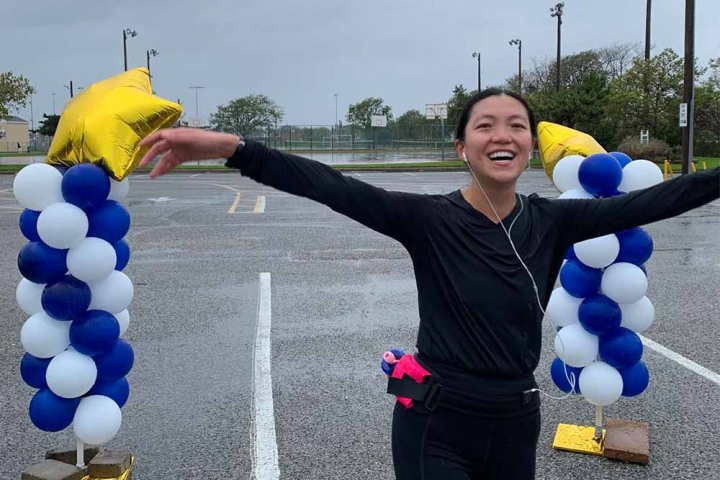 When COVID-19 forced Smile Train's partner hospitals in 70+ countries to delay lifesaving cleft surgeries — 39,000 and counting as of December — our local medical partners refused just to wait it out. They utilized telehealth technologies, delivered needed support to patients at severe risk of malnutrition, resumed cleft surgeries where possible following rigid additional safety protocols, and did everything else they possibly could to ensure no patient in need was left behind.
And because Smile Train's partners didn't slow down, our Team EMPOWER athletes didn't either. When the pandemic canceled their races, these all-stars kept going, running virtual marathons around their neighborhoods to make sure Smile Train's healthcare heroes always have the resources they need to do their lifesaving work.
Along the way, they discovered that those close to them found creative ways of supporting their heroics, too.
So many Team EMPOWER athletes found new ways to get fit and give back in this year like no other that we couldn't possibly showcase them all. Here are just a few.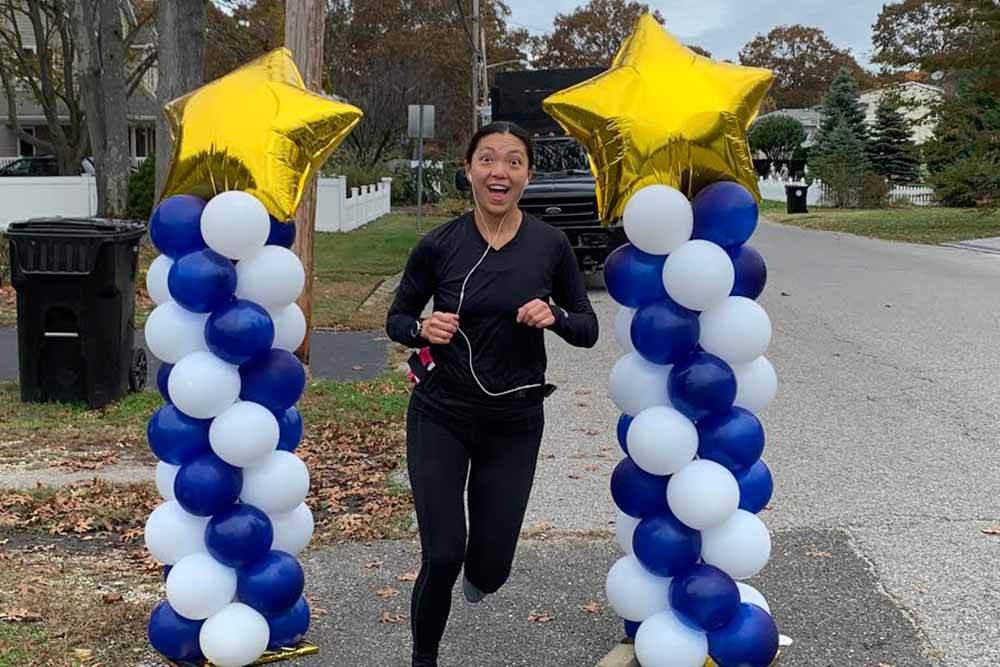 Margaret Kroll — Virtual NYC Marathon
Margaret was born with a cleft in South Korea before being adopted as an infant by an American family who provided her with all the cleft care she needed to thrive. When her husband ran the NYC Marathon in 2015, she thought he was crazy, but, two years later, was hit by a sudden desire to do it herself… eventually. She ran more miles each year until she knew she would be ready for the big show by 2020. And she had no doubt which organization she wanted to run it for — Smile Train.
Margaret worked as a registered nurse through New York's coronavirus outbreak, and running helped her endure the worst of it. When the marathon was canceled, she was disappointed but determined not to let the disease take one more thing away from her. Besides, as an RN, she couldn't let those who were counting on her down — not her family, not her friends, not children with clefts who needed her, and especially not herself. When race day came, her husband surprised her with balloon towers at the starting line. As she ran on, friends stood outside their houses to cheer for her the whole way, and, when she reached the finish, her husband was right there again, waiting with a balloon tower and a big smile.
In the end, it will be children in need of cleft care who Margaret's efforts will leave smiling the widest. Her virtual NYC Marathon raised more than $3,000 for Smile Train!
"Running 26.2 miles is tough, and it was a little harder without the energy of the city and the crowds, but every time I ran by a friend's house, it gave me an extra burst of energy," she said. "Helping others with clefts is very important to me, so I was happy to still commit to Smile Train and Team EMPOWER to reach my fundraising goal and play a small role in helping improve the lives of both children and parents affected by clefts."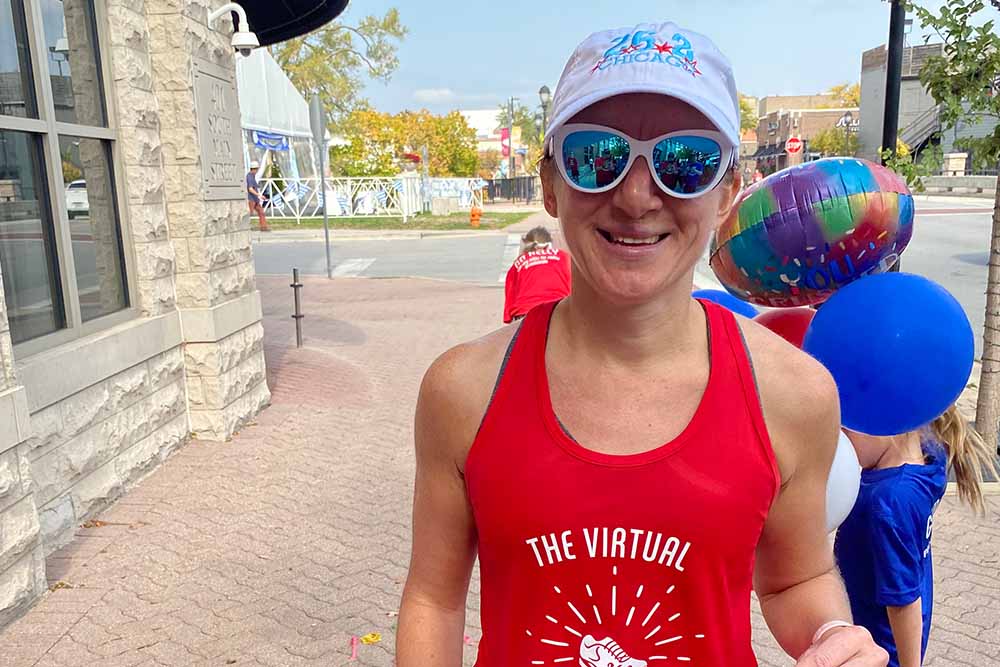 Kelly Smith — Virtual Chicago Marathon
Like Margaret, Kelly was born with a cleft and received all the care she needed as a child. She ran a lot as a teenager, then gave it up until she was 29 and a co-worker encouraged her to try a half marathon. That little bit of encouragement was all the spark she needed to reignite her passion for the sport, and she has completed four half marathons in the 10 years since. As 2020 dawned, she felt she was finally ready to make the leap to a full marathon. She signed up for the Chicago Marathon through Team EMPOWER and got moving, working her body for the race and her family, friends, and networks for their fundraising support.
By the time the marathon was canceled, she had already gotten herself into prime running shape and had exceeded her fundraising goal. Quitting was not an option: "I knew that I couldn't give up on those kids as well as the supporters that were helping me," she said.
When the day of the virtual marathon came, it was Kelly's family and friends' turn to show up for her. Since she couldn't run in Chicago, they brought Chicago to her run — replicating Windy City landmarks like Soldier Field and Chinatown all along her route and lining the streets to cheer her on.
They showed up just as strongly for Smile Train, coming together to raise more than $10,000 to help children in need of cleft care!
"Although it was not like running the streets of Chicago, it definitely was my own race and an experience that I will never forget. I know that some of the challenges of being born with a cleft follow you your whole life. To know that multiple children will not have to deal with those challenges now because of my marathon makes all of this journey worth it!"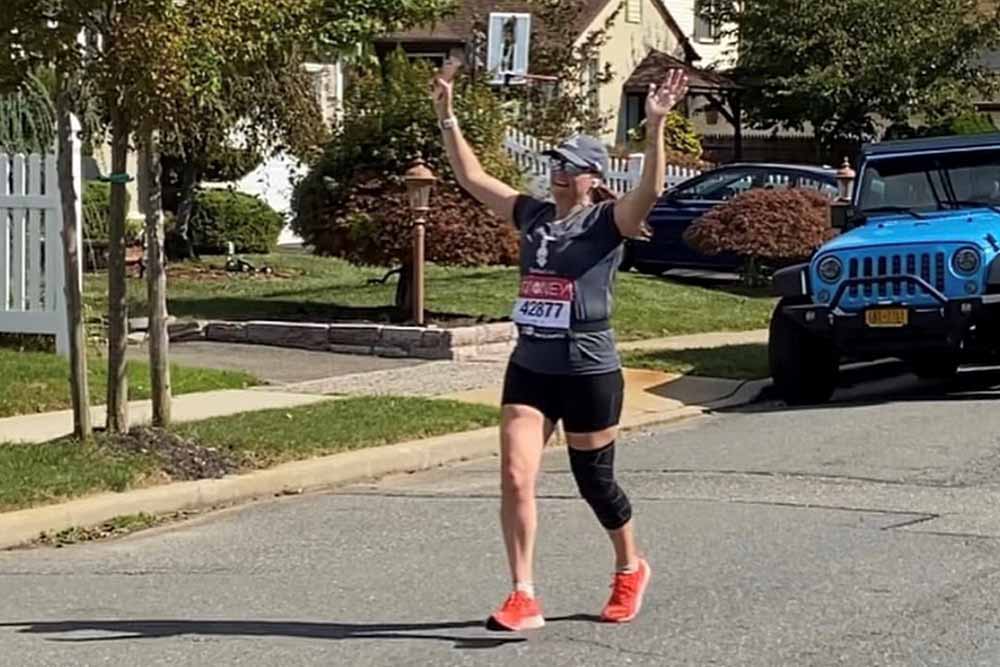 Lucie Bloom — Virtual London Marathon
Lucie was also an avid runner in high school and picked it up again after she had kids to keep fit and healthy. And stay fit and healthy she has — she tries to run at least two marathons each year and has run as many as four in a year. She joined Team EMPOWER in 2017 when she found herself inspired by the stories and pictures of the children whose lives she could completely transform as she searched for a charity to support to enter the London Marathon. "I have two daughters with beautiful smiles. They don't have clefts, but learning more about Smile Train made me want to give every child the opportunity to smile like they do."
When this year's London Marathon was canceled, Lucie felt she owed it to her supporters as much as to children waiting for critical cleft treatment to keep going. By the time she crossed the finish line in her Long Island town, she had raised more than $5,200 to help kids smile!
"I would do it again in a heartbeat if needed. Running a marathon for a few hours is a small sacrifice to change a child's life," she said.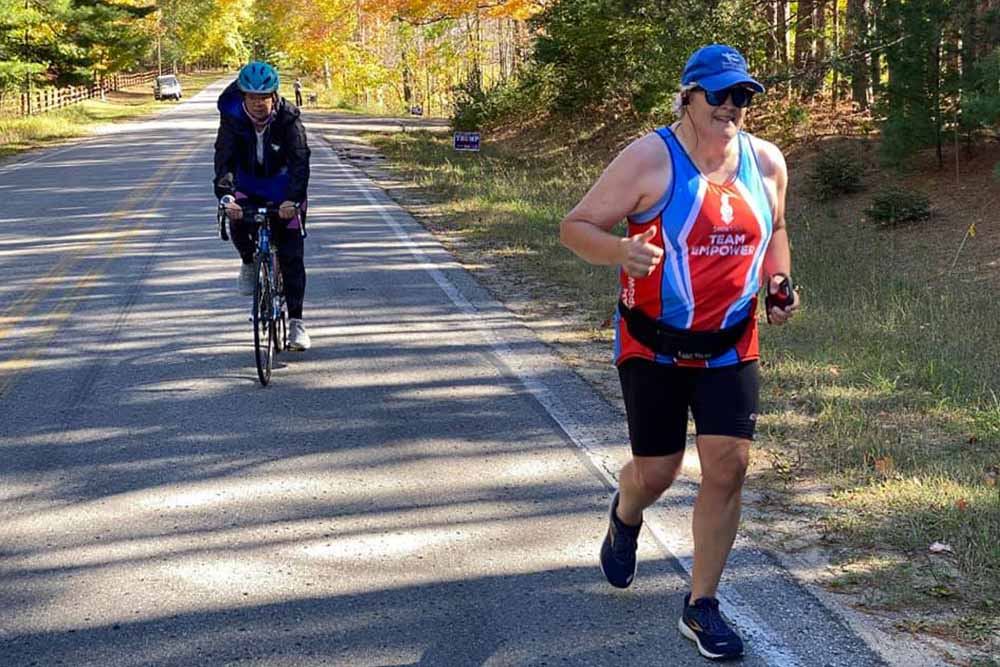 Stef Staley — Virtual Chicago Marathon
Stef's journey to Team EMPOWER began as she was about to turn 50. She had resolved to take better care of herself just as a friend was looking for a running buddy. They started running 5ks together and Stef came to love the way running made her feel. She decided to join the Traverse City Track Club's training program to prep for the next big step, a half marathon; it was there that she met Rose Coleman. More than her trainer, Rose soon became Stef's friend, mentor, and inspiration.
In 2019, Stef and some friends traveled from Michigan to New York to cheer Rose on in the New York City Marathon. A few weeks later, they followed her to Tempe to watch her compete in Ironman Arizona with Team EMPOWER, and that's when it all came together. "I was definitely moved by watching Rose," Stef recalled. "A marathon was not on my bucket list. It was just too big of a goal for me and not something I would even think of doing. And I was super impressed by Smile Train and the work they do with children with clefts when I met with their staff in Arizona." She decided then that she was going to up her game in 2020. She signed up for several 5ks, a 10k, a 25k, several half marathons, several triathlons, and a half Ironman before topping it off with what would be her crowning achievement — running the 2020 Chicago Marathon with Team EMPOWER.
As 2020 unfolded and COVID dashed her plans one-by-one, she was most crushed when the Chicago Marathon was canceled. But she didn't let it slow her down; she got her running shoes right back on and raised $1,000 for Smile Train through the virtual marathon.
"It is truly my honor to be a part of this program to help children get life-changing treatment," she said. "Every child deserves a chance at life, and I know these children will do great things and be a positive impact on those they encounter along the way. It makes me smile to know that the money that I raised will put a smile on a child's face."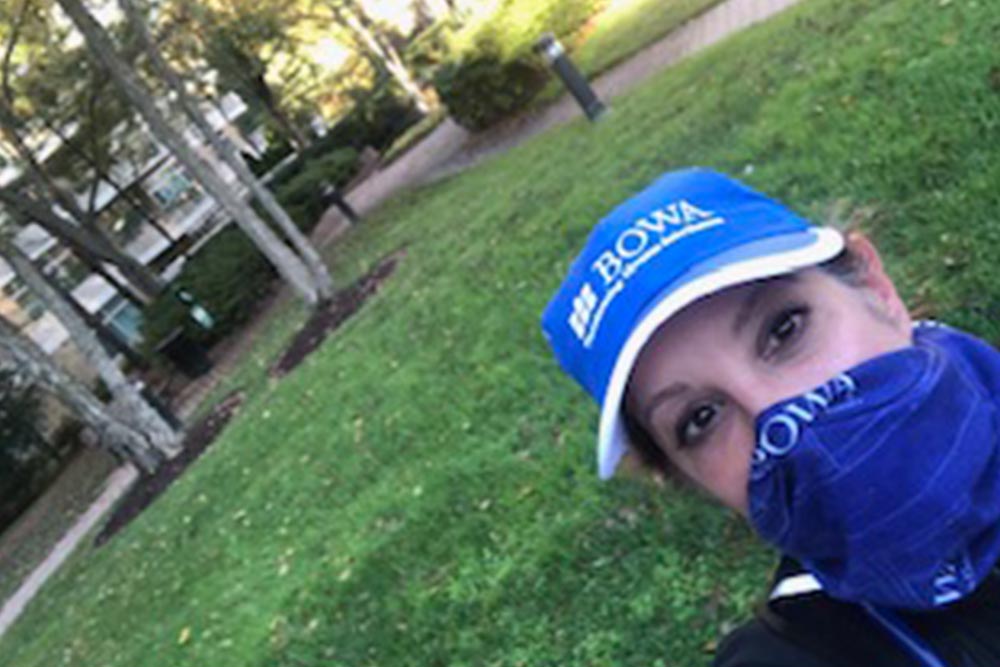 Kristin Ikenson — Virtual Marine Corps Marathon
Kristin also started running a little later in life, in her 40s. It began as a way to get in shape and soon became her passion, a way of doing good for herself and others. When she decided 2020 would be the year she was ready to make the jump from half marathons to a full marathon, she knew she also wanted to use the opportunity to run for a cause. But which to support? When she posed the question to her teenage son, Hayden, who was born with a cleft, he just looked at her with wide eyes, pointed to himself, and said, "Mom! Hey, remember me? How about Smile Train?!"
She was disappointed when the in-person marathon was canceled, but as soon as they announced there would be a virtual option, she said to herself, "Okay, game on. Let's do this!"
Kristin says that, usually, when she races, the crowd's cheers inspire her and motivate her to keep going faster. Not having it for her first marathon proved a bit of a challenge, but she was far from running on her own. Some of her closest friends surprised her to cheer her on at mile markers along the way, leading up to the greatest surprise of all — when she had just two-and-a-half miles left, Hayden met her and ran with her for the final stretch.
Together, she and her inspiration brought their fundraising across the finish line, too, raising more than $5,000 to ensure children with clefts won't be forgotten during the pandemic. "My message to the children we helped is that you are beautiful now, and you were beautiful before your cleft treatment too, inside and out. Always hold on to the fact that you are valuable and worthy and loved — never forget it!"