Changing Cleft Culture in Nigeria
Dedicated Smile Train partners in Nigeria are taking to the streets to educate about clefts.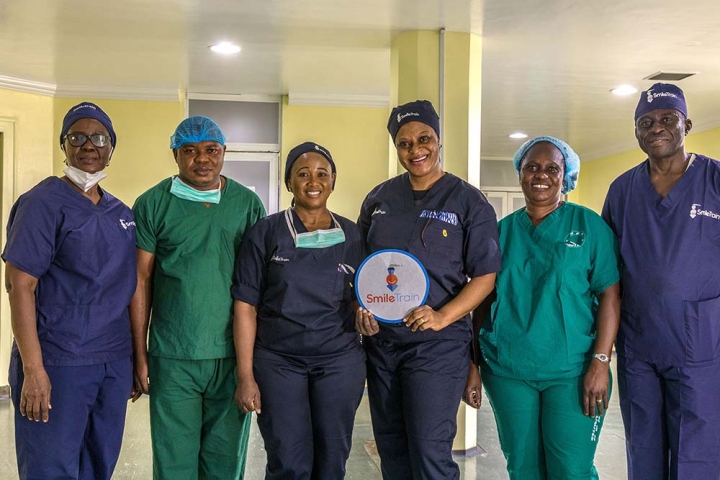 It might have seemed strange for one of the premier healthcare centers in Africa's largest city to organize a weeklong blitz to find people with clefts at a time when hospitals around the world are overwhelmed with COVID-19 patients. But the cleft team at the Lagos University Teaching Hospital (LUTH) believes saving lives can never wait.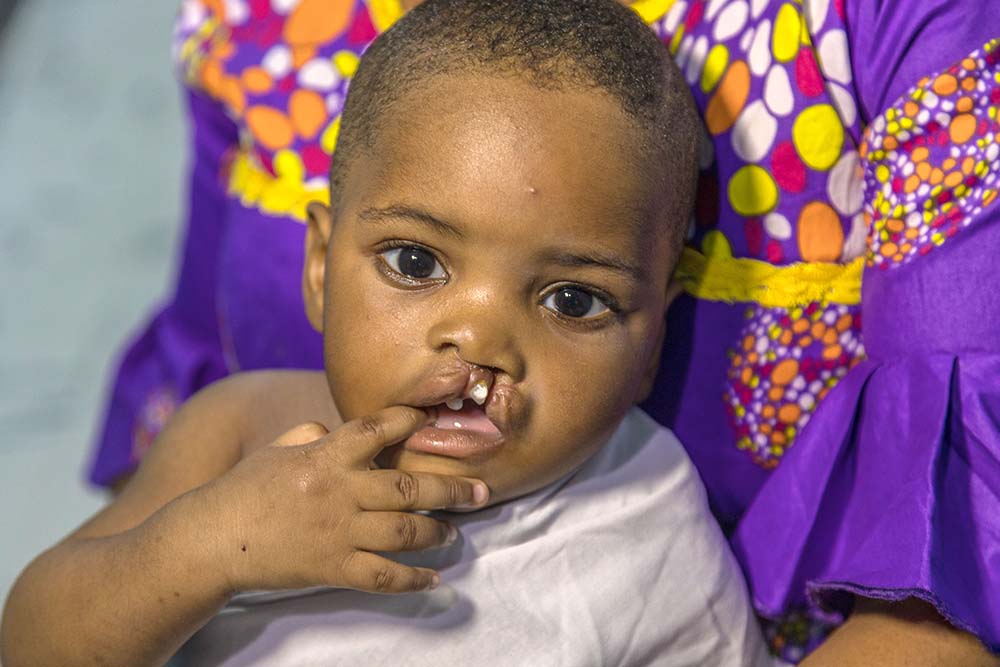 There was a time, not too long ago, when being born with a cleft in many parts of Nigeria was a death sentence. False beliefs that clefts are caused by demons or witchcraft were widespread and reinforced by respected tribal chiefs and religious leaders. The team at LUTH refused to stand by as thousands of innocent babies were abandoned and sometimes killed for nothing more than a birth difference that they knew how to treat. So they took action, and in 2011, organized the first Cleft Week in Nigeria alongside their longtime partner, Smile Train.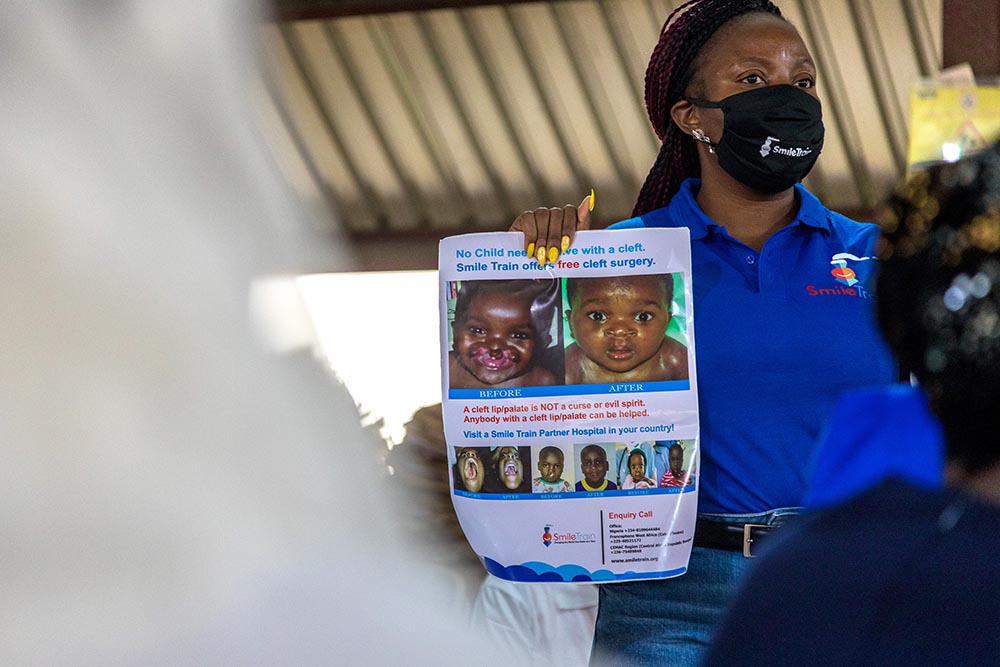 Cleft Weeks are held by Smile Train partners around the world to let communities know that clefts are treatable trough safe and accessible surgical care. They do this through educational outreach at both the communal and personal levels.
For community outreach, the team books surgeons and other cleft experts on popular health-related TV and radio call-in shows, hands out flyers in public places, and pays musicians and dancers to draw large crowds where they can spread the word far and wide that clefts are a treatable medical condition and that anyone who knows someone with a cleft should immediately send them for free treatment.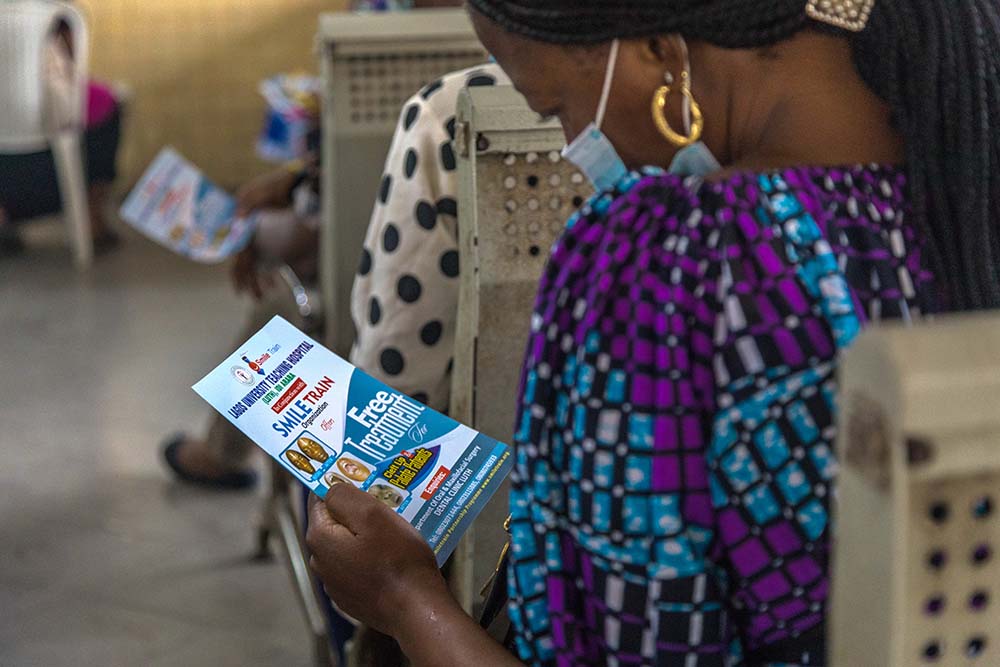 Personal outreach is where Smile Train's unique model of empowering local healthcare workers truly shines. In this stage, members of the cleft team reach out to respected local leaders and educate them about the many misconceptions about clefts. "We tell them the stigma is so uncalled for, that these children are not demons and the family is not spiritually deficient – a cleft is a birth difference that can be corrected locally," explains Nkeiruka Obi, Smile Train's program director for West and Central Africa.
"When they know that the solution is free, is of high-quality, is safe, and is done within the confines of the community, it brings a lot of hope and enthusiasm, a lot of joy and a lot of smiles. Because we are local, we can build that trust and that confidence and boost the local health system in a way that mission trip-based groups never could. This gives the leaders confidence in us. They tell us that if this treatment can be done by locals, then there's no one better to do it than our own. I see this so often; they have a complete change of heart and become advocates for cleft care within their community."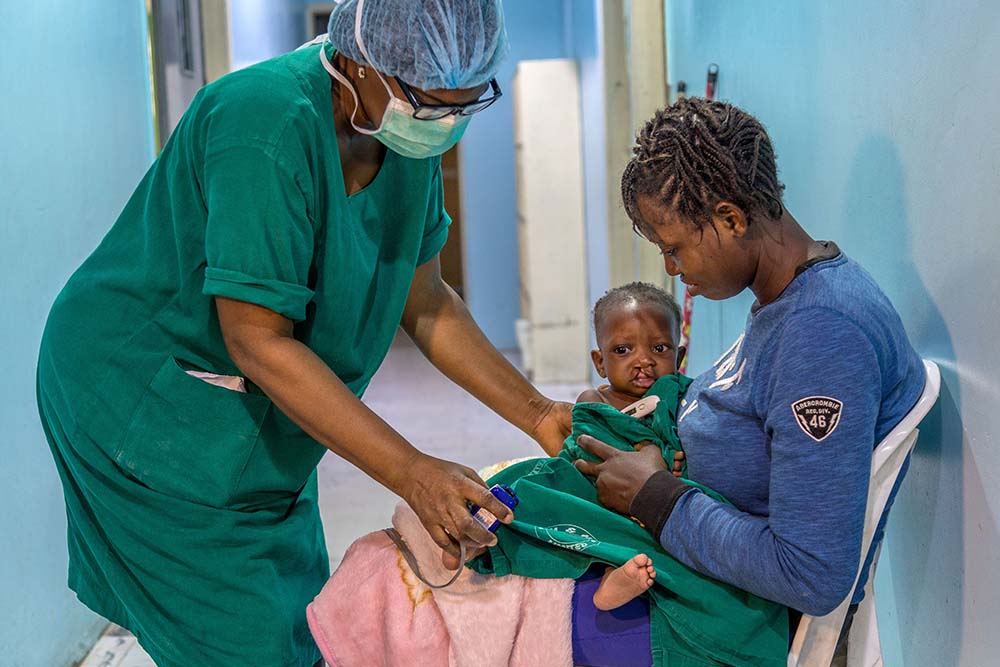 The second component of Cleft Week is handling the challenge of a large group of cleft patients coming in for free cleft surgery as a result of the outreach. This proved especially difficult in 2020, but the LUTH team was more than up to the task with guidance from Smile Train's African Medical Advisory Council (AMAC). Thanks to Smile Train, hospital staff had what they needed to keep themselves and their patients safe from COVID-19: Ample personal protective equipment, including Smile Train-branded face masks that they handed out for free to anyone who wanted one. Non-contact thermometers to ensure no one with a fever entered the hospital. Social distancing guidelines according to the highest standard. Handwashing stations and hand sanitizer positioned strategically throughout the hospital. And thanks to our partnership with KidsOR, the operating rooms were stocked with the most modern equipment for safe surgery.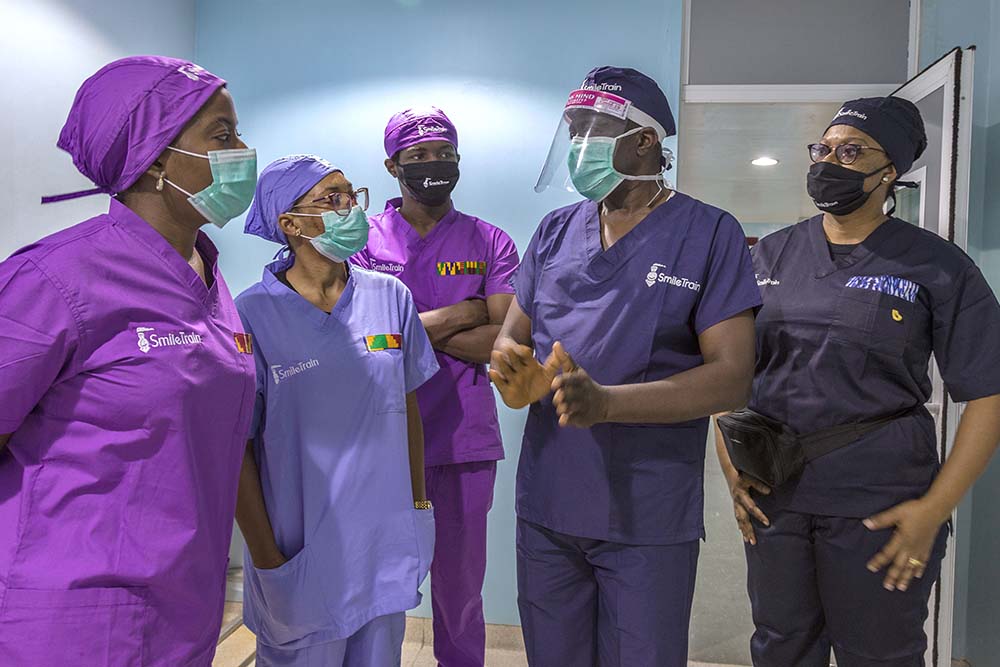 Our longtime partner GSK's Lagos staff was also eager to get involved in Cleft Week in any way they could. After a health screening, they were invited to visit LUTH and observed a patient's cleft treatment journey. The GSK crew also handed out flyers at a few local health facilities, participated in a Zumba for Smiles activity with Smile Train's local staff, and got to know patients and their families. They came away moved and inspired to become advocates for people with clefts, spreading the truth and directing them towards care.
"Thanks for exposing us to what transforming lives means. I have to say that the pleasure was ours because it was such a humbling, educational, inspirational, and interesting experience. I honestly didn't know how much Cleft Week meant, but seeing it firsthand was absolutely amazing, and we are geared up for doing more. Well done to Smile Train and the team," said Fiyin Williams, GSK's Marketing Manager for East & West Africa.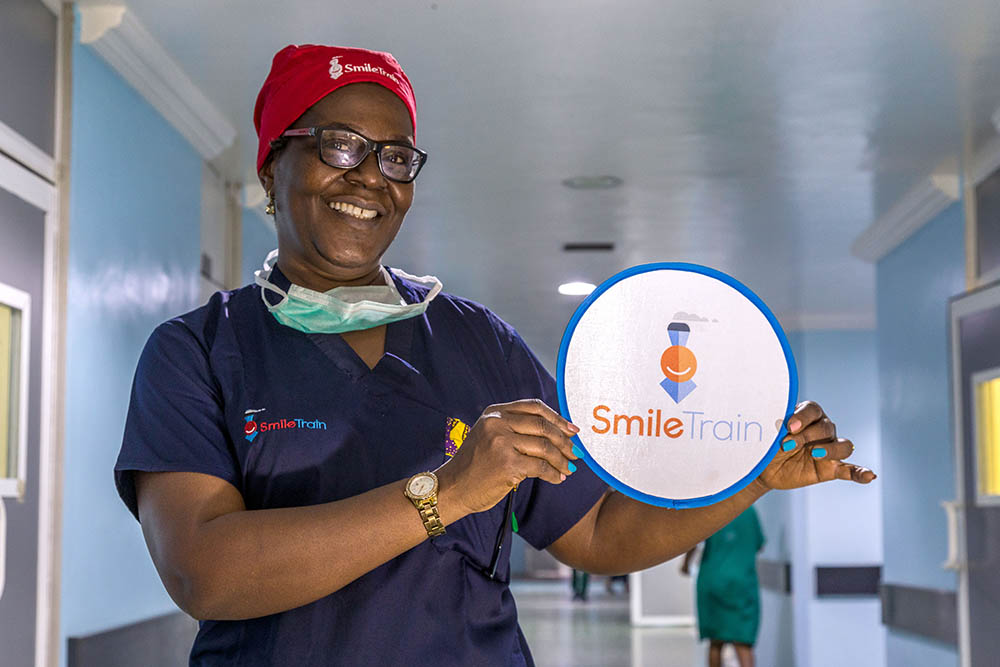 Thanks to the dedication and care of LUTH's staff, Cleft Week 2020 was a huge success — the team performed 20 life-changing Smile Train-sponsored cleft surgeries that week alone, and the awareness raised will save countless more babies' lives over time.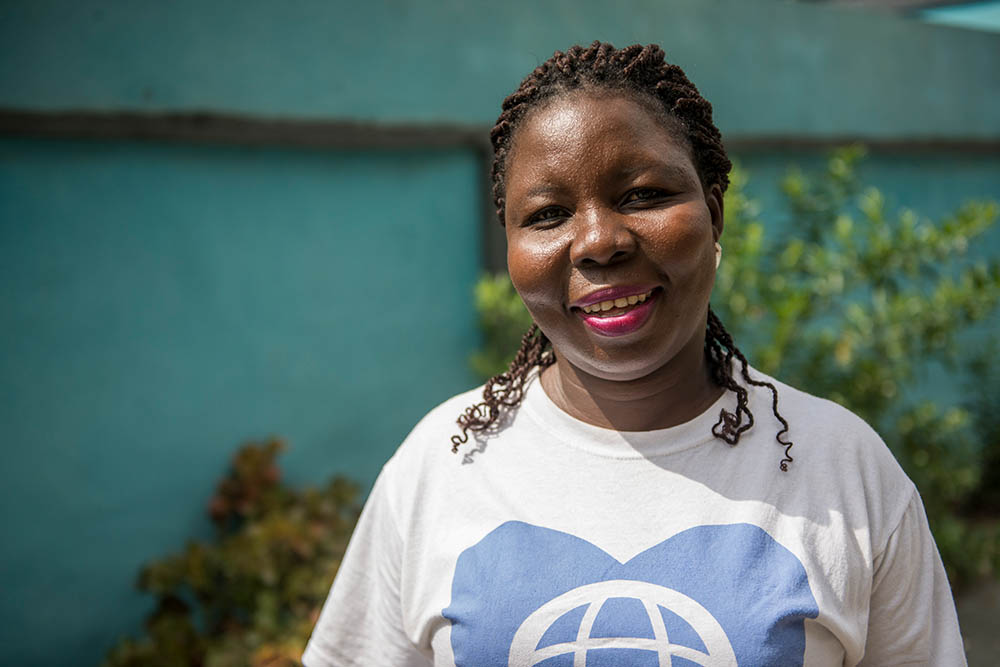 For Victoria Awazie, Smile Train's programs manager for West Africa, Cleft Weeks perfectly encapsulate what Smile Train's work is about year-round. "This Cleft Week has made a lot of impact in Nigeria. So many babies with clefts wouldn't live to celebrate their first birthday if not for the awareness we spread. When families who think they are going to lose their baby learn there is free treatment available, it gives them so much hope for the future. These families then become Smile Train ambassadors, educating other families about clefts and spreading the good news that world-class treatment is available completely free. It's a chain reaction that makes the whole city smile."
Donations to Smile Train save lives, fight harmful superstitions, and build up entire healthcare systems around the world.