Three Generations of Clefts, One Lifelong Commitment to Smiles
Why Dave is a proud monthly donor to Smile Train.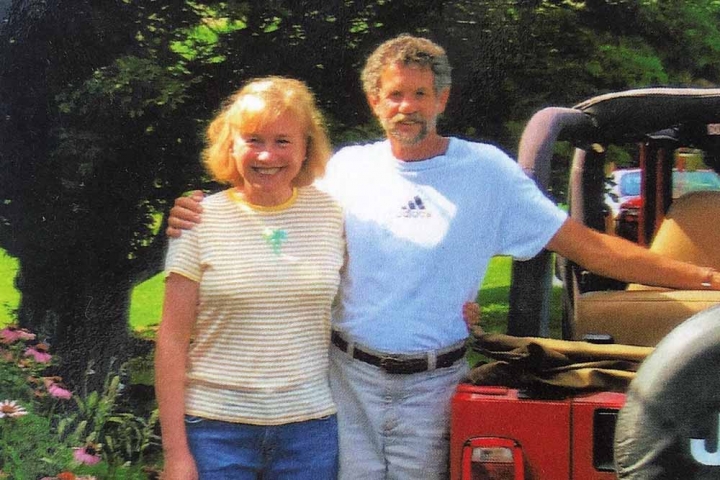 William David Boling, born in rural Indiana in 1953, was the fourth child of six in his large family and the only one with a cleft. He now has a daughter, a granddaughter, and a grandson who were also born with clefts. He shares his incredible story with us below, including his observations on how life has (and hasn't) changed for Americans with clefts since he was growing up and why he's so proud to support Smile Train.
The scariest part of it as a kid was being left alone at the hospital for three, four, five days until my dad and my mom could come back to get me. They hated to leave me there, but they had no choice — he was a farmer, and he had five other kids to provide for because my mother didn't work outside the home and couldn't drive. But I needed a lot of surgeries for my cleft, and every time, my parents would stop working and take me on the 100 mile drive up to Riley Children's Hospital in Indianapolis, drop me off there, drive home, then come back to bring me home a few days later. I was afraid, like any kid would be being left in a hospital not knowing what's going to happen. And of course, like anyone else with a facial difference, sometimes people were not kind and things were tough no matter where I was. But I'm not singing the blues. I had a loving, supportive family to get me through it all.
And I like to think those experiences just made me who I am now. I grew up to become an RN. My wife, Donna, was also an RN (we're retired now), and we had twin girls, one of whom was also born with a cleft. I think their experiences with clefts made an impact on them, too, because one of them grew up to become an RN also. They now each have a son and a daughter of their own — and one has a son with a cleft, the other has a daughter with a cleft.
It's heartening to see firsthand how much things have changed for people with clefts here over the years. For one thing, I think the surgical techniques and technologies have vastly improved along with general knowledge of clefts, so that reconstructive surgeons are able to do a more refined job with it now. Socially, I think people are more accepting these days. It used to seem like many people wanted to hold those of us who might seem different at arm's length, like there's something wrong with you. It often felt to me like people wanted to put a social barrier between myself and them and they couldn't bring themselves to cross it. Though there's still a lot of social stigma, I think slowly that curtain is being lifted. People don't think it's as big of a deal as they used to and have an attitude of we'll care about you and love you no matter what.
I didn't know anything like Smile Train existed until one day I happened to see an ad for them in the Louisville Courier-Journal that featured a picture of a young child with a cleft. You know, my parents never talked about it, but as far as I know, we didn't have any health insurance when I was growing up, so it would have been totally out of the question for my parents to afford the cleft treatment I needed without either it being deeply discounted or donated by the hospital. And this child in the paper really stuck with me because he made me think about how, in many other parts of the world, parents have to lay awake at night wondering whether they will ever be able to provide their child with the surgery they need to eat, speak, breathe, go to school, and sometimes even to survive. They might have to save for years to afford just one procedure, if they could ever afford it at all. Supporting Smile Train allows me to pass the kindness I received onto these families.
Their model hits close to home for me in another way, too. As someone who knows what it's like to have to travel far out of your way to receive care, I particularly appreciate how Smile Train uses a "teach a man to fish" model to train my fellow healthcare workers worldwide in how to provide top-quality cleft care in their own locales as opposed to sending in healthcare professionals from abroad. They do fabulous work, but once they're gone, they're gone. I think working in patients' communities is what has allowed Smile Train to build up the kind of international reputation that has allowed them to help so many more people in need and help build up local economies.
It's all why I'm so proud to now try to donate enough to Smile Train each month to help another child receive cleft treatment.
If I could meet one of the children I've helped, I would give them the same advice I gave to my daughter and that I give to my grandchildren. It's the same advice my dad gave to me before he would drop me off at Riley all those years ago: "Keep your chin up. Be brave and courageous; you'll get through this." Now, that's pretty flippant for someone who's about to get in his car and drive away for a few days, but it helped me immeasurably. And I'll add to it, "You don't see it now, but this will make you a better person, because if you experience something, you can be more sensitive to what others are going through and you can help people, and that's really what we're on this planet for."
You, too, can help children in need around the world receive the care all people deserve.