An Inspirational Journey to Kenya
Supporters experience Smile Train in action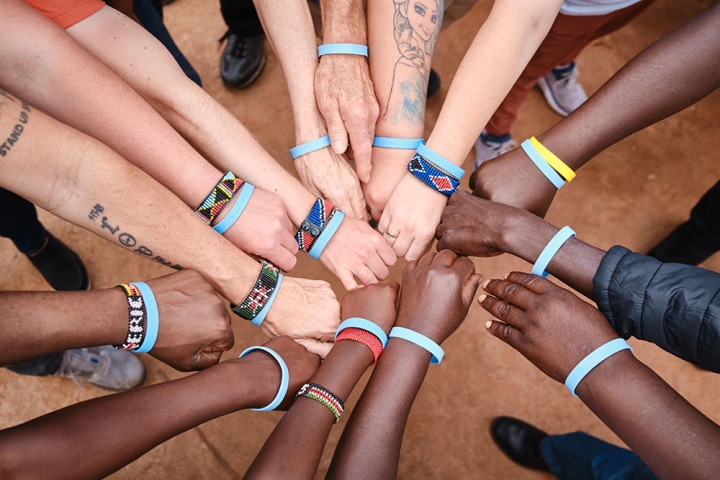 In November 2021, Smile Train invited supporters on a Journey of Smiles to Kenya to connect with children, parents, and communities whose lives have been forever changed thanks in part to their contributions.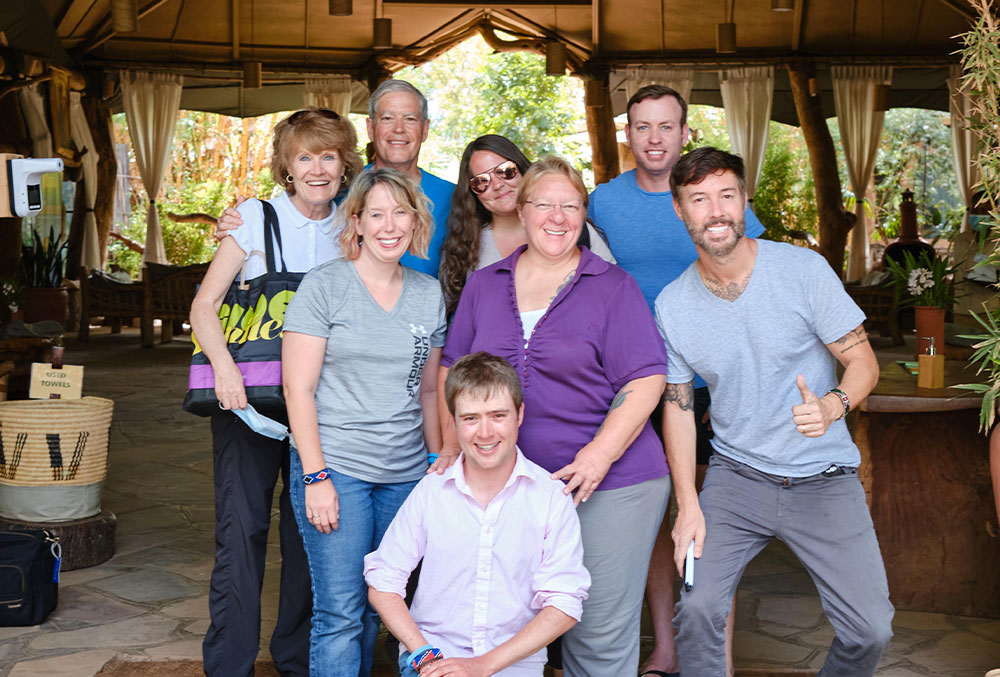 After temperature checks (and a quick lesson for the Americans in Celsius vs. Fahrenheit), the Journey of Smiles launched with a scenic drive from Nairobi to AIC-CURE Hospital in the town of Kijabe. AIC-CURE specializes in pediatric orthopedic care and training physicians from across Africa — a model that Nelson Muoki, the hospital's development manager, called "healing for today and tomorrow."
"Every surgeon trained… who knows how many lives they will impact?" he said.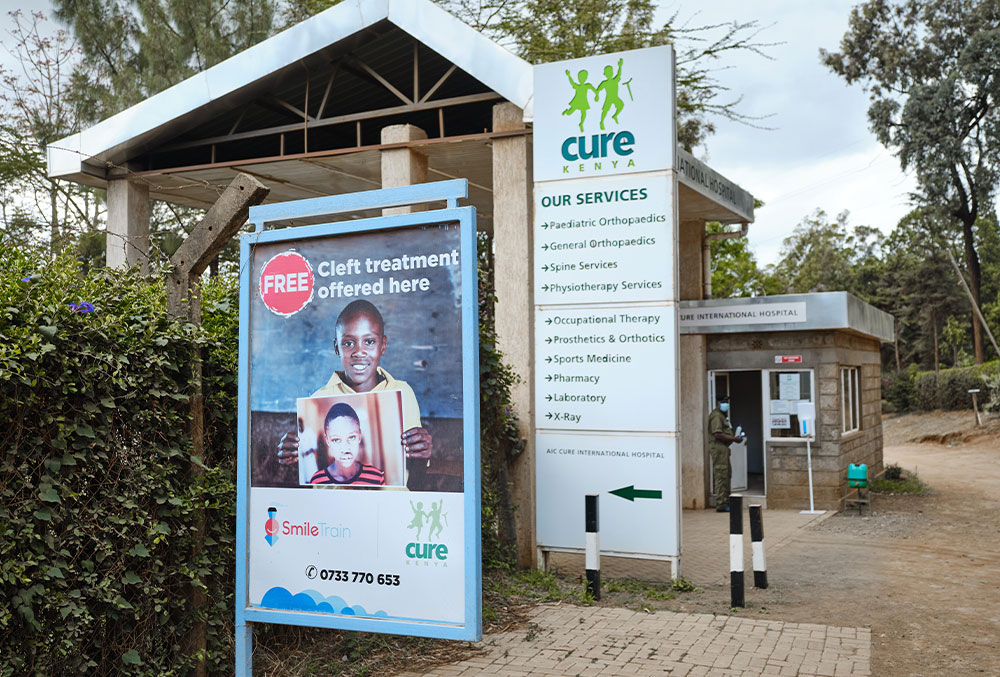 Through a lobby of bright green walls accented by colorful circles, Nelson presented the hospital's successes, including the radiant smiles of children whose treatment Smile Train made possible. But he emphasized that surgery is just one part of the full cleft care journey.
Patients seek care at CURE for "physical, economic, social and spiritual needs," Nelson said. A general lack of awareness has left many children with clefts — and their families — as outcasts from their communities. "We want to undo that narrative with our service. Now there is hope."
The experiences of families living half a world away hit home for Cleft Community Advisory Council (CCAC) member Christine Errico, who noted that awareness remains limited in many parts of the US, too. "Doctors and dentists don't know our needs. When I was a baby, dentists didn't know what to do with me," she shared. "I feel for parents who have to face that."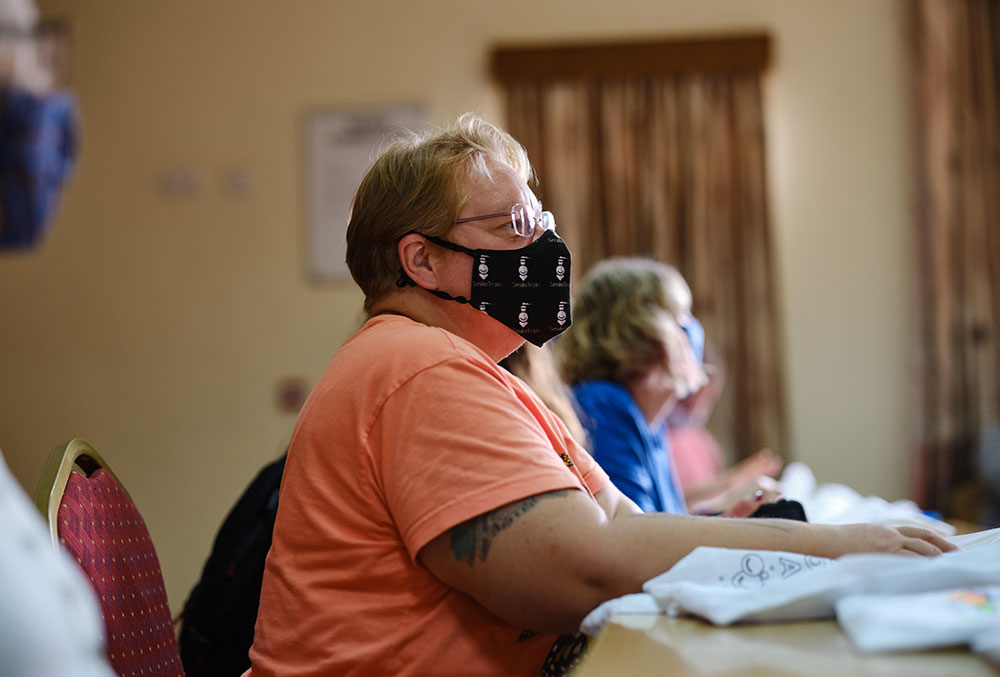 As the group toured the hospital, walking through breezeways and past a playground, a joyful chorus sang out: "Rejoice, and be glad!" It was the children of the HearSay & Read Clinic, whose speech therapy camp brings cleft-affected children and families from around the region together for a week each year. "It's about togetherness," one grandmother shared. "Without each other, it would be hard to move forward."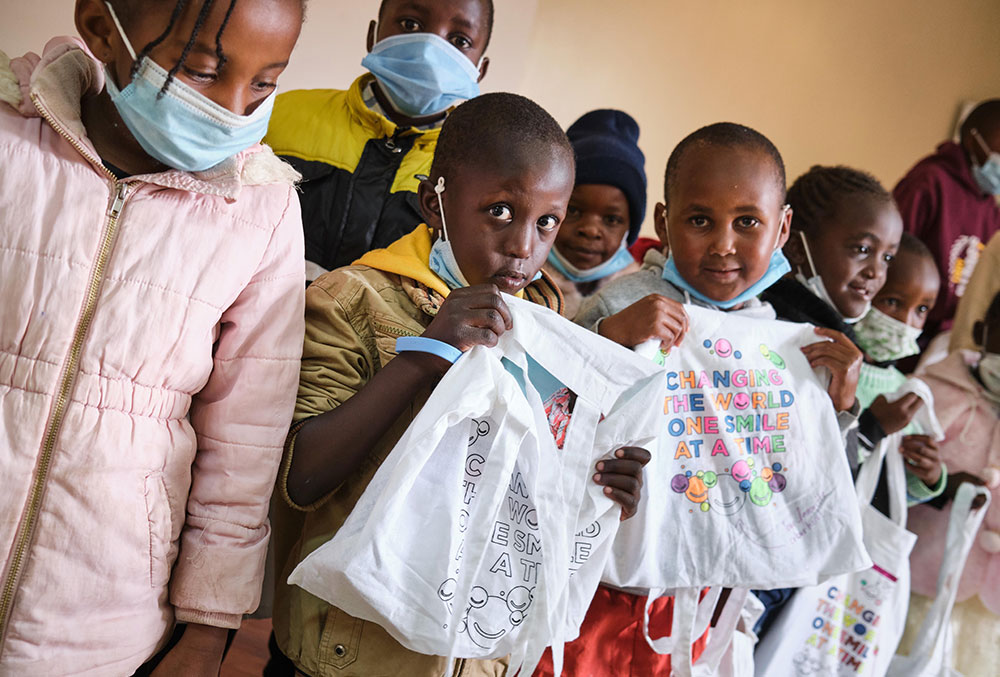 The Journeyers distributed high-fives and goody bags to the children. Longtime Smile Train supporter Dory McFail shared crayons and led an impromptu coloring lesson where everyone traced one another's handprints. "That's the teacher in her," Dean McFail said, as he watched his wife with the children.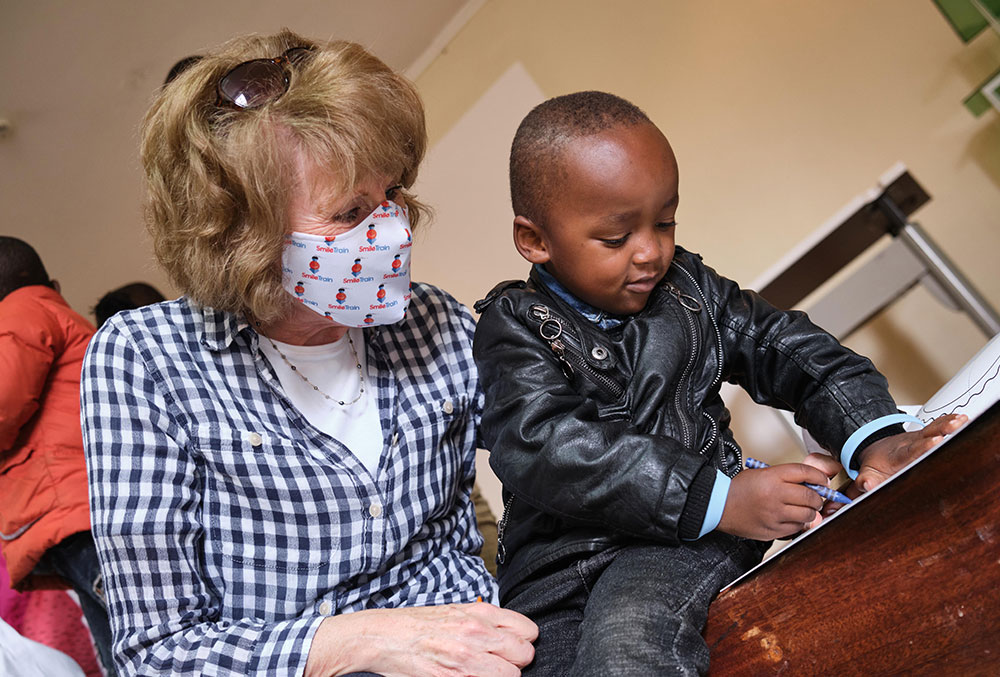 Dory is a retired educator who specialized in early childhood development and speech pathology. The couple have supported Smile Train for more than 17 years. As Dory explained, "No amount is too much to change a child's life."
The Power of Parents' Love
Back in Nairobi, the travelers next met Maryanne and Adrian as they snoozed and squirmed in their parents' arms at Metro Hospital.
Adrian was a busy 11-month-old, grabbing at anything that caught his eye and curiosity. His Smile Train-sponsored surgery was scheduled for the following day, but his father was still unsure about what his son's cleft would mean for his future. Jane Ngige, Smile Train's Program Director for East Africa, was there to reassure him: "It does not mean these children cannot grow up to become whatever they want to be."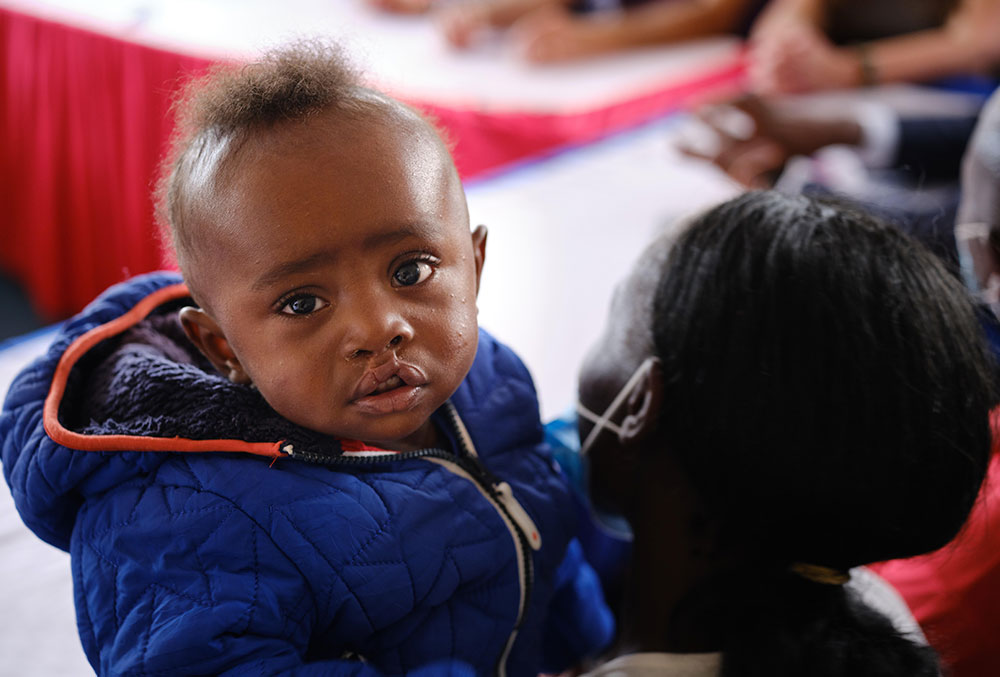 As for six-week-old Maryanne, her father, Rafael, held her close as he described the confusion and shock at her birth. But he has since found joy in the support his family has received. "This happened so that I can meet this community," he said, then smiled and added, "One day, she will become a doctor."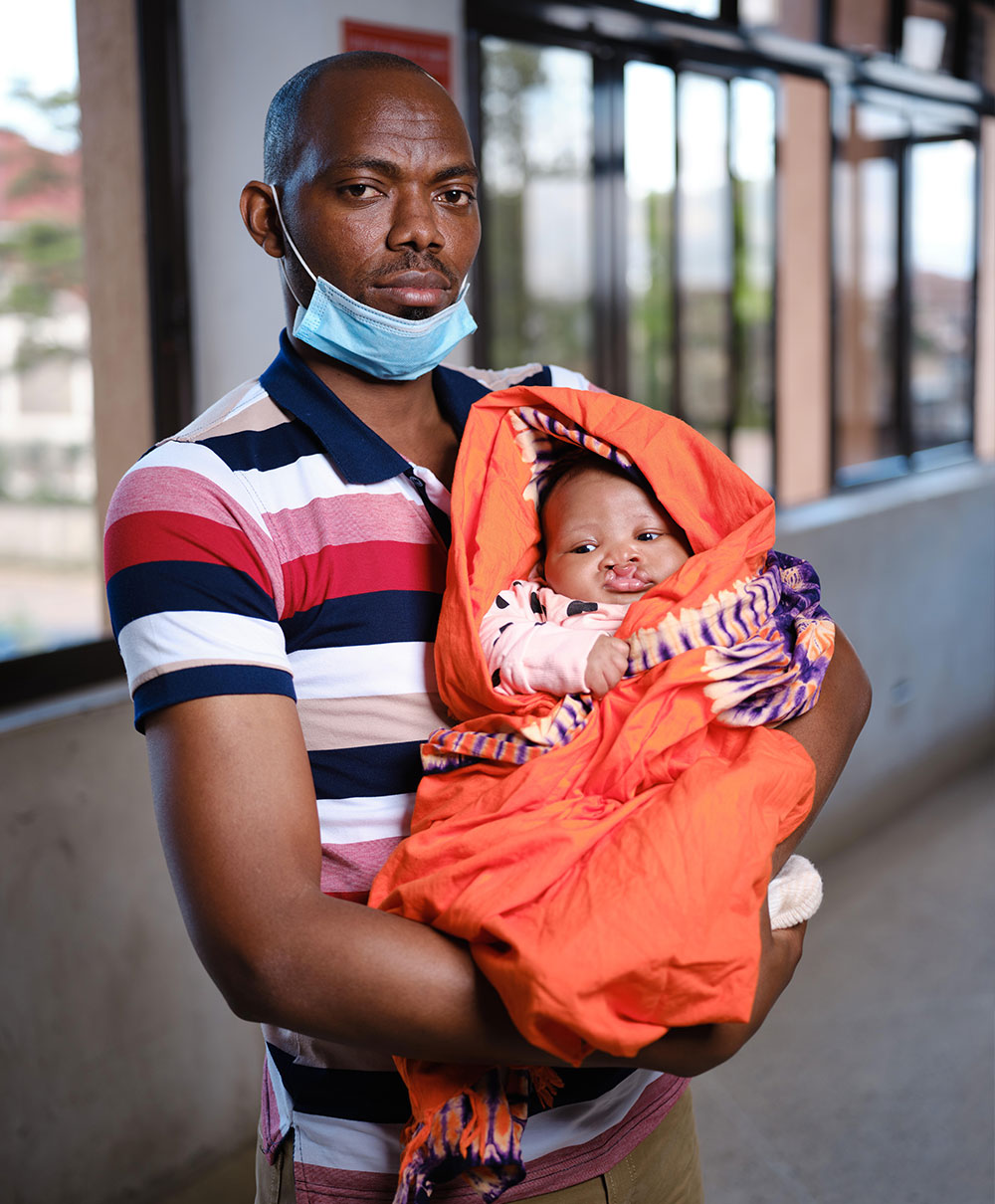 Later, CCAC member Crissy Maier recalled how, though her parents were also shocked when she was born with a cleft, "there was always love." Her mom became an advocate and served as president of the local Cleft-Palate Parents Association. "My parents taught me that when you love someone, you love their soul."
Face-to-Face with Faith, Grace, and the Queen
The second day began with eight-year-old Phyllis and her mother, Faith, leading the Journeyers through a courtyard dotted by turquoise doors and crisscrossed with clotheslines. In a small sitting room adorned with her drawings, Phyllis perched at the edge of a broad armchair like a queen.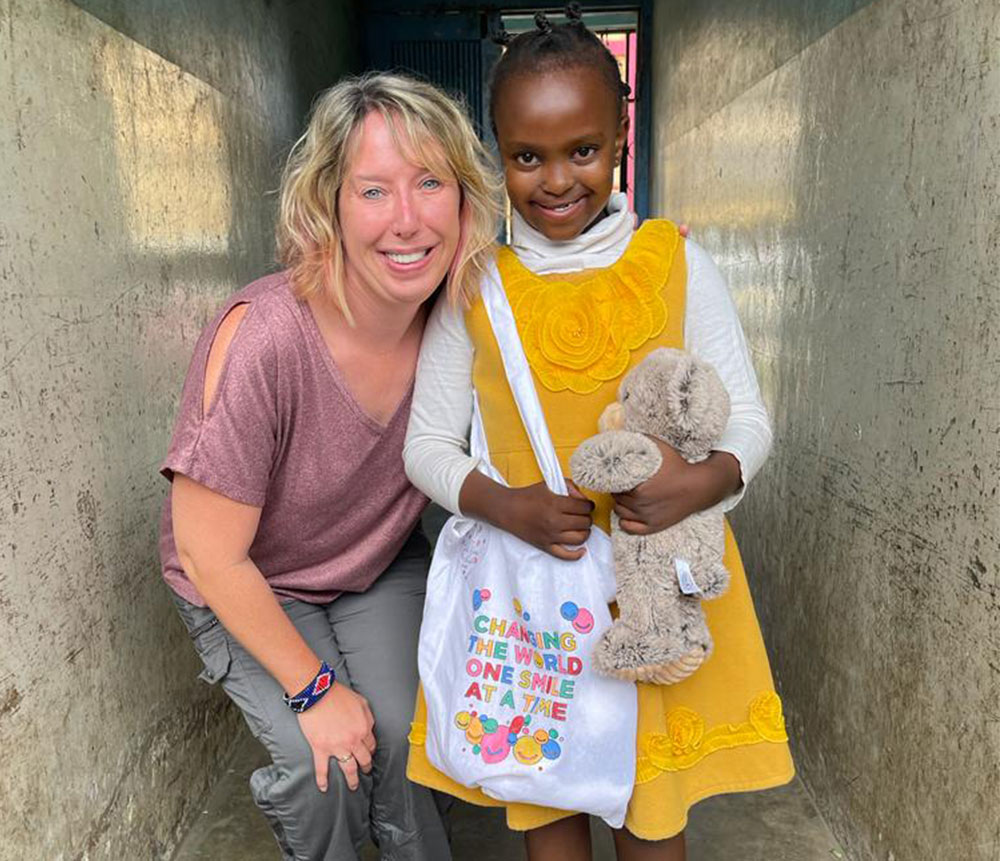 Her parents were fearful when she was born — they had never seen a cleft before. Like many cleft-affected infants, Phyllis could not nurse and had to be spoon fed. After seeing a social media post for Smile Train, Faith brought Phyllis to Kenyatta National Hospital. After two surgeries, Phyllis' nutrition finally improved. Today, her favorite food is cake.
As Faith teared up recalling the struggles of Phyllis' early weeks, Alyson Ferguson, a CCAC founding member and the mother of a cleft-affected child, offered comfort. "She is going to be fine," Alyson told Faith. "She is already amazing."
Later, the proud parents recalled with wonder how, though Phyllis could only say "Mom" until she was four years old, thanks to her Smile Train-supported speech therapy, now "everyone can understand her. She can say anything."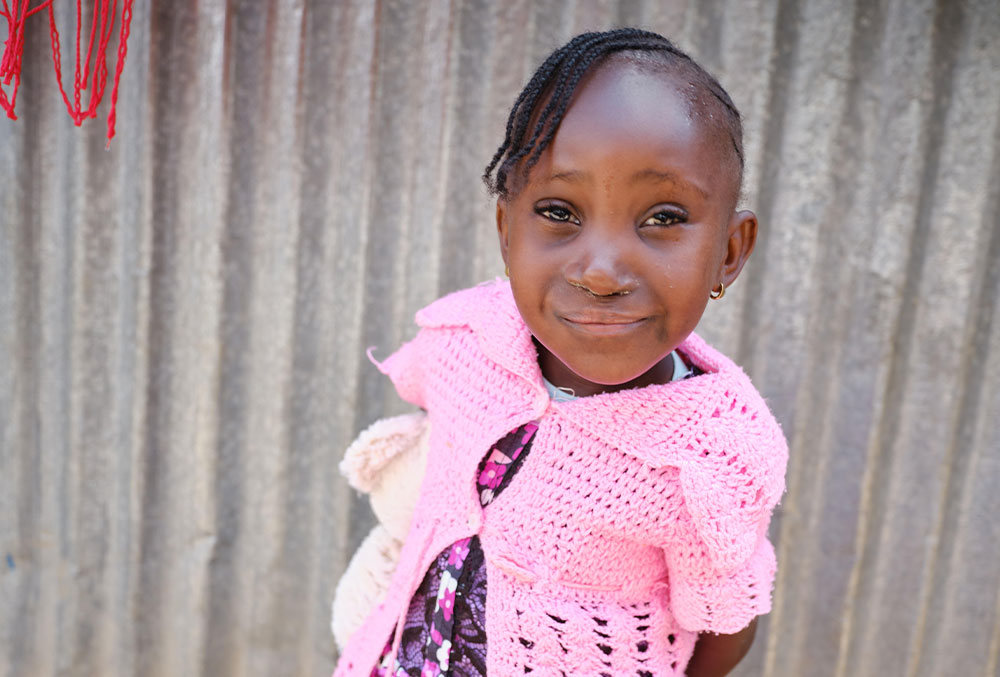 The Journeyers then went to meet Grace. The electricity was out, but a smile from her mother, Mary, brightened the room. When Grace was born with a cleft, Mary said she was so frightened she didn't know where to start. She learned of Smile Train at Gertrude Hospital, when her daughter was still an infant. Today, she beamed, "I am so thankful."
Grace will start speech therapy soon, and will need a bone graft and orthodontic care as she grows. But this day, as she yawned and rubbed her Smile Train teddy bear against her cheek, it was clear that her most urgent need was a nap.
The Journeyers next visited Makueni County Referral Hospital, where the parking lot was filled with families who had received care the previous day. Before heading home, however, the families graciously shared their time and stories with their visitors.
Many of the children were still groggy after surgery, like toddler Jaden. His big, brown eyes followed the action passively, but his parents hinted at their mood by pinning a bright yellow smiley face on his sweater.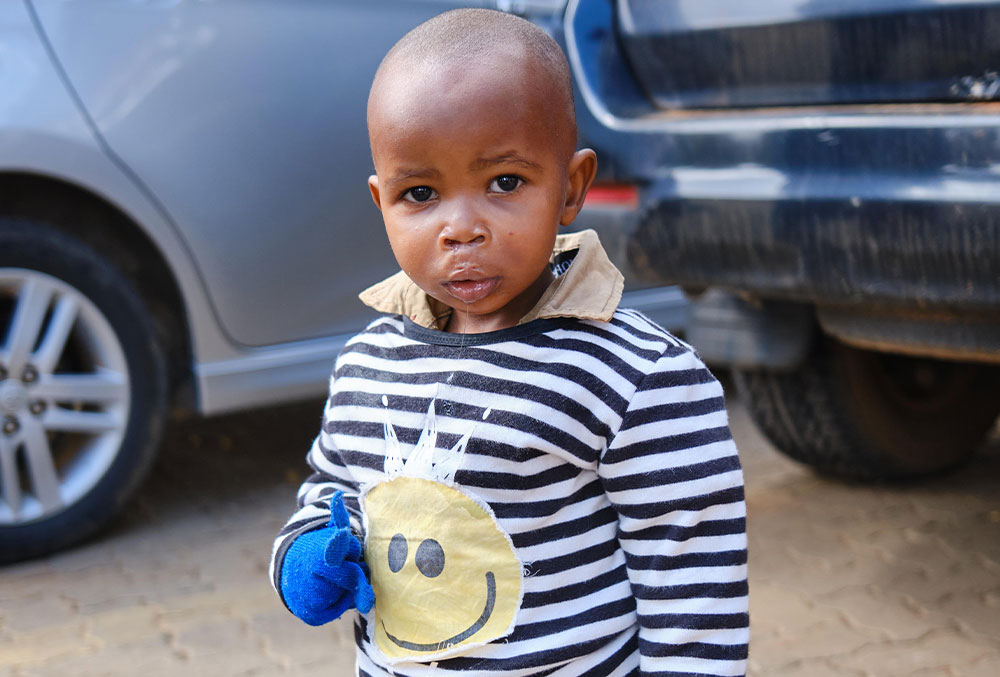 Smile Train supporter Web Heylinger felt an instant connection. "I can relate to children saying, 'I look different, I don't like how I look,'" he said. Born with one lung and scoliosis, Web faced several health challenges in childhood. He overcame bullying, too. Web said his parents kept their children aware of their privilege, and he supports Smile Train in an effort to give back.
As the families headed home, Dr. Joseph Masila, Makueni Hospital's medical superintendent, escorted the Journeyers to the new pediatric surgical theater renovated by Smile Train in partnership with Kids Operating Room (KidsOR). Here, specialized pediatric equipment awaits patients alongside murals of meerkats and dragonflies meant to comfort and cheer. Mental health is a critical element of cleft care, clinical psychologist Sophia Khalid said. "Picture the difference between hope and hopelessness," she said, then emphasized that donors like those visiting this brand-new operating room they helped make possible, "can give hope."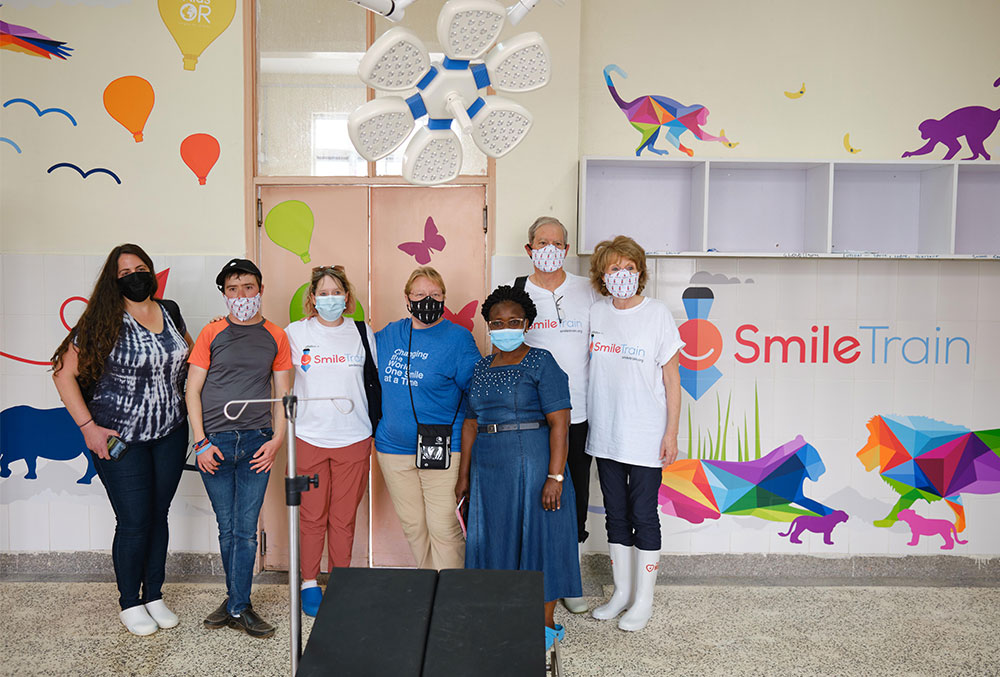 Meeting the Future with a Smile
For the trip's final home visit, the group drove high into the Nunguni Hills to meet Damaris. Laughter broke across the quiet, rural landscape, as Damaris greeted Smile Train's staff like family then led them under a tree in the central courtyard for tea and conversation.
"I was ready," Damaris said of her cleft surgery at age 17. She had never seen another cleft-affected person, didn't know all the surgical details, but knew she wanted treatment. Her parents heard an announcement for cleft surgery at Makueni Hospital and instantly knew "we had to take our daughter." Damaris has come out of her shell since her surgery two years ago. Once self-conscious, she is now a social butterfly. She doesn't worry for her future, she says, because "I know Smile Train is there."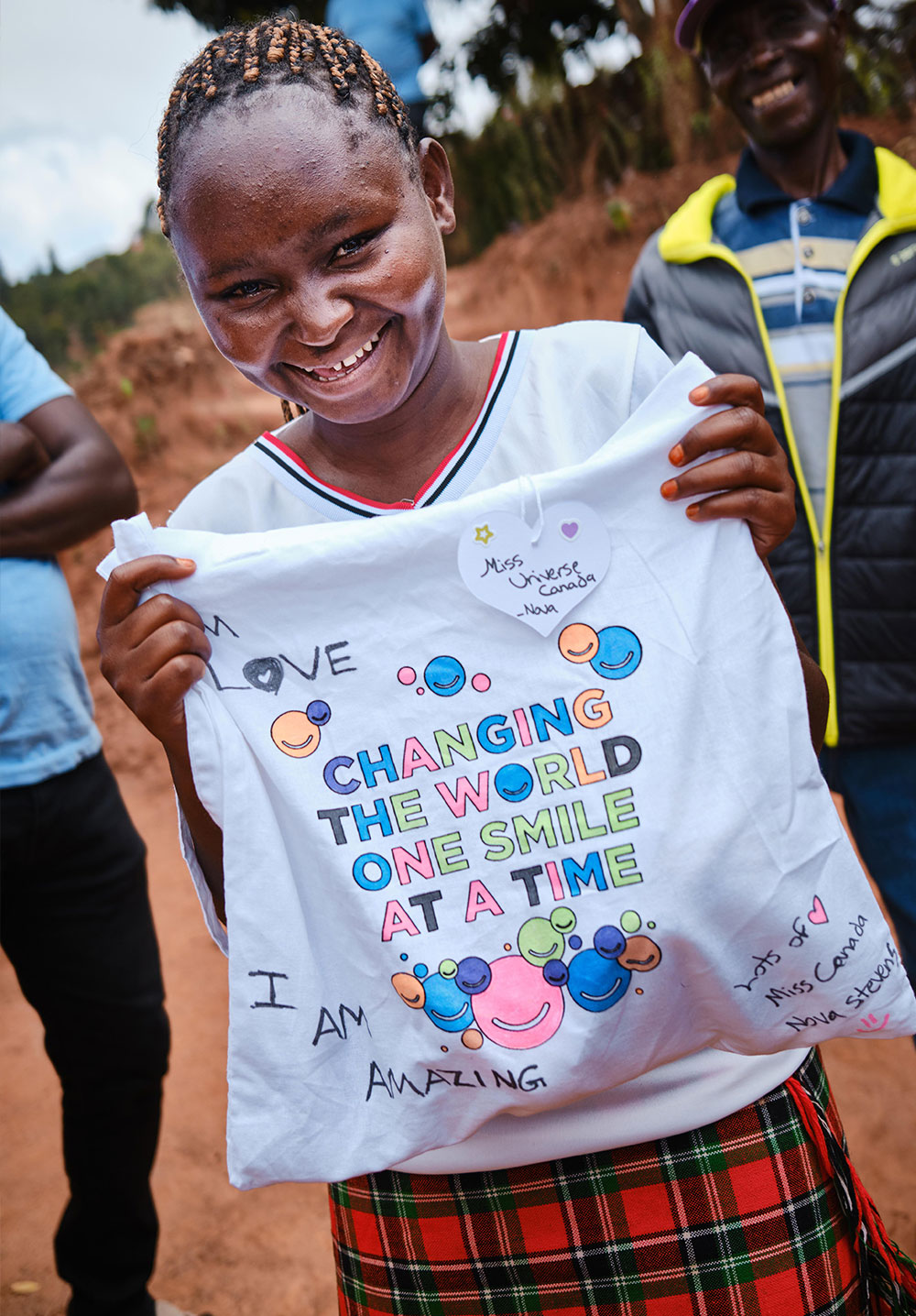 From connecting to families to touring the hospitals where Smile Train provides critical cleft care, the Journeyers left Kenya with full hearts and countless special memories. The Journey of Smiles was "one of the best experiences of my life," said Web. Dean noted too, "Seeing it in action is amazing."
Want to turn the things that make you smile into life-changing smiles around the world?
10,000+
cleft surgeries sponsored since 2002
25+
active partner surgeons
20+
active partner hospitals