Smile Train's Next Stop: Paraguay
Building a sustainable, local foundation for success in our newest partner country.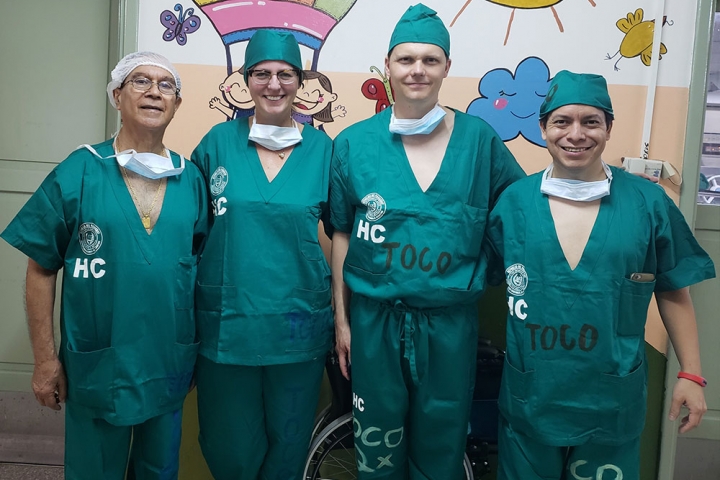 Access to affordable, quality cleft services in Paraguay has historically been a major issue for patients unable to afford private treatments. All too often, babies with clefts were hidden away without the care they needed to stay nourished and healthy, and they were unable to speak clearly or attend school. Their best hope used to come on the wings of foreign medical missions that would drop in sporadically to provide cleft surgery to a lucky few before packing up and flying away.
But Silvia Backes, Smile Train's Program Manager for South America, refused to see these babies in need get left behind. So from her home in Argentina, she got to work establishing a free local cleft program in Paraguay. Rather than fly in outside doctors to provide a short-term salve to a long-term, life-threatening health issue, Smile Train equips and empowers local healthcare workers so they can offer high-quality — and 100% free — cleft treatment in their communities every day of the year according to a timeline that prioritizes the health of each patient, not the schedules of outside doctors. We call it the "teach a man to fish" model.
The first thing Backes did was reach out to our longtime partners in Misiones, one of the Argentinian provinces closest to Paraguay, asking if they could recommend a cleft team in the latter country who might be interested in partnering with Smile Train. They didn't hesitate before naming Dr. Celso Aldana, the head of plastic surgery at Hospital de Clinicas in Asunción, Paraguay's capital and largest city.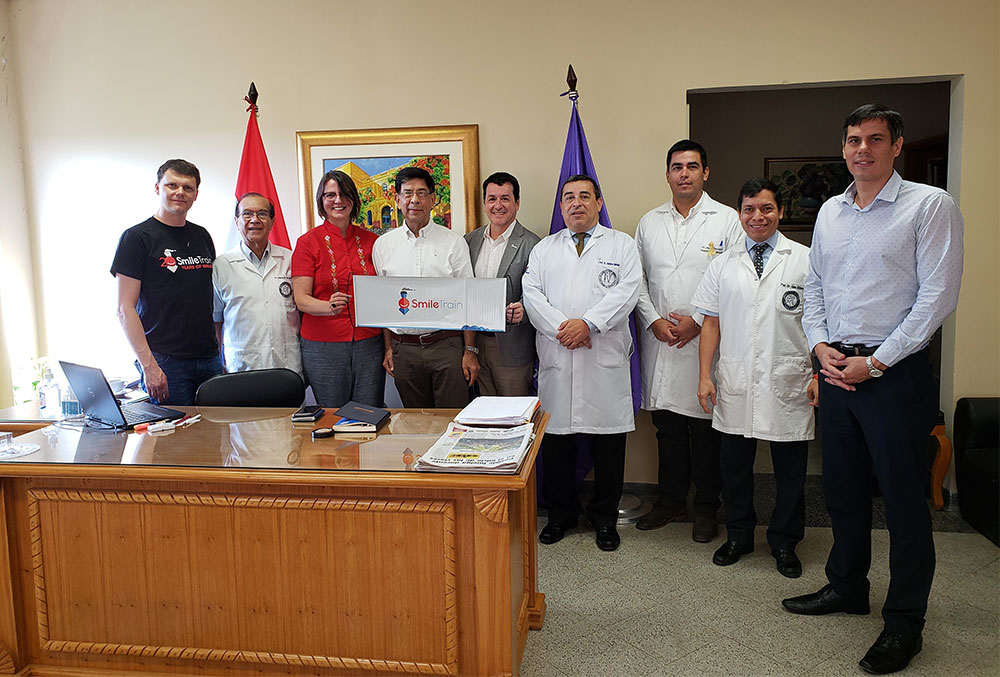 It was a perfect fit. As Backes explains, "We share the same values. Hospital de Clinicas is a teaching hospital associated with the University of Asunción, which means they have a lot of potential for training more surgeons, nutritionists, speech therapists, orthodontists, and other cleft professionals who will bring cleft care to every corner of the country."
The onboarding process began in late 2019 with an initial, in-person assessment from Dr. Juan Carlos Zambrano, a professor, head of a major plastic surgery unit in Colombia, and member of Smile Train's South American Medical Advisory Council (SAMAC). As someone with a wealth of experience training new Smile Train partners across the region, Dr. Zambrano knows all the training and equipment in the world is only as effective as the team using it, an ethos he was careful to instill in his Paraguayan peers right from their first meeting. "The attitude of the group reflects the results they achieve," he said. "It is very important that each member of the cleft team inspires all the others to keep on learning, keep on growing through positive self-criticism. This, in turn, creates a sustainable culture of enthusiasm for patient care that will inspire every other team you come into contact with."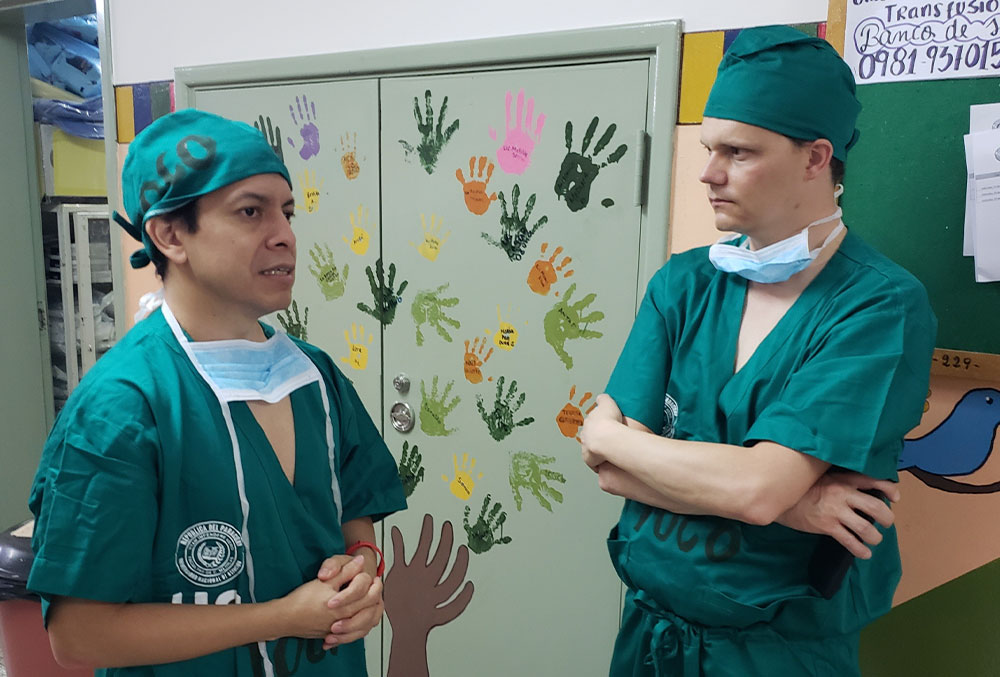 Though the onset of COVID-19 delayed the next stage of the training, the pandemic hasn't stopped Backes from doing everything in her power to ensure the program is able to hit the ground running once in-person trainings can resume, starting with engaging the local press. This is also a form of education because it, too, saves lives — families living in the shadows now know that help will soon be available. Midwives, maternity nurses, OB/GYNs, and others now know that there will soon be a place they can refer babies with clefts no matter where they live or how much money their parents make.
She has also started the process of stocking Hospital de Clinicas' operating rooms with state-of-the-art medical equipment and the personal protective gear and supplies they will need to ensure the safest, most efficient cleft surgeries possible. And because babies with clefts so often struggle to eat and gain weight, she further invited the hospital's nutritionist to join colleagues across the continent in a two-month-long online training course. When she completes it, Paraguayan children with clefts will, for the first time ever, have access to the free, high-quality, and consistent nutritional support they need to reach a healthy weight for surgery and grow up big and strong.
"Paraguay is a country with many issues related to malnutrition, so this a great step to ensure our cleft patients will have this need looked after, too," Backes said.
As soon as conditions permit, Dr. Diego Steinberg, a Smile Train partner surgeon in Buenos Aires and SAMAC member, will come to train Dr. Aldana's team in the latest methods of cleft treatment. "It is very important that surgeons with experience in cleft surgery can collaborate in training new Smile Train medical partners in the region, since our patients share similar experiences," said Dr. Steinberg. "This makes transmitting surgical and medical concepts, managing multidisciplinary teams, and caring for patients and their families that much more fluid and understandable to all involved."
One of the most powerful tools he will have for training the Hospital de Clinicas staff is Smile Train's Virtual Surgery Simulator — an advanced, interactive, and free 3D simulation technology that provides instruction on a variety of complex cleft surgical procedures in many languages.
"The Virtual Surgery Simulator is a super important tool that greatly facilitates our work as trainers. With it, we can review the anatomical structures in Spanish and reproduce the different operations that we will perform in the operating room step-by-step. It is extraordinary how this tool builds trainees' confidence and increases their understanding before they even set foot into an operating room," he noted.
"What a testimony to the power and potential of 'teach a man to fish'!" said Shannon M. Lambert, Smile Train's VP and Regional Director for the Americas and Europe. "To borrow Dr. Zambrano's phrase, we are so proud that we have been able to foster a sustainable culture of enthusiasm among South American cleft professionals that is allowing this partnership to blossom, even while observing strict COVID-19 guidelines. Everyone at Smile Train is truly honored to be partnering with Dr. Aldana and the staff at Hospital de Clinicas to bring lifesaving smiles year-round to the cleft-community of Paraguay."
For Dr. Aldana, this partnership is the culmination of a career spent working tirelessly to bring life, health, dignity, and smiles to his neighbors in need. "Of course I am encouraged," he said. "Smile Train's support for my team is of the utmost importance because I firmly believe that a true professional learns more and more over time and that children with clefts and their families deserve quality care they can rely on. We are so grateful for this relationship and see only bright things ahead — both for our patients and for sustainable healthcare in our country."