Miss Universe Comes Home to Make Mexico Smile
For Andrea Meza, clefts are personal.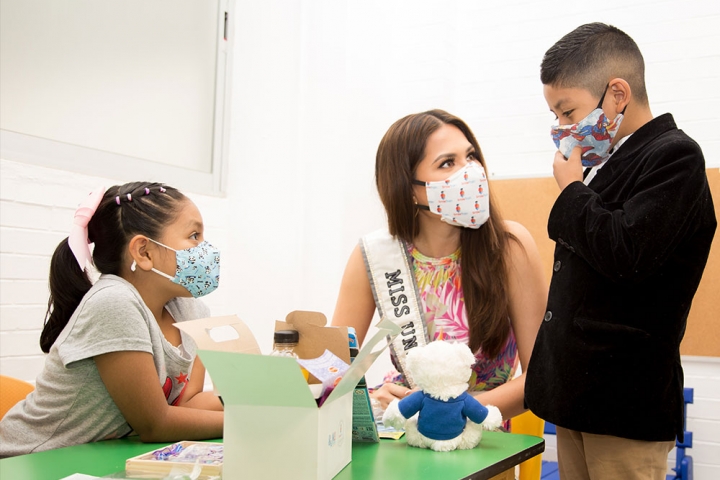 For Andrea Meza, working with Smile Train isn't just a privilege of her position as Miss Universe; it's personal. As the cousin of someone with a cleft, she knows the struggles so many cleft-affected people endure just to go to school or receive basic care. That's why it was so meaningful for her to return to her homeland to cut the ribbon at Centro SUMA, a longtime Smile Train partner in Mexico City, as it became the country's first Smile Train Cleft Leadership Center.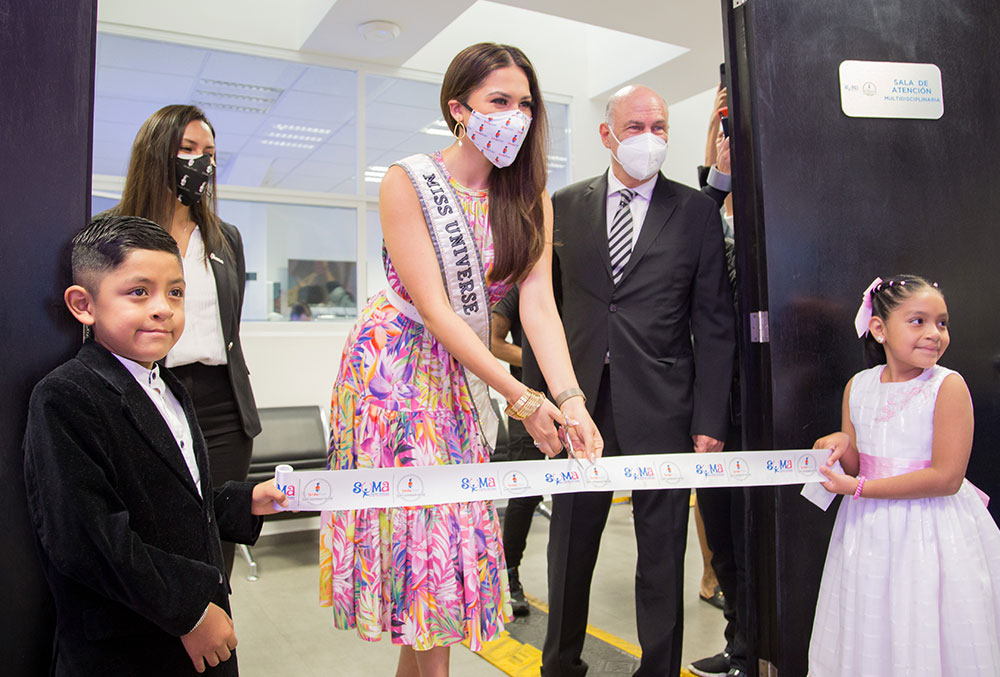 Smile Train Cleft Leadership Centers, or CLCs, serve as regional hubs for cleft treatment, education, training, and research, presenting a holistic, team-centered model of care that encompasses surgery, speech therapy, nutritional support, orthodontics, and more. Equipped with the latest technology and staffed with some of the area's best-trained medical professionals, CLCs are a resource for other regional cleft centers and ensure the highest standard of cleft care is available for all.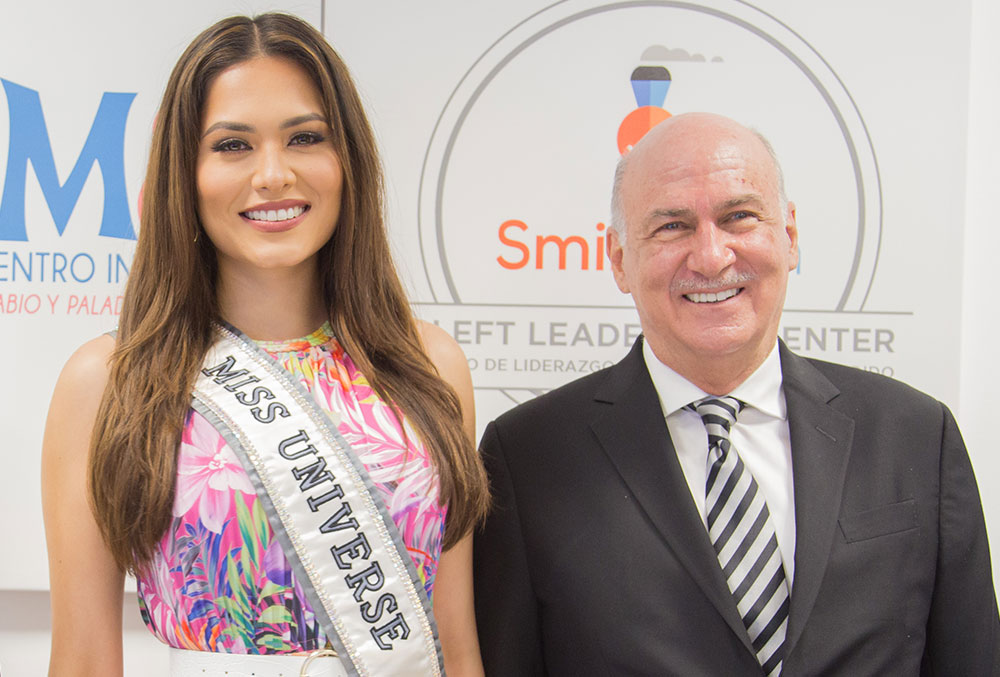 These high standards made Centro SUMA a natural choice to become Mexico's inaugural CLC. Dr. José Maya, plastic surgeon and president of SUMA, has dedicated his life to making his institution a place where every person with a cleft can come for world-class care no matter who they are or how much money their families make. As he so movingly put it in his ribbon-cutting speech:
We are convinced that economic resources cannot and should not be a factor that limits the opportunity for any human being to receive state-of-the-art medical care or the opportunity to live a full and happy life.

Those of us who have the opportunity to serve at SUMA are very privileged. The richest man in the world has no idea what it feels like to see a mother's face when she sees her baby for the first time after the surgery. Money cannot buy the feeling of gratitude that we experience here when we see how the anguish and sadness of that mom is transformed into peace and joy, and when, with tears in her eyes, she gives you a smile, a hug, or a simple "Thank you, doctor." It is simply something we wouldn't change for anything in the world.

That is the raison d'être of SUMA, and those are the values that make up the backbone of our work and the mystique that drives us.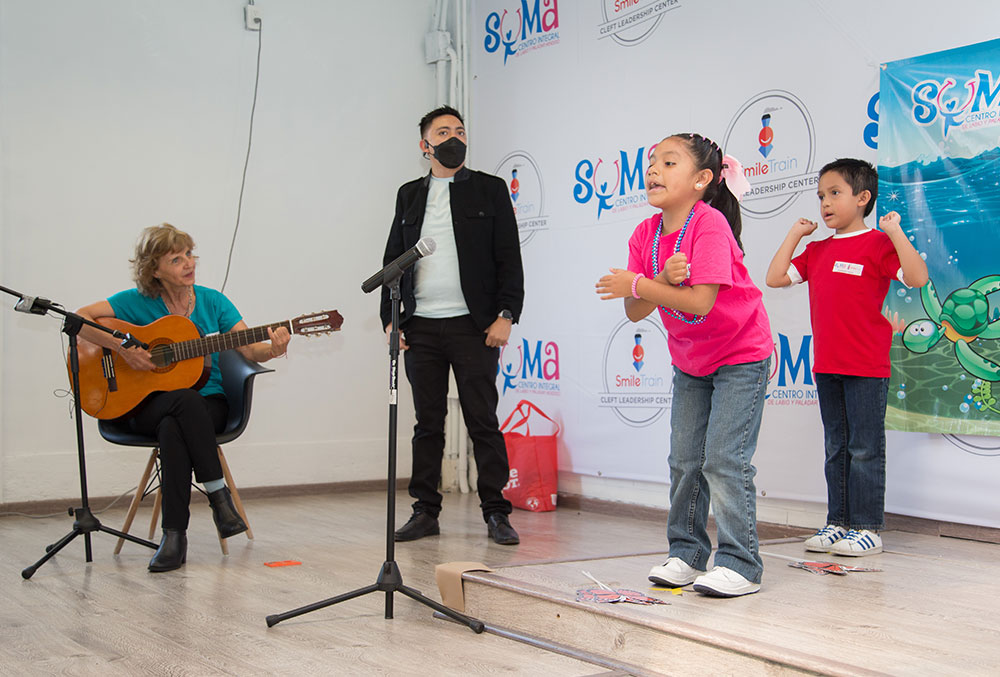 After she and Dr. Maya spoke, Andrea was treated to a performance from SUMA's Smile Train choir — and a surprise birthday cake four days early. Without intervention, people with clefts can have impaired speech even after surgery.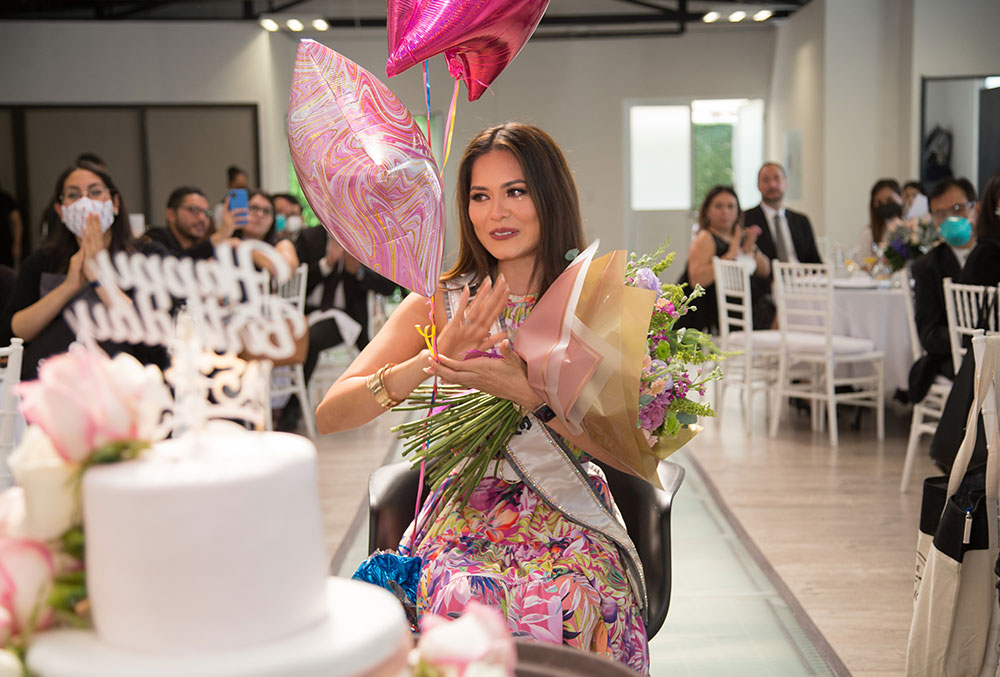 The sight (and sound!) of so many children like her cousin singing with confidence and smiles told her everything about the miracles that SUMA and other Smile Train partners make possible each day.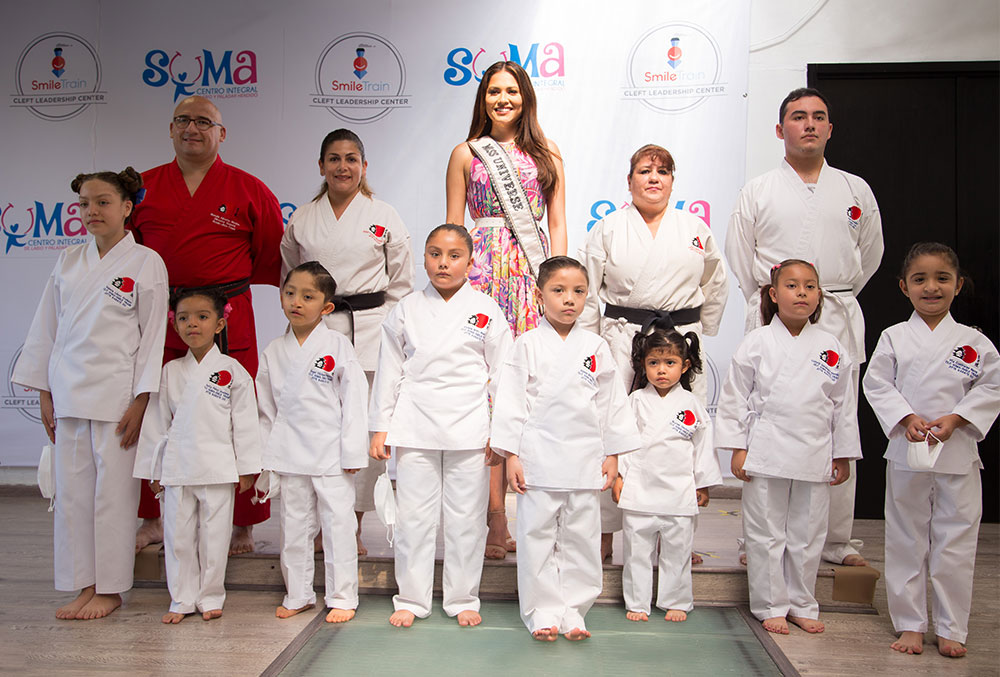 Of course, not every child likes to sing. For them, SUMA has a unique innovation — karate lessons. Children with clefts are often bullied and made to feel weak. Participating together in SUMA's karate classes instills these children with self-esteem and inner and outer strength.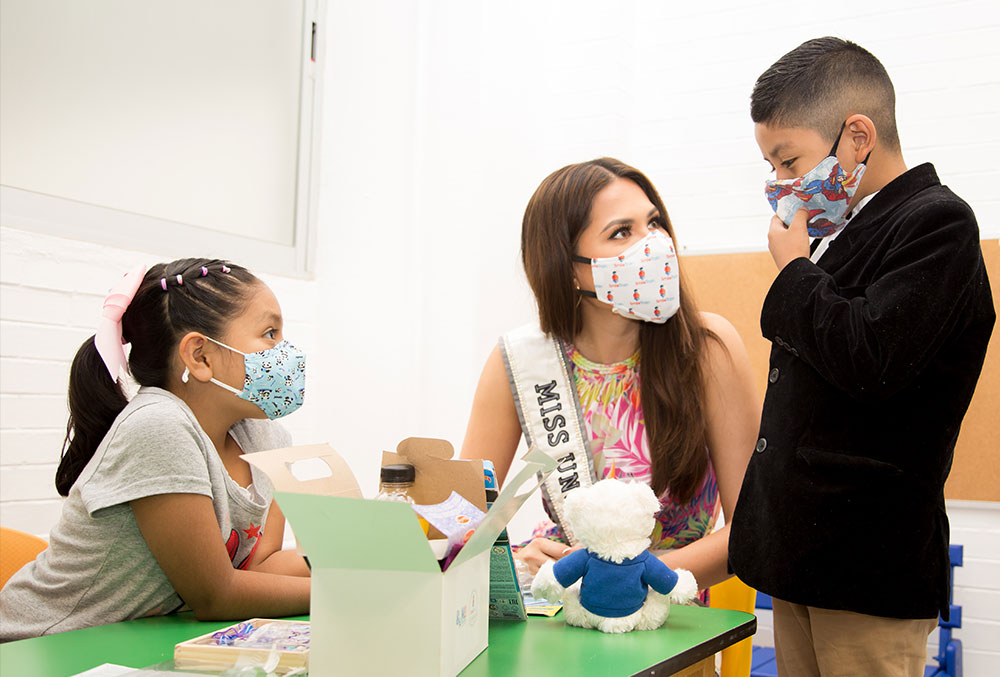 Andrea saw for herself what makes this place so magical as she toured the facility and spoke with its medical professionals and patients while national media captured every moment.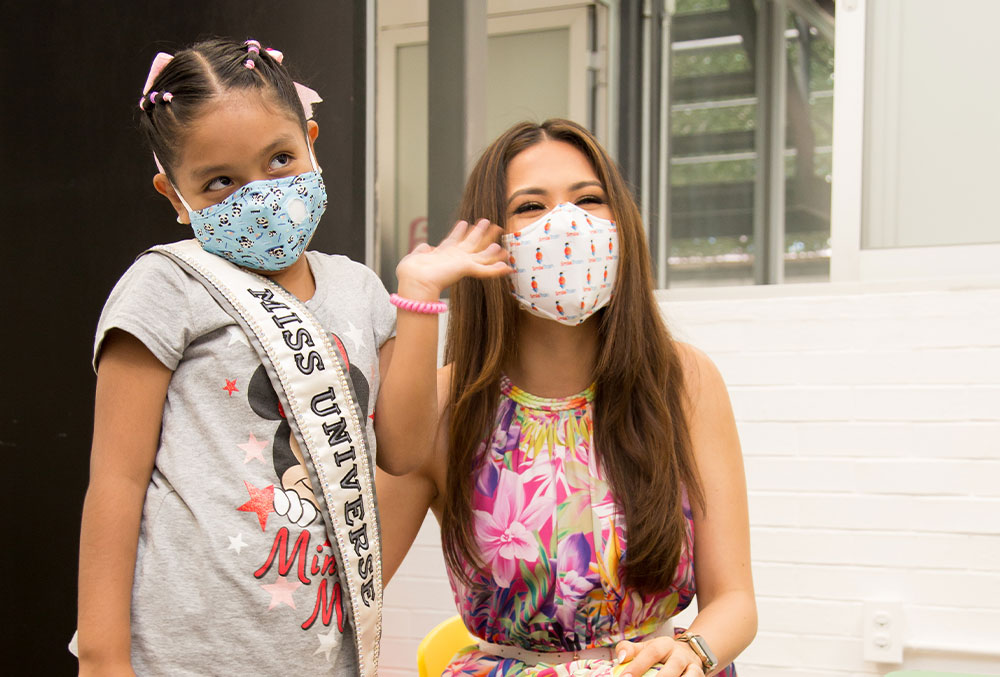 "Every room is beautifully and thoughtfully done. It makes you feel immediately welcomed and comfortable going through the cleft journey here," said Shannon Lambert, Smile Train's VP and Regional Director for the Americas and Europe.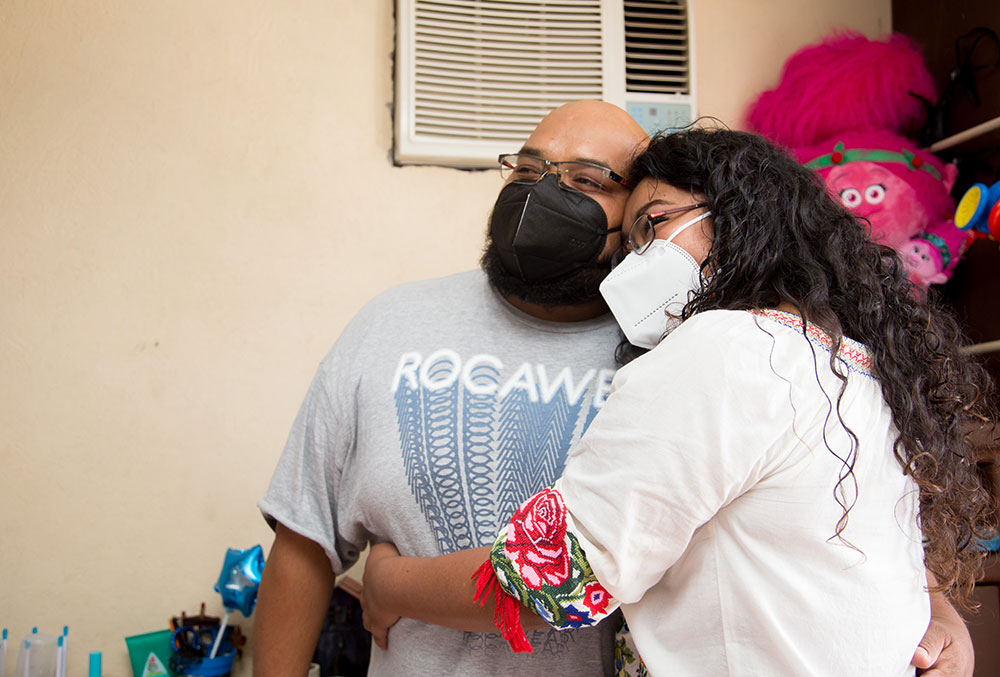 After spending some time playing with patients, Andrea traveled to the home of Arvenado and Adriana to meet their son, three-month-old Smile Train patient Roberto. Arvenado and Adriana had wanted a child for many years, and finally had their chance when they were approved to adopt Roberto from birth. When they learned he would be born with a cleft, they were given the option of backing out of their commitment, but said: "We absolutely still want him. This is our son. This is the person we have been waiting for."
The couple doesn't make much money and didn't know how they would provide their baby the care he needed, but they didn't care. They vowed to do whatever it took.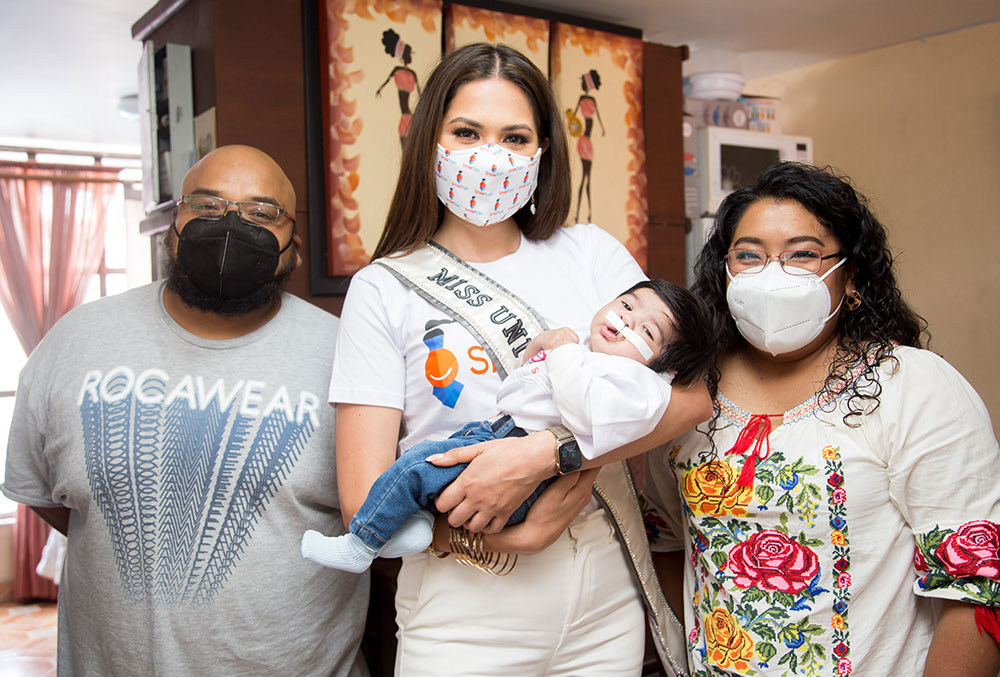 Adriana immediately searched the internet for information on clefts and came across Smile Train's website. Here, she learned basic information on what to expect and how to feed her new baby. Most importantly, she learned that this organization was going to provide her child with all the care he would ever need — including not only surgery, but also nutritional support, orthodontics, speech therapy, psychosocial counseling, and potentially even karate lessons, among so much else — entirely for free, right down the street at Centro SUMA.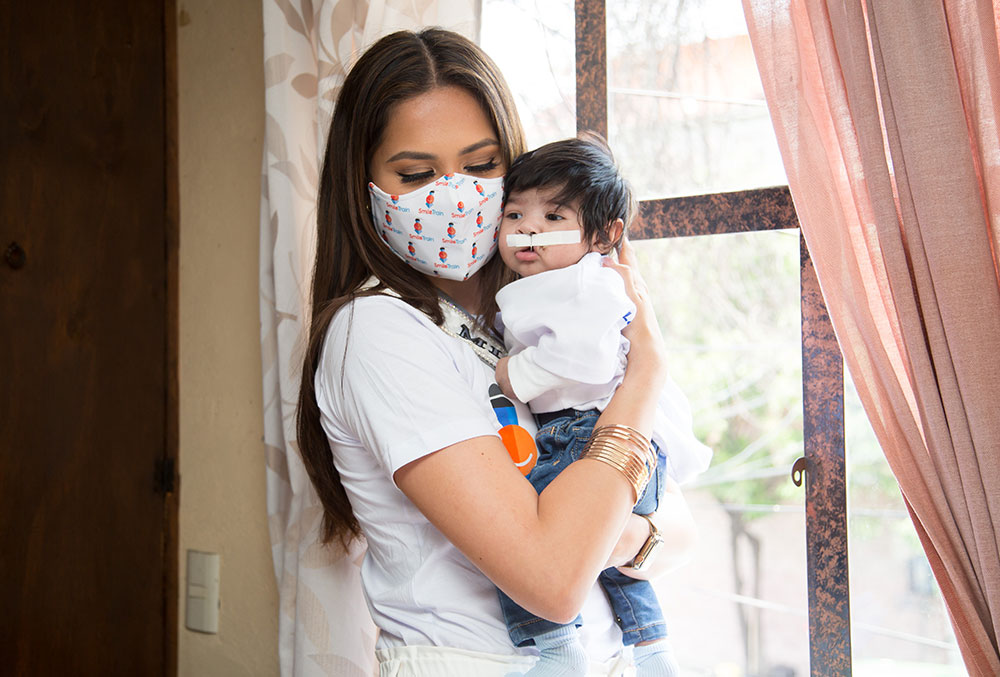 She never dreamed they would bring the first Mexican Miss Universe in a decade to her living room, too. Though they come from different worlds, Andrea and Roberto's family felt a deep connection from the moment she stepped through their door. As she spoke with Arvendo and Adriana, Andrea held Roberto in her arms for over an hour and he didn't cry or fuss at all.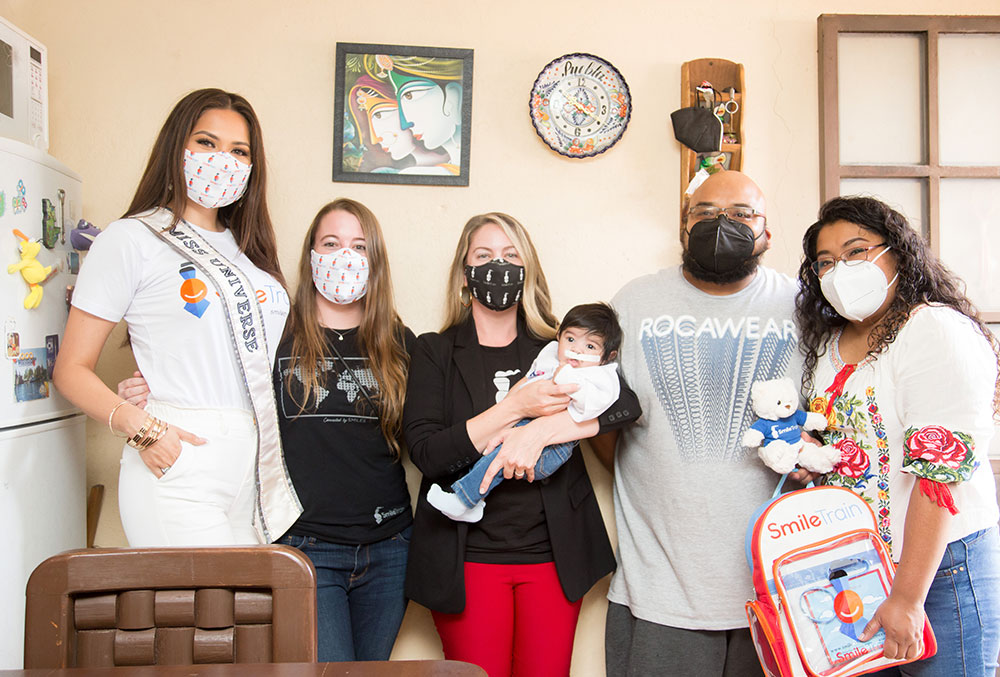 "I've been on many of these visits, and when I leave, I still worry about the children. But when I left Roberto, I felt like he was in a good place," said Troy Reinhart, Smile Train's SVP of International Development. "He is set up for the future because, as a CLC, SUMA has everything he needs. His family is going to be in good hands."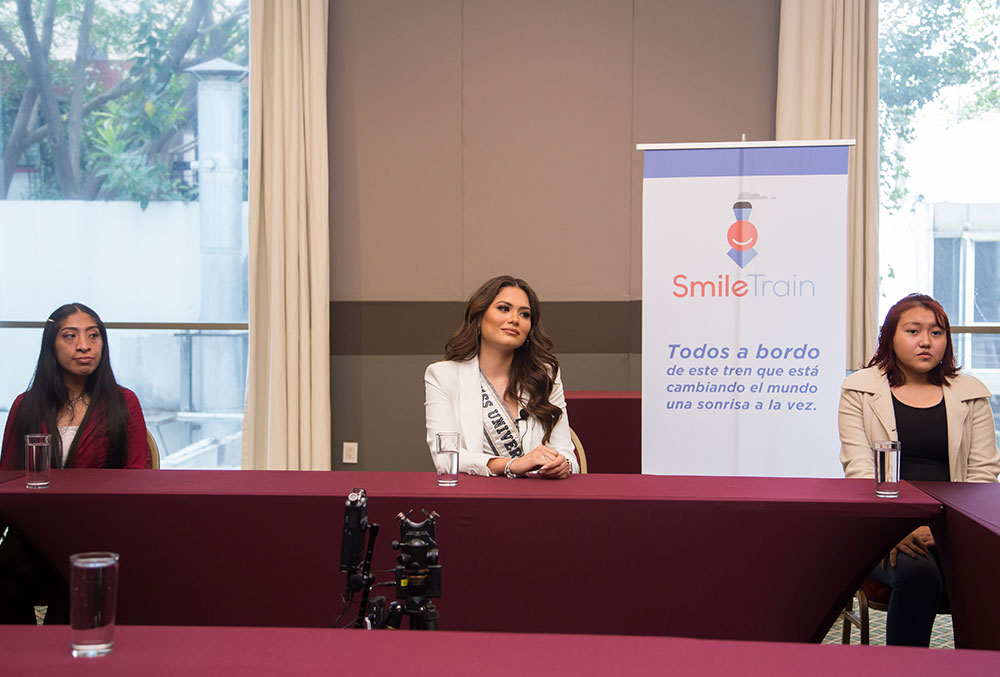 And so ended Andrea's first wonderful, whirlwind day with Smile Train. On day two, Andrea shared a roundtable discussion with four local young women, ages 13-22, about their experiences with their clefts.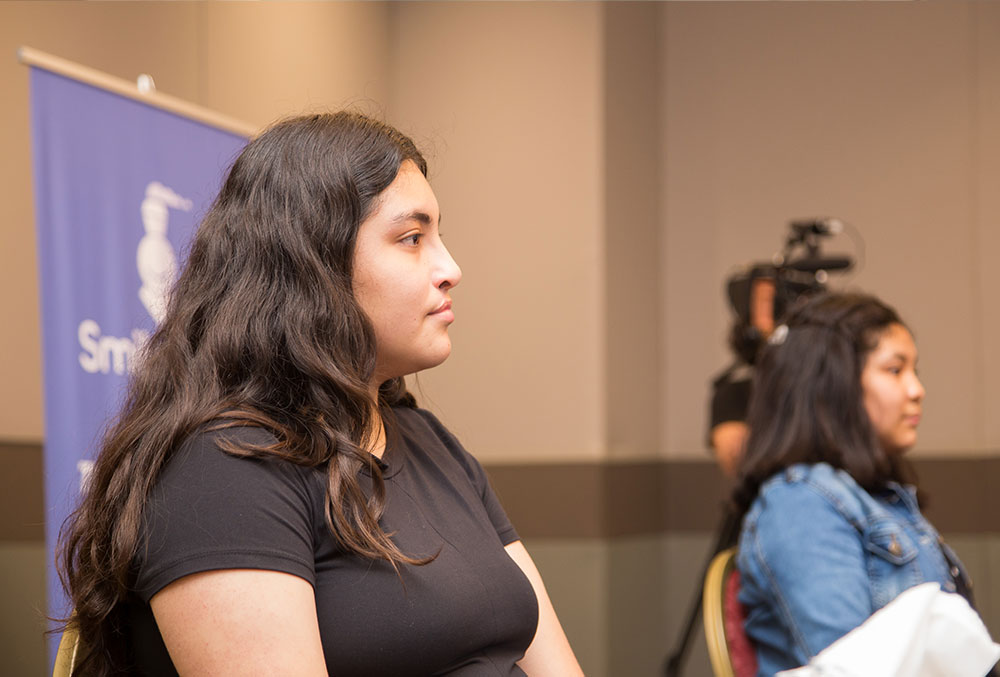 Though they all began the day as strangers, they shared an intimate conversation with Andrea, one another, and the others in attendance about their treatment journeys. Their years of surgeries and other treatments. The constant bullying and stigma — one even recalled how she was bullied by her own teacher. All they've overcome with support from family, friends, and their local Smile Train partner centers.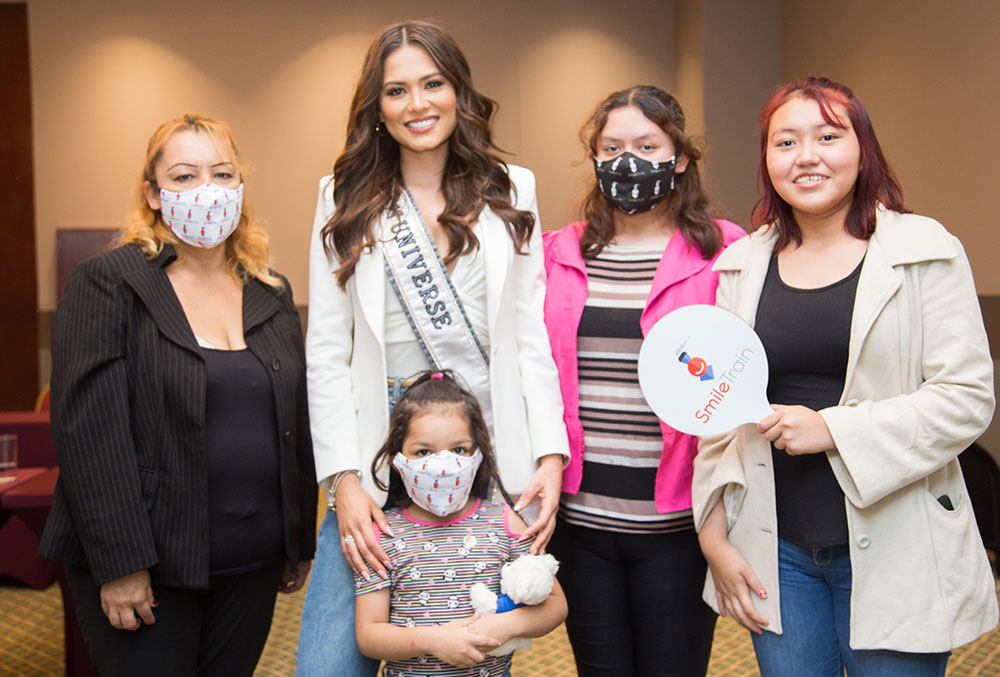 The roundtable was scheduled to last an hour, but 90 minutes later, the conversation was still going and the tears were still flowing. And Andrea was still hanging on every word, asking questions on how she could use her platform to help. By the end of the day, they were all inseparable friends.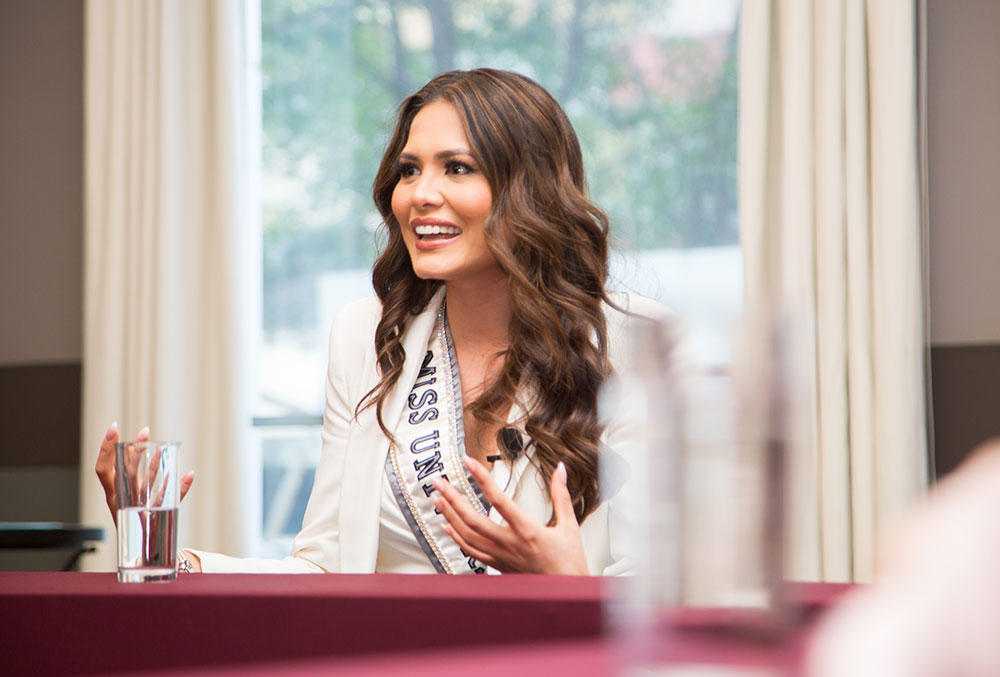 They were two days Andrea will never forget.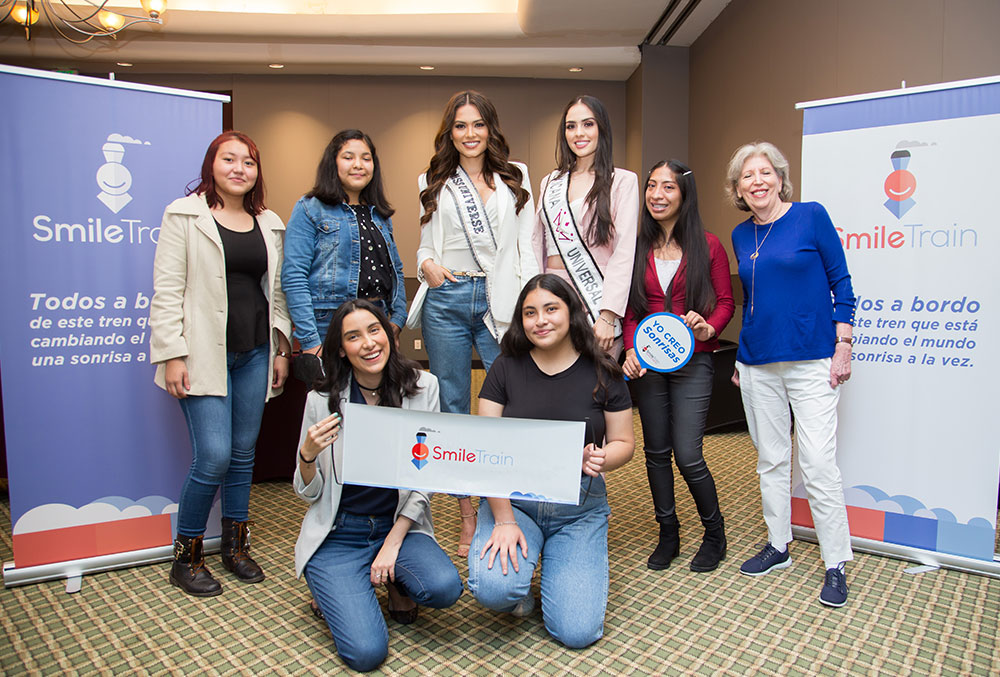 "Thank you, Smile Train, for everything," she said. "I am so grateful to you. I have been learning a lot from everything that you do and from all of the patients. Just meeting them was amazing, and [so was] listening to their stories. I think these are powerful stories that we can share with the world."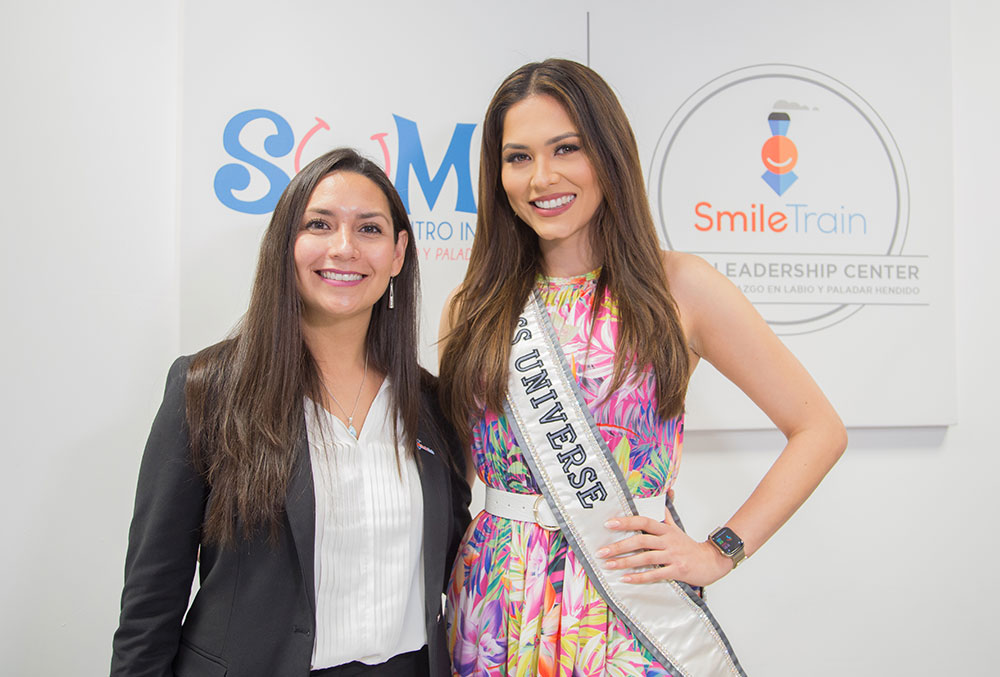 "Thank you, Andrea, for helping us open this CLC in style and for sharing your spotlight with children with clefts across Mexico. The attention you brought to clefts will save children's lives and spare countless others from sickness and shame," said Monica Dominguez, Smile Train's Area Director for Mexico, Central America, and the Caribbean. "May you continue to bring smiles everywhere you go. I know no one at Centro SUMA will ever forget the smiles you brought to them this week."
Our Impact in Mexico
as of September 2021
21,000+
cleft surgeries sponsored since 2002
40+
active partner healthcare workers
25+
active partner hospitals